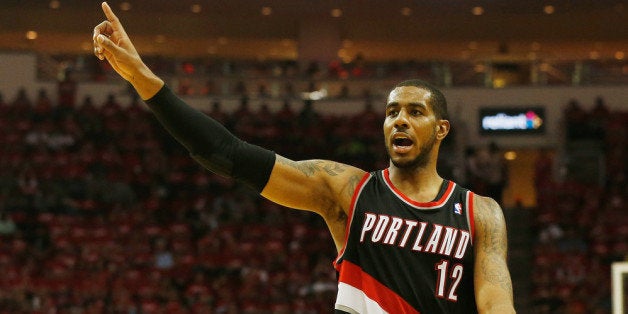 The NBA playoffs are rolling along, and so far, the home-court setting has proven perilous. In fact, home teams are only 7-9 through the first 16 games of the postseason, the worst record in league history for the opening 16. Over the last three postseasons, home teams had not lost nine combined games until the 48-game mark. Just like we can't assume that home-court translates to wins, here are a few other easy mistakes you'll want to avoid making.
Don't Count Out 'Da Bulls Just Yet
Vegas odds list Chicago as a more than 3-1 underdog just to push its series with Washington to seven games, but odds can sometimes be deceiving. True, the Wizards have been marvelous thus far, stealing two games on the road with superb guard play from John Wall and Bradley Beal, a duo we warned you about in November. But Bulls coach Tom Thibodeau is one of the league's best in making adjustments, and his team has now blown two leads in the final five minutes of regulation. Chicago -- with Defensive Player of the Year Joakim Noah -- ranks first in the NBA in points allowed, and we can expect its defense to improve moving forward.
Don't Sleep on Golden State Expectations were high, but the Warriors have underachieved for much of the season, and their Jekyll-and-Hyde opening two games in L.A. offer a clue as to why. In a 109-105 Game 1 upset, they executed well offensively, got back in transition and forced Clippers forward Blake Griffin into fouling out (poor call and all). Game 2, however, was a completely different story. Griffin went off for 35, while the Clips shot an incredible 57 percent and scored 136 points in a regulation game. But anyone who follows the Warriors also knows how well they play at Oakland's Oracle Arena, which offers one of the game's most devastating home-court advantages. Meanwhile, Warriors point guard Stephen Curry is shooting just 23 percent from distance in the postseason, a number that's all but certain to increase.
Don't Call Portland Fool's Gold
While it would be easy to dismiss the Blazers' 2-0 series lead over Houston as merely a hot jump-shooting team making shots, that would also be lazy analysis. Everyone knows Portland can score, but what's perhaps more impressive is how it's scoring. They are shooting only 17-50 from 3-point territory, but no one can deny the one-two punch of All-Stars Damian Lillard and LaMarcus Aldridge against a Rockets defense that's made drastic strides with Dwight Howard anchoring the painted area. Aldridge is setting all kinds of records, registering 40-plus points in back-to-back road wins. ("LaMarcus Aldridge killed us once again," James Harden told ESPN this week.) According to the Elias Sports Bureau, Aldridge joins Michael Jordan and Tracy McGrady as the only players to score 40-plus points in Games 1 and 2 on the road.
Meanwhile, Lillard, in his playoff debut, has torched the Houston back-court by averaging 25 points, 9 rebounds and 8 assists. Harden, for his part, has been abysmal, shooting under 30 percent for Houston. Portland may not be able to keep this pace up, but heading home to the raucous crowd at the Moda Center (where the Blazers have a 31-10 record) will surely be a boon for a red-hot team.
Email me at jordan.schultz@huffingtonpost.com or ask me questions about anything sports-related at @Schultz_Report and follow me on Instagram @Schultz_Report. Also, be sure and catch my NBC Sports Radio show "Kup and Schultz," which airs Sunday mornings from 9 to 12 EST, right here.
REAL LIFE. REAL NEWS. REAL VOICES.
Help us tell more of the stories that matter from voices that too often remain unheard.