The beauty of an 82-game NBA season is that a team as bad as the New York Knicks can play woeful basketball for three months and still make the playoffs. By the same token, a team like Indiana can win 70 games and still be the underdog against the Miami Heat. So here are five bold predictions for the rest of the NBA season, based on the assumption that anything is still possible. The Heat Will Not Win A Third Straight Title
Not only that, but the Heat will not make a fourth consecutive Finals appearance. Although LeBron James continues his assault on the record books (he's the favorite to become a five-time MVP), his supporting act, Dwyane Wade, continues to deal with significant knee problems. Wade, 31, is a mere shell of the player he was just three years ago. And not just because he's sitting on back-to-back's either: Wade can no longer attack the basket with that lightning first step and finishing ability. He attempts just 4.9 free throws per game, a career low, and is under 20 points for the first time since his rookie year. All in all, Miami is 4-4 with him out of the lineup.
The Heat had also hoped that signing Greg Oden in the offseason would address its lack of a shot-blocking presence, but he has yet to take the floor. Chris Bosh is probably a better interior defender than he's given credit for, but he's not intimidating, either.
Meanwhile, the Western Conference may be loaded, but Indiana is the most formidable, complete team in the league. Roy Hibbert is better than ever, swingman Danny Granger is finally healthy, and the versatility of Paul George presents a tremendous issue on both sides of the floor, especially for James.
Houston Will Lose In The First Round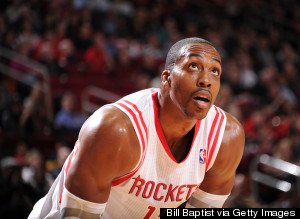 Dwight Howard continues to struggle as an interior scorer with the Rockets. (Getty Images)
Blame Dwight Howard's offensive ineptitude, or blame a lack of trust in Jeremy Lin in big games, or blame the incredible depth of the West. Or blame all three.
But start with Howard, who spent time last summer working with Hakeem Olajuwon. Howard has said that his decision to sign with the Rockets was heavily influenced by the opportunity to play for Kevin McHale, one of the best pure post-up power forwards ever. And yet Howard still lacks the soft touch necessary to finish consistently in the lane. He has a shocking lack of counter-moves on either block, and a complete inability to pick-and-pop. Per Synergy Sports, he continues to be mediocre in many offensive categories and even Olajuwon himself is displeased.
Lin, for his part, has been sharing the point guard duties with Patrick Beverley, who rates as a third guard but not as a starter. Lin himself may have improved as a shooter, but he's still remarkably average and isn't in the same category as any of the other elite point guards in the NBA right now.
It doesn't help that Houston plays in the West. If you put a middling team like Dallas or Golden State in the East, they would be a definitive three-seed. The best-case scenario for the Rockets is probably a four-seed, but they could drop to five or six, which will mean that a team that struggles on the road (8-8) won't have home-court advantage in the first round.
GM Daryl Morey has put together some excellent pieces, particularly in scoring machine James Harden and budding star Chandler Parsons, but when it comes to the 2014 playoffs, an early exit is more than likely.
Mike Woodson Will NOT Be Fired
Knicks owner James Dolan isn't exactly the poster boy for honesty or good karma, but when he says that the Knicks are not going to make any changes to the coaching staff, I tend to believe him, if only because the team has no other options right now. Coach Mike Woodson is certainly not the long-term answer, but there is no short-term fix here, either.
Woodson has been heavily criticized for his tumultuous lineups and a lack of offensive creativity. Tyson Chandler has had a way of making things better on both ends of the floor, but without him, Woodson has a dearth of interior options. Throw in the incessant trade chatter around Iman Shumpert and his shaken confidence, the predictably inconsistent play of J.R. Smith and Carmelo Anthony's tendency to go matador on defense, and it's just a matter of time before the whole thing implodes.
With or without Woodson roaming the bench, the Knicks are headed for the lottery. Oh wait, they traded that pick, too. It has been a tumultuous start to Jason Kidd's coaching career in Brooklyn. (AP)
For Nets coach Jason Kidd, a Hall of Fame player and rookie head coach, to say he has "lost" this team would imply that at one point he had this team. As I highlighted during the offseason, GM Billy King larded this roster with old legs and egos, thinking that sinking $87 million into luxury taxes would guarantee success. The team has been doomed through a combination of Kidd's inability to get a veteran-laden roster to play defense and Kevin Garnett having to step in as the option No. 1. Garnett, for all his past greatness, is shooting a career-worst 36 percent, averaging a career-low 6.5 points. Meanwhile, the team's best player, center Brook Lopez, is out for the year due to foot surgery.
Firing Kidd may not be the solution, but I'm not sure that Brooklyn Nets owner Mikhail Prokhorov has the patience to wait for him to show improvement. Prokhorov once joked that his self-imposed "punishment" -- in the event that his team doesn't win a title by 2015 -- would be to get married. And in the big picture, when things don't work out, it's a lot easier to get out of a relationship with a coach.
Andrew Wiggins Won't Go First Overall
The NBA Draft isn't technically until June, but fans are already wondering whether their teams have tanked. Wiggins is an intriguing prospect because of his athletic ability and size at 6-foot-8. But as a player he also has an assortment of deficiencies; he just happens to be a part of one of college basketball's greatest-ever freshman classes. Duke's Jabari Parker, along with Kentucky's Julius Randle and Wiggins' teammate, Joel Embiid, are all legitimate candidates to rise to the top pick in June's draft.
Email me at jordan.schultz@huffingtonpost.com or ask me questions about anything sports-related at @Schultz_Report and follow me on Instagram @Schultz_Report. Also, be sure and catch my NBC Sports Radio show, Kup and Schultz, which airs Sunday mornings from 9-12 ET, right here.
Calling all HuffPost superfans!
Sign up for membership to become a founding member and help shape HuffPost's next chapter