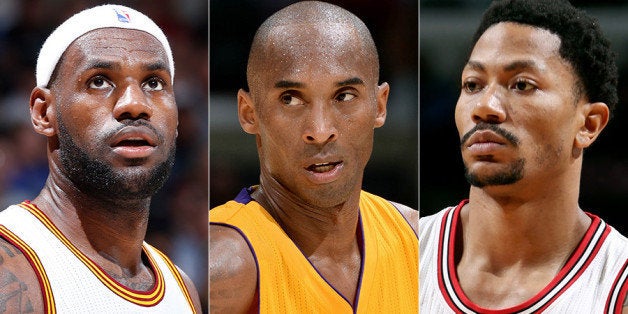 The NBA offseason has replaced MLB's hot stove as the premier destination for high drama. The good news for NBA fans is the 2014 regular season will be even better. LeBron James returned home -- we all know that. But how about Kevin Love teaming up with Kyrie Irving? Meanwhile, Carmelo Anthony took the big dollars to stay in New York and play under Phil Jackson's happy halo. And don't forget about a healthy Kobe's return to the court in Tinseltown. Let's take a look at the best storylines heading into the first full season of Adam Silver -- whom we caught up with in February -- as the league's commissioner.
LeBron is a Cleveland Cavalier again, but the scariest part about this team is the balance. Irving is coming off a second All-Star appearance, and we can think of Love as a far better version of Chris Bosh in terms of how he pairs with those two. Love is the best shooting big man in the game, but he excels in transition as a trailer and in pick-and-pop, where both Irving and James are two of the best in the business. When HuffPost caught up with Irving, he was excited about the possibilities: "What are teams going to do? You're going to have to decide who you're going to guard and how you're going to guard us, and that's going to be tough."
Newly minted Cavs head coach David Blatt's biggest challenge with this offense is to create balance, but the beauty of his Big Three is that all three are inherently unselfish. James, for all his scoring prowess, loves to be the playmaker, and with a slew of shooters around him (don't forget Ray Allen just signed on), he can dictate what he wants to defenses. With both the Russian National team and Maccabi Tel Aviv, Blatt has displayed a knack for innovative offense that thrives on ball movement and pick-and-roll.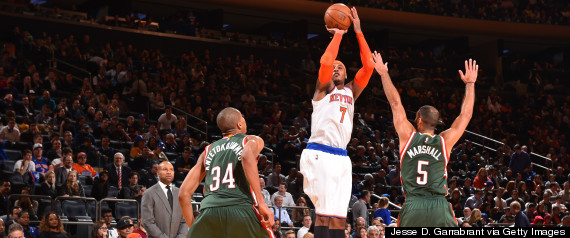 Eight teams from the Eastern Conference have to make the playoffs, but most NBA fans are asking who those teams will be, other than Cleveland, Chicago and perhaps upstart Washington. Knicks fans hope that new hire Derek Fisher can coax Carmelo into being more than just a high-volume scorer, but good luck with that. Jose Calderon was a nice addition at point guard -- he can really pass the ball and has always been a terrific shooter -- and maybe second-year pro Shane Larkin can become a spark. But this roster simply doesn't have horses. And as much as we like Tim Hardaway, Jr. and Iman Shumpert, neither is a serious difference-maker for 82 games.
Derrick Rose tore it up at times during the FIBA games for Team USA, but Bulls fans want to know whether can he do it for an entire season. Let's look past his shooting woes during the tournament (he converted just 27.4 percent from the floor), and check out what's most important: the explosiveness, the torque, the change of direction. That's what makes Rose great, and that's what ultimately will determine if he's the MVP-type player he was before the slew of knee injuries. The good news for Rose is that he has a fantastic coach in Tom Thibodeau who understands schemes better than most. And just as importantly, he has a balanced roster, namely with Jimmy Butler in the backcourt. Don't forget about offseason acquisition Pau Gasol, either, whose supreme comfort level in pick-and-roll will help his point guard adjust smoothly back into the two-man game.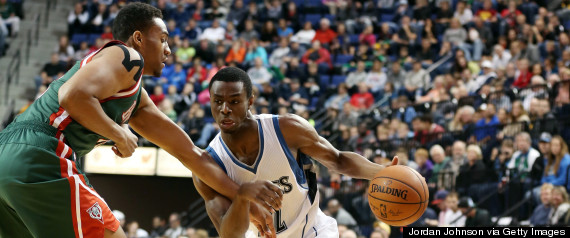 Needless to say, 2013 was not a banner year for rookies, with all due respect to Michael Carter-Williams, Victor Oladipo and Trey Burke. But 2014 appears to be a completely different story. First overall pick Andrew Wiggins instantly becomes the face of Minnesota after being dealt from the Cavs. Wiggins is a freak talent with tremendous ability, but one who is equally green -- he scored four points in Kansas' NCAA Tournament loss to Stanford. Nearby is fellow freshman draft entry Jabari Parker (pictured above with Wiggins), a Carmelo clone in terms of his natural scoring ability and dynamic inside-out game. Parker could legitimately average 17-plus for a hapless Milwaukee team. Australian native Dante Exum has a Penny Hardaway-esque game and could team up beautifully with 2013 lottery pick Trey Burke. Off the radar a bit are Rodney Hood in Utah, Nik Stauskas in Sacramento, Elfrid Payton in Orlando, and Julius Randle in LA. Speaking of LA….
The 36-year-old Kobe Bryant has been in the NBA over half his life. Unfortunately for the 16-time All-Star, he won't be getting much help from the roster this season other than Randle. The good news is that he finally has a coach he can trust in Byron Scott his former teammate and a guy that probably deserved the job years ago. Nevertheless, Scott will be responsible for finding creative ways for Bryant to have easy scoring chances while also diligently managing his minutes on a roster bereft of talent. There is also the matter of 40-year-old point guard and two-time league MVP Steve Nash, who teams up with Bryant to form an ancient backcourt. Nash hasn't shot 50 percent or averaged more than 13 points during his two injury-riddled seasons as a Laker, and he has to be much better for both his and Kobe's sakes.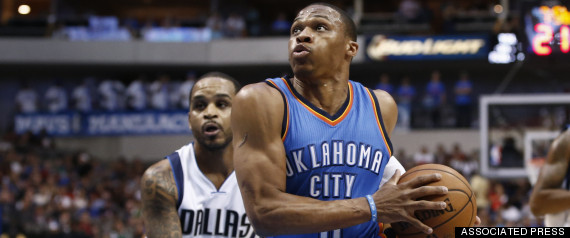 Speaking of injury woes, the news that Durant, the reigning league MVP and superior public speaker, will miss up to eight weeks (which translates to 19 games) with a fracture in his foot is a devastating blow to an Oklahoma City team yearning to get back to the finals. It is a bit of irony too for Durant, who sat out during Team USA's FIBA World Cup championship last summer to rest and prepare for just that. When I spoke with the 26-year-old in July, he believed then that his team wasn't quite a title contender, noting that something was "missing." Fortunately for the Thunder, that something can be fixed by precocious All-NBA point guard Russell Westbrook, the other superstar who for all his greatness, has also hampered this team's progress, particularly in the playoffs when head coach Scott Brooks has been unable to harness his talent. Durant and OKC's best basketball last season came during a Westbrook injury, when the team rallied off 14 of 16 wins while KD notched 30-plus points in 12 straight games.
The West is loaded, so perhaps it's fitting that we mention San Antonio last -- that's the way coach and leader Gregg Popovich prefers it. While the rest of the league eagerly searches to find sustainable success, we can count on the Spurs winning 60 games they way we count on the sun coming up every morning and Nicolas Cage making mindless films. As Tony Parker told HuffPost recently, "I think we never get satisfied with ourselves, and that starts with Coach Pop." What is most impressive about the Spurs' dynasty is not merely the five titles in 15 years, but the sheer consistency every single year. While just eight franchises have won titles since 1984, Popovich has missed the postseason just one time during his tenure as coach. With free agency creating a carousel of changing rosters, that record is almost inconceivable -- and 2014 shouldn't be any different for the Spurs, who have the league's oldest roster.
Email me at jordan.schultz@huffingtonpost.com or ask me questions about anything sports-related at @Schultz_Report, and follow me on Instagram @Schultz_Report. Also, be sure to catch my NBC Sports Radio show "Kup and Schultz," which airs Sunday mornings from 9 to 12 EST and 12-1 for fantasy football, right here.
CORRECTION: A previous version of this article misidentified the Lakers' coach as former assistant coach Brian Shaw, who is currently the head coach of the Denver Nuggets. The current Lakers head coach is Byron Scott.
Calling all HuffPost superfans!
Sign up for membership to become a founding member and help shape HuffPost's next chapter