NBA rookies are fun -- they just are.
But what is fun in the NBA isn't necessarily good. Last year's famed rookie class with Andrew Wiggins and Jabari Parker had plenty of great moments, but Wiggins came up against the proverbial rookie wall and Parker suffered a season-ending injury after performing well early on. In fact, the remainder of the lottery hardly impressed, either. Joel Embiid and Julius Randle never got on the floor after severe injuries, while hot draft-night names like Dante Exum, Aaron Gordon and Doug McDermott all disappointed. 
We think the 2015 class is more talented and far deeper than its predecessor. Here are the five players -- all 19 years old, by the way -- whom you can't afford to miss this season. (And you can see more NBA previews here, here and here.)
Karl Anthony-Towns, Minnesota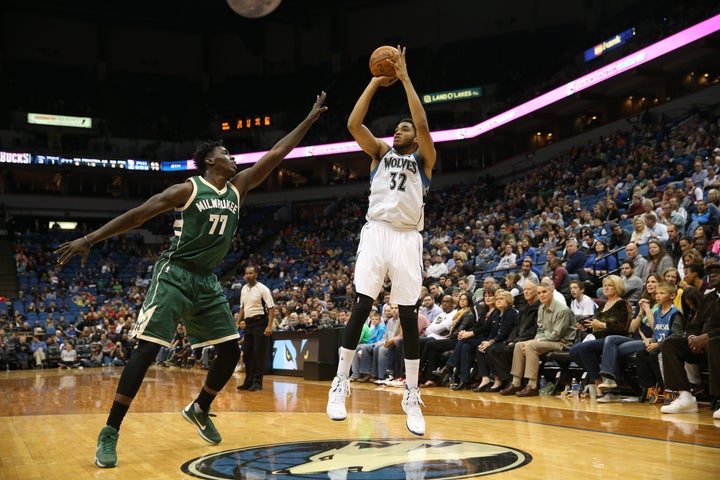 No surprises here. Towns -- whom HuffPost caught up with in June -- was the No. 1 pick in the draft because of his unlimited ceiling. His splendid blend of size, athleticism and legitimate shut-down defensive ability already stands out.
Minnesota is young -- like, really young -- and Towns will be featured in the post as the T-Wolves attempt to establish an identity. His pick-and-roll game with Ricky Rubio will be extra notable as a result. Finally, under the tutelage of teammate Kevin Garnett, the 7-foot Towns will learn how to become a pro, the importance of which cannot be understated in today's NBA. His best move early on will likely be the baby jump hook off the left shoulder that he used so well in college, but we know he will also need much more. (Remember, he shot below 40 percent in summer league.)
Towns' footwork -- like any young big -- will need help, but he has terrific hands, and his dramatic improvement during a single season in Lexington suggests he'll get there sooner than later.
D'Angelo Russell, LA Lakers
It may have come as a surprise to some observers that the Lakers opted for Russell as the second overall pick, choosing him over Duke's Jahlil Okafor. But it shouldn't have, as I explained in my draft winners and losers column. Russell, at 6-foot-5 with a freakish 6-foot-10 wingspan, is a playmaking dynamo and prodigious passer who thrives on the open floor.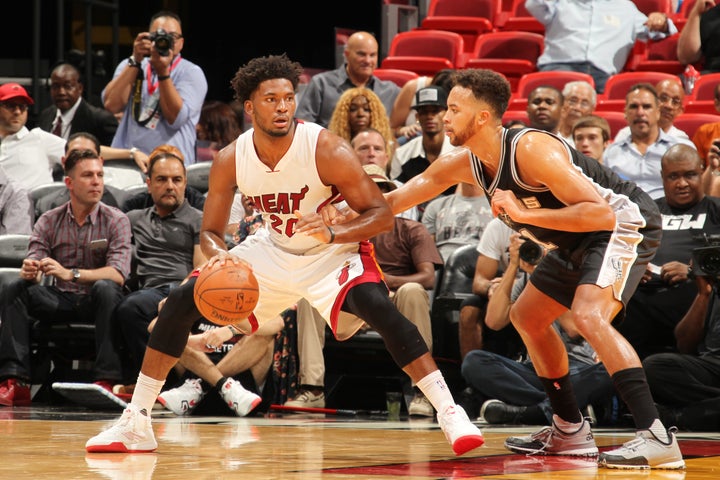 Winslow will make everyone pay for passing on him. Miami, which snagged him with the 10th pick, will instantly employ Winslow as a lockdown perimeter defender and capable third scoring option. It wasn't a reach when his college coach, Mike Krzyzewski, referred to Winslow as a Dwyane Wade clone. And Wade, to be sure, will benefit from Winslow's ability to play multiple wing spots. The beauty of Winslow is his versatility and winning pedigree, which Miami executive Pat Riley clearly coveted. While helping lead Duke to the national championship, the 6-foot-6 forward often had to defend the post one game and the perimeter the next. Winslow was equally comfortable making plays with the ball as he was playing off of Tyus Jones and Okafor.
His role with the Heat won't be much different. He will thrive playing off Goran Dragic and Chris Bosh -- who recently sat down with me on HuffPost Live -- in the same way, not to mention the 33-year-old Wade. As his shooting becomes more consistent, particularly from 3, Winslow will have every opportunity to become Miami's next superstar.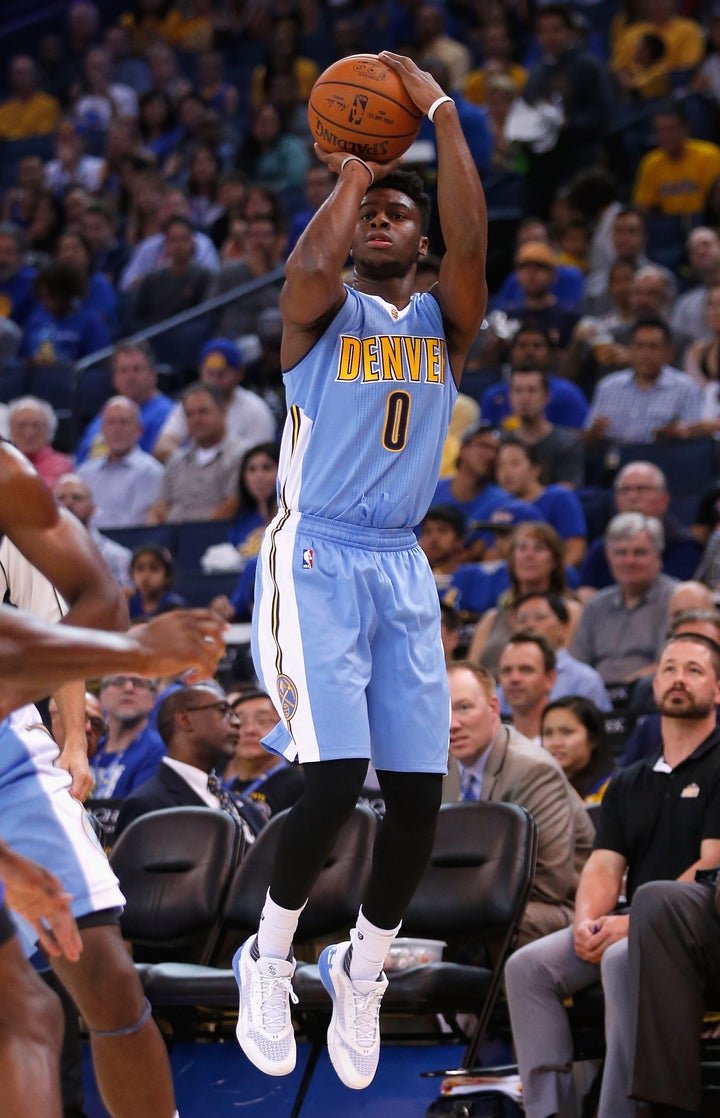 Mudiay doesn't appear to be a particularly gifted athlete, but with his 6-foot-5 frame and wondrous feel for the game, it may not matter. Like New York's Kristaps Porzingis, Mudiay is more of an enigma than anything else, given that few people have actually seen him play.
Here is what we do know, however. He can really pass the ball and from everything we've seen, he really wants to pass it. While he's not a consistent perimeter jump shooter yet, Mudiay's comfort level in the low block will be a major advantage. Big point guards who can score with their backs to the basket -- think Gary Payton, Andre Miller -- have a distinct built-in advantage, and it will serve Mudiay well, especially early on in his career.
The negative for him is likely to be overall efficiency, specifically when it comes to turnovers. This is a shortcoming of most young point guards, but going from the pro game in China to the NBA is a tremendous leap, and Mudiay will surely struggle with turnovers in his eagerness to make plays. But that's okay, because like Russell, he has the size and skillset to thrive as his team's quarterback. Just give him time.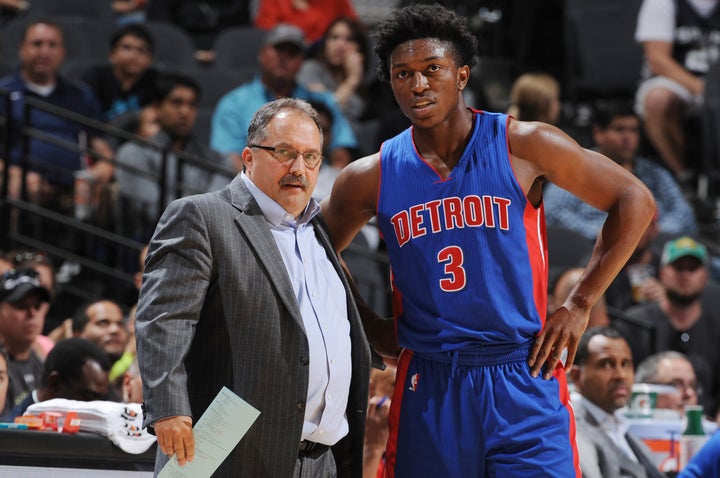 Johnson may actually be the rare example of a player who becomes a better pro than he was a collegian. Some say he didn't live up to the preseason buzz -- though he earned the Julius Erving Small Forward of the Year award during his lone season in Tucson -- but make no mistake, Johnson is tailor-made for the NBA. At a long 6-foot-7 and 245 lbs., he has a rock-solid power game with the ability to instantly defend multiple slots, a trait that will endear him to Pistons head coach Stan Van Gundy.
Don't forget that Johnson won four straight California Interscholastic Federation state crowns in high school. Then again, he shot a measly 7-26 from the floor and averaged 7 points per game in Arizona's NCAA Tournament run -- excluding one game against a hapless 15th seed, Texas Southern. Without question, he will be asked to score right away, but ultimately ball handling and creative capacity will determine the type of rookie season Johnson has. Both were areas where he struggled in college, and his finishing ability was generally unimpressive. But summer league showed a more polished Johnson, particularly his willingness to run pick-and-roll, not to mention shoot the 3 (42 percent). He has already emerged as a bona fide dark horse contender for Rookie of the Year.
REAL LIFE. REAL NEWS. REAL VOICES.
Help us tell more of the stories that matter from voices that too often remain unheard.