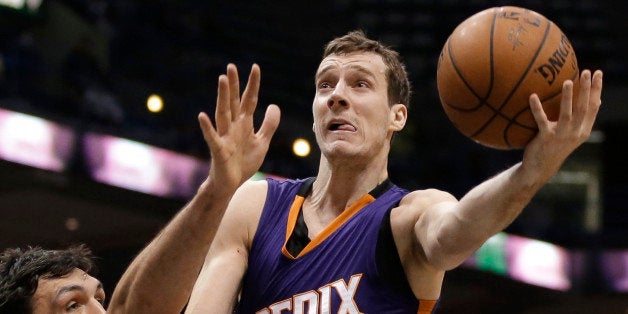 The famed NBA trade deadline has come and gone. Overall, 37 players were moved in 11 trades, including some marquee names and double-digit draft picks. For the most part, top teams (see Golden State and Atlanta) kept awfully quiet, while others tried to make a playoff push or clear a salary cap and build toward the future. Let's take a look at the winners and losers in this year's trade.
Yet another brilliant roster move by Pat Riley, albeit a late one by most deadline standards. Goran Dragic, for those who do not know, is one of the premier guards -- not just point guards -- in the league. He is a fantastic player who is still just 28 years old. He can score, he creates opportunities for everyone on the floor, he can really shoot it and he's left-handed. Maybe most importantly, Goran's brother is named Zoran, and he's another player who was in the trade with Phoenix. You can't beat that! We knew Miami would be in rebuilding mode following the departure of LeBron James. But what we didn't know was that Chris Bosh would once again become an All-NBA power forward or that the Heat would find its point guard of the future at the deadline. Dragic has great size, and because he's such a natural scorer and creative playmaker, he gives Erik Spoelstra the flexibility to play him off the ball, while keeping rookie Shabazz Napier -- a first-round pick -- on it.
As I previously reported, the Jazz got precisely what it wanted: a first-round draft choice and an expiring contract. Keep in mind that the earliest potential draft pick won't come until 2017. In other words, this is how you go from the lottery to the playoffs in a short period of time. GM Dennis Lindsey was able to add 21-year-old power forward Grant Jarrett, a guy who can really shoot the ball and comes at a serious discount -- he is still on a rookie contract. There is also the matter of 7-foot-1 Tibor Pleiss, a former 2010 draft pick and a guy I've long been intrigued by. Look for him to make his debut next season for the Jazz. The key here was extracting value on Kanter, who will become a restricted free agent after this season and had reportedly made little progress in contract negotiations with the Jazz.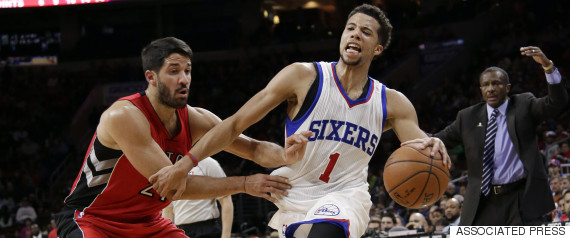 Philly gets rid of the cancerous Michael Carter-Williams (see more below) and gives itself a chance to land a record six top-11 picks in three years. Lose now, lose some more, and then win later? We shall see, but I have loved GM Sam Hinkie's strategy for a while now.
A dream scenario for Stoudemire, and perhaps one that remains a little under the radar. Stoudemire not only gets bought out by James Dolan, but he also goes to Dallas to play with the greatest stretch four of the modern era in Dirk Nowitzki, and a coach in Rick Carlisle who will figure out how to maximize 15-18 minutes a game from him come playoff time.
Garnett gets to finish his career where it all started. The only thing left to do? Get Stephon Marbury on the phone and out of China!
I previously reported that the Blazers wanted to add depth at wing. In the 29-year-old Arron Afflalo, they got a veteran two-way guy who really defends and can score when needed. In essence, he will lift the burden from second-year combo guard C.J. McCollum, and give coach Terry Stotts an additional wing defender alongside Wesley Matthews and Nicolas Batum. It wasn't the biggest deal, but the Blazers did get better.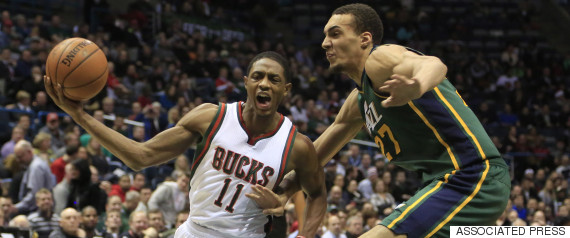 It was a tricky deadline for GM Ryan McDonough, who was facing an impending disaster: letting Dragic walk in free agency. By getting Brandon Knight (see more below), McDonough acquires an efficient point guard who is a good enough shooter to play off the ball alongside Eric Bledsoe. We can assume that the Suns have a better than 60-40 chance to re-sign Knight after this season, which would finally provide some roster stability as well. The downside was surrendering his Lakers lottery pick, but he more than made up for it by acquiring three first-round picks in the deals with both the Celtics and Heat.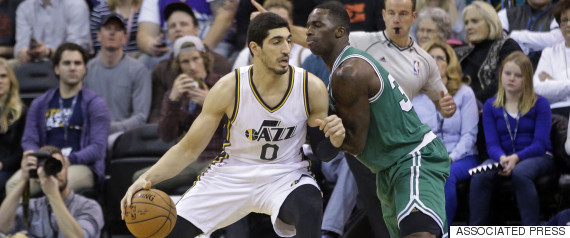 The Thunder surrendered a first-round pick in the Enes Kanter deal, which is a lot to give up for a team that has built through the draft under GM Sam Presti. Kanter, to be fair, brings a skill set on the block that head coach Scott Brooks has simply not had with this team. He can really score, and at times will command a double-team. Playing alongside Serge Ibaka -- who is a primarily a face-up four-man -- Kanter can add value. He should also benefit in the lineup with Kevin Durant and Russell Westbrook, the league's most devastating 1-2 scoring punch. The real negative with the deal is more the long-term than anything else. The Thunder traded a 1 in the Dion Waiters deal just last month, absorbed an additional $6 million in salary from D.J. Augustin and Kyle Singler, and now have to try and re-sign Kanter after the season. This makes the luxury tax a serious possibility next season and sacrifices the future in a big way.
If anyone can realistically explain to me what the Bucks are doing, I would appreciate it. To trade Brandon Knight, a young, highly efficient lead guard, for Michael Carter-Williams, another point who can't shoot, is baffling. Knight is a 41 percent 3-point shooter who has gotten better every year since coming into the league. He played very well alongside Jabari Parker before Parker was lost for the season. MCW meanwhile, has regressed and appears to be an above-average playmaker who can't spread the floor a lick. He also ranks in the top five in turnovers. Milwaukee is completely rudderless -- and don't forget about the Larry Sanders disaster either.
Whoever Has To Play Miami In the First Round
Toronto maybe? Chicago? Who knows, but the addition of Dragic (50 percent shooter) as a pick-and-roll/pop partner with Bosh instantly gives Dwyane Wade an uptick and Bosh a steady hand to create quality looks. Now, Wade can play off the ball more. I don't know if the Heat has enough to beat Toronto or Chicago in a prolong series, but throw in Hassan Whiteside in the front court with Bosh (assuming Bosh is healthy), and that's suddenly a pretty scary roster capable of pulling an upset.
Email me at jordan.schultz@huffingtonpost.com or ask me questions about anything sports-related at @Schultz_Report. Follow me on Instagram @Schultz_Report. Also, be sure and catch my NBC Sports Radio show, Kup and Schultz, which airs Sunday mornings from 9-12 ET, right here.
Calling all HuffPost superfans!
Sign up for membership to become a founding member and help shape HuffPost's next chapter