A while back I wrote a blog post about athletes and social media. Ever since then I have been keeping an eye on athletes that seem to be using social media to maximum effect. One such example is Harrison Barnes (@hbarnes) of the Golden State Warriors.
Heading in to the All-Star break, the Warriors are off to the best start in franchise history. In his third year in the league, Barnes has emerged as a key part of the team's success. Meanwhile he has already established himself as a super star on social media.
Barnes and other athletes of his generation have grown up around social media, but not all have embraced the medium the way Barnes has. I was intrigued by what Barnes was doing so I tweeted at him. Despite being in the midst of the season with a busy travel, practice and game schedule, he responded. It's not every day that an NBA star tweets at me, but this level of one-on-one engagement is what makes Harrison Barnes unique. I asked if he would be open to sharing some of his perspective on social media and he graciously obliged.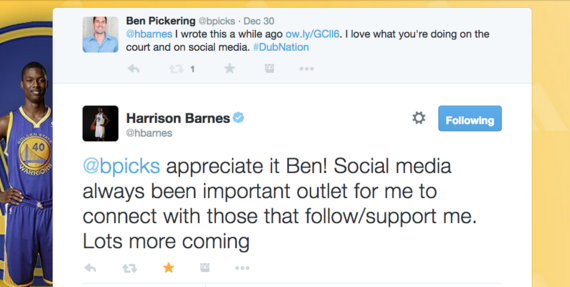 Although Barnes really only became active on social media when he entered the NBA, he has used these platforms to connect with hundreds of thousands of fans. I asked him about some of the fun ways in which he uses social media and he told me, "Hands down, the most fun I've had is with my scavenger hunts. I've dropped jerseys, tickets, and other items at random places across the Bay Area, along with clues on social media on how to find them. I have some great stories from those times."
Talk to people around the Warriors organization and you will find that Barnes is one of the hardest working members of the team, spending countless hours in the gym. While basketball is clearly his #1 priority, his passion for the game seems to be matched by his keen interest in technology. Barnes made headlines last summer when he became an "intern" at Facebook, a role he took on top of his off-season basketball training. According to Barnes, "I would work out each morning, and during rest period go over to Facebook and learn about what they're doing and how I could more uniquely connect with my supporters."
Here are some other insights that Barnes shared with me:
BP: What do you view the role of social media being for you on a personal and professional level?
HB: Personally, social media has kept me in touch with close friends and family while I am doing significant traveling. I use Skype, Instagram & Twitter mostly for that. It also has been a great outlet for me to connect with people I respect in other industries (other sports, entertainment, journalists, fitness, etc.). Of course it's the biggest driver for my consumption of news as well.
Professionally, I view it as my responsibility to connect with and give back to my fans and those that support me. Typically, if I have down time after a workout, I'll go to social media to update my fans and see what they are talking about. I like hosting Q&A's during those times to make it spontaneous. I have over 200,000 followers on Twitter & over 350,000 fans on Facebook, and I'm truly humbled by that. I owe it to those people to stay present, give them content they want to see, and have fun with them along the way. I've built real relationships with fans from Facebook, Twitter, and Instagram, and I'm proud of that.
BP: What have you found to be the best social media channel to engage with your fans?
HB: Facebook. That has been the main hub for scavenger hunts and other big contests, and the volume is just higher since there are more fans on there than any other platform. On some posts I get thousands of comments and responses, and Facebook has made hosting Q&A's easier for me. I also like the fact that I can do more long-form content.
BP: What advice would you give to younger athletes about the role of social media in their personal lives and playing careers?
HB: I'd say to just let it come to you and don't force it. When you have downtime, talk to your fans. Sometimes the smallest things can go a long way for people that never can come to a game, or even watch a game. Almost everyone can tweet. We didn't used to have these mediums to do so, and now that we do, take advantage.
BP: What is the biggest thing you learned from your time at Facebook? Will you do something like that again next off season?
HB: I learned that with all the powerful tools and technology we are exposed to today, my quest to build relationships with fans is just starting. To see first-hand how hard Facebook works to constantly improve its product was powerful. I definitely look forward to doing something else like that again. Facebook has been very helpful in working with me.
What was most refreshing to hear from Barnes is that he views social media as a vehicle to communicate with fans rather than a platform to build his brand. In my original post I wrote about how athletes could monetize their social media presence, but Barnes reminded me that isn't what it's all about. The true power in social media is being able to connect with others and nobody exemplifies this better than Harrison Barnes.
Calling all HuffPost superfans!
Sign up for membership to become a founding member and help shape HuffPost's next chapter