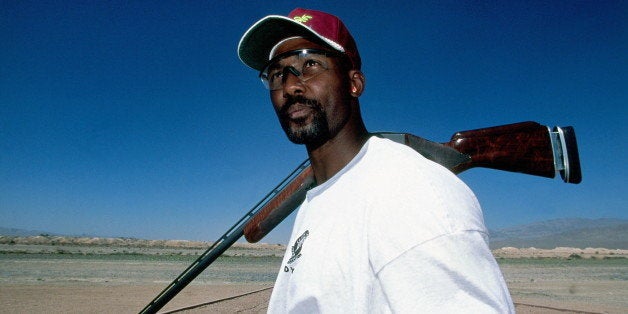 One of the most revered power forwards in NBA history is Karl Malone. He was an NBA All Star 14 times. An Olympian. He's in the Basketball Hall of Fame. His nickname is "The Mailman" because of how spectacularly he delivered. But should his nickname be changed to The Gunman?
In a public service campaign star NBA players have appeared in TV spots advocating gun sense to help end gun violence -- players like Stephen Curry of the Golden State Warriors and The LA Clippers' Chris Paul. But Malone's name and rep remain. So how come no Karl Malone? According to Malone himself, "I'm still an NBA player; I'm just retired."
In 2006 he was interviewed by ESPN about an incident involving some NBA players and guns in the locker room. One of the things Malone said was, "Now why do these guys carry guns? Is that the 'cool' thing to do? Well 'cool' gets you dead!"
Since that interview, according to the FBI, between 2006 and 2010 nearly 50,000 people died from gun violence. More recently about 43,000 Americans been ravaged by gun violence. With the body count increasing daily.
Also since then, Malone has become strangely silent on the issue of gun violence. Perhaps because he's been a spokesman for the NRA: His face has been front and center on "I'm the NRA" ads.
Beyond that, Malone is a member of a very peculiar section American gun society - the NRA Board of Directors. Why peculiar? According to publicly available information, NRA Board member Karl Malone lives at 11250 Waples Mill Road, Fairfax, VA, 22030. Oddly, Wayne Lapierre (NRA EVP), Allan Cors (NRA President), and Drill Instructor/Actor drop-and-give-me-twenty NRA Board member R. Lee Ermey, among many others, also all live at 11250 Waples Mill Road, Fairfax, VA, 22030. That must me some gun party house. There's also more than a little Pinocchioism there.
I've tried to contact Mr. Malone through his agent. Brick wall. I've also tried to contact Mr. Malone directly by phone and email at his hunting business for a comment. Nothing.
When our children and loved ones are being slaughtered on a daily basis, we need gun sense, not NRA fear-mongering. An average of 88 of us are killed every day by guns. Seven of those daily deaths are children. Malone's silence is only slightly less deafening than a thunderous stadium crowd after a game-winning shot.
Fun NRA side fact: George K. Kollitides II was the CEO of the Remington Outdoor Company until a few heartbeats ago. Now here's merely a paid "Senior Advisor." They are the folks who brought us the Bushmaster assault-style rifle used in the Newtown massacre.
George is an NRA Board member. Maybe one of the qualifiers for NRA Board membership is how many people are shot by the guns you make. And strangely, unlike most board members Kollitidies was never actually elected. He was simply appointed. Or perhaps more accurately, anointed.
But back to NRA Board Member Karl Malone. What makes this all the much sadder is that high profile people like Malone have chosen to stay in shadows, apparently content to allow the NRA sell more guns to people who shouldn't have them (read that as abusers, folks on the terrorist watch list, yada yada), make more money for the gun companies and not seem very concerned about what the average citizen, including responsible gun owners think about tightening background checks and the like. According to figures from FiveThirtyEight at least 84 percent of every one of 15 subgroups -- including Republicans, men, gun owners and people living in rural areas -- said "yes." This carnage raging across our country has to stop.
You can't tell me one good thing that can happen with a gun in an arena, but I can tell you a thousand bad things. If I'm a player on that team, of course, I'm saying to those guys, 'What the hell are you doing?' Even if, as [Wizards' shooting guard Gilbert] Arenas insists, he brought the guns to the arena because he wanted them away from his children at home, I wouldn't have bought that excuse. Buy a safe. Put them in there. End of story.
Sadly that's not the end of the story. If Mr. Malone truly believes that, why not stand up, show everyone you really do have a set of basketballs and tell the NRA they're wrong with their guns everywhere/slash and burn/take no prisoners approach to gun proliferation. And the deaths that come with it.
Why not let them know how you feel about the scores of children, moms and dads that are in mortal danger by forcing sporting grounds, parks, zoos and most disturbingly, schools to allow guns in? All sacrifices to the God of the Second Amendment.
Mr. Malone, are you the mailman who wants to help deliver the news that some sanity needs to be injected into our gun culture? Or are you the gunman whose silence helps perpetuate the killing? The shot clock's running.