Infowars host Alex Jones declared victory Monday against the mainstream media and their "globalist" agenda, six days before his controversial interview with NBC is scheduled to air.  
"I win by going into the Gorgon's pit and I survive," Jones said. "I survived going into that lair. And that's what it's all about."
The Gorgon, in this case, is NBC host Megyn Kelly, who Jones also referred to Monday as a "fembot Dr. Evil." The descriptions are on-brand for Infowars, where Jones warns daily on the internet of dark forces plotting against him and his liberty-loving audience. It's where he's also helped fuel conspiracy theories, like the Sept. 11 terrorist attacks being an "inside job," and the slaughter of 20 children at Sandy Hook Elementary School a hoax.
Such conspiracy mongering wouldn't so dangerous if unhinged individuals weren't threatening the parents of dead children, or if Infowars didn't have influence in the White House. President Donald Trump, known for pushing conspiracy theories himself, has appeared on the show, and longtime outside adviser Roger Stone is regular guest and occasional fill-in host.
Kelly cited Trump's fondness for Infowars as justification for booking Jones on her Sunday evening newsmagazine in response to criticism that has included complaints from families of Sandy Hook victims and calls on social media to boycott the network. 
Networks have aired interviews with mass murderers like Charles Manson and brutal dictators like Syria's Bashar Assad. So it's tough to argue that the appearance of Jones on broadcast television should be taboo. 
But in deciding to "shine a light" on Jones, NBC risks of giving a spotlight to a provocateur known for promoting misleading claims ― and providing him with a new audience. 
A promotional clip released Sunday from the interview showed Kelly challenging Jones on Sandy Hook, and pointing out when he dodged a question about his views. Still, Jones is seen on camera sowing doubt about a matter of fact. That 20 children and six educators were murdered in Newtown, Connecticut, isn't up for debate. 
For a TV journalist interviewing Jones, it can be asymmetrical warfare. He's unlikely to be suddenly swayed by fact-based evidence, redirects pointed questions, and in the end can frame the entire interview as an attempt by the nefarious mainstream media to silence him. And his fans will eat it up.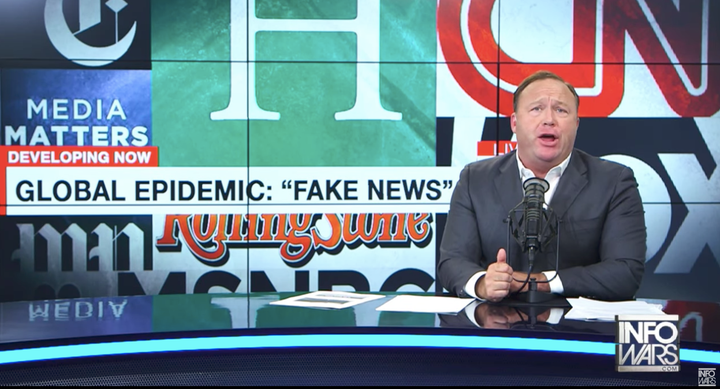 Recently, "60 Minutes" anchor Scott Pelley tried nailing down Mike Cernovich for a segment on "fake news," but the right-wing media personality chocked up their competing views as due to operating in "different universes." BuzzFeed's Charlie Warzel wrote that Cernovich "was able to take an interview designed to discredit him and use it to his advantage."
Jones has already played up the Kelly interview for his audience, and is likely to to do more in the days leading up to its Sunday airing and beyond. On Monday's show, Jones said he taped the four-hour interview with Kelly and plans to expose news media manipulation after it airs.
"I knew it'd be rigged," he said. "I knew she was lying to me. I knew she was deceiving. I knew it was a giant hit piece."
Jones said the only way he could fail was to not do the interview. He said he warned NBC they were walking into his trap by sitting down with him. 
Jerome Corsi, a leading proponent of the racially fueled birther conspiracy theory aimed a former President Barack Obama, now Infowars' Washington bureau chief, speculated that Kelly could have been assigned to interview Jones as part of a deep-state conspiracy to tarnish the host as an ally of Russia. Jones did not dispute the theory.
With Jones, whose attorney recently tried explaining his erratic behavior as performance art in his child custody case, it's unclear what he actually believes and what is schtick. It's hard for a journalist, even one with the best of intentions, to pin him down on specifics.
Jones returned in the evening, after his four-hour Infowars show ended, to respond to the media firestorm from Sandy Hook families, claiming NBC's teaser misrepresented his views. He said he believed Sandy Hook was "real," though he suggested there was a public relations operation to exacerbate the situation for the purposes of curtailing gun rights. 
"They did not have me in there saying I believe children died there at Sandy Hook," Jones said of the promotional clip. "They had it edited where it sounded like I was saying nobody did. And the headlines are I doubled down. That's why I'm calling for the piece not to air next Sunday on Father's Day."
Some Sandy Hook parents have asked for the same.
The network, with the controversy sure to generate big ratings, is unlikely to budge.  
Calling all HuffPost superfans!
Sign up for membership to become a founding member and help shape HuffPost's next chapter
BEFORE YOU GO