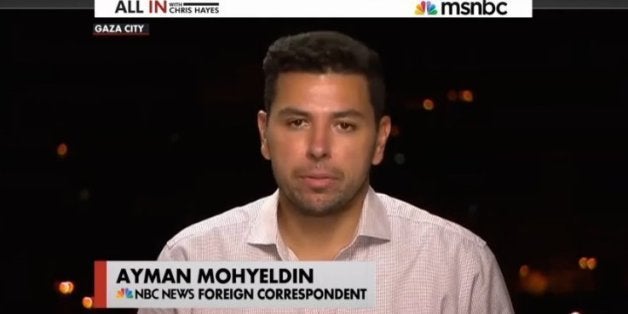 NEW YORK -- NBC News correspondent Ayman Mohyeldin will return to Gaza to cover the Israeli invasion, an assignment that comes two days after he was mysteriously removed by the network.

"Ayman Mohyeldin has done extraordinary reporting throughout the escalation of the conflict in Gaza, filing 25+ reports over the past 17 days, including his invaluable and well-documented contribution to the story on the deaths of the four Palestinian children on Wednesday," an NBC News spokeswoman said in a statement.
"As with any news team in conflict zones, deployments are constantly reassessed. We've carefully considered our deployment decisions and we will be sending Ayman back to Gaza over the weekend," the spokeswoman continued. "We look forward to his contributions in the coming days."

NBC has been under fire for two days since pulling Mohyeldin shortly after his moving, first-hand reporting on an Israeli strike that killed four Palestinian children.
The network would not comment on the decision, thereby fueling speculation that the removal had to do with Mohyeldin's coverage of the civilian casualties or a couple of deleted posts on social media.
A source familiar with the decision told The Huffington Post that NBC executives described security reasons as the factor behind Mohyeldin's removal. But as Mohyeldin was removed, NBC assigned chief foreign correspondent Richard Engel to Gaza.
Also, Mohyeldin -- who covered Israeli strikes on Gaza in 2008 and 2012 -- is arguably one of the most experienced reporters in the region and yet wasn't reassigned to, say, Israel or Egypt, to continue covering the conflict from another location.
Mohyeldin, who hadn't posted on social media since Wednesday, thanked supporters in a Friday night tweet.
"Im returning to #Gaza to report," he wrote. "Proud of NBC's continued commitment to cover the #Palestinian side of the story."
Related
Popular in the Community