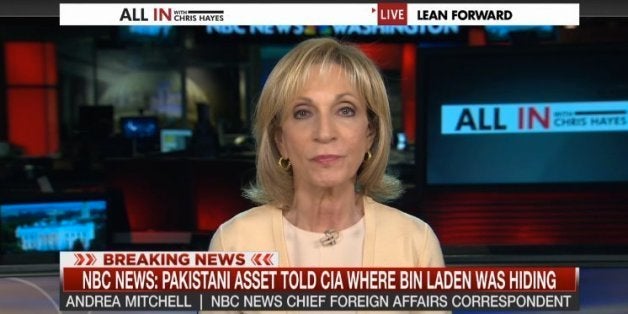 NEW YORK -- NBC News has walked back its Monday report that a Pakistani intelligence officer provided the CIA with Osama bin Laden's whereabouts a year before the U.S. raid in May 2011, a claim that ran counter to the Obama administration's narrative of events but supported a key detail in an explosive new story by investigative reporter Seymour Hersh.
On Monday afternoon, NBC News cited "two intelligence sources" claiming the Pakistani officer, a walk-in informant, "told the CIA where the most wanted man in the world was hiding." NBC also reported that those two sources, along with a third, said "the Pakistani government knew where bin Laden was hiding all along." The Obama administration has maintained that bin Laden was found through tracking his couriers to the compound in Abbottabad, Pakistan.
Monday evening, chief foreign affairs correspondent Andrea Mitchell -- who shared a byline on the story with investigative unit head Richard Esposito and reporters Matthew Cole and Robert Windrem –- reported the information on the "NBC Nightly News" and MSNBC's "All In with Chris Hayes." The network heavily promoted the scoop, with an on-screen chyron during nearly all of Hayes' 16-minute segment, featuring appearances by Hersh and Mitchell, that read: "NBC News: Pakistani Asset Told CIA Where Bin Laden Was Hiding."

But NBC News has now added an editor's note to the story that diminishes the Pakistani officer's involvement and lacks the earlier specificity. Instead of pointing the CIA to bin Laden whereabouts, NBC News now reports that the officer "provided information vital to the hunt for bin Laden."
The NBC News report received significant attention and pick-up because it dropped just as the news media was debating Hersh's bombshell in the London Review of Books and amid strong pushback from the White House. Though the network didn't corroborate several major claims in Hersh's piece -- President Obama originally planning to describe bin Laden's killing as the result of a drone strike, high-level Pakistani involvement in the raid, and no firefight or sea burial -- the report did initially back up his reporting on the Pakistani "walk-in." As a result, NBC News' report was interpreted by some in the media as giving more validity to Hersh's controversial report, even as Mitchell also challenged some of his other key assertions about the bin Laden operation in on-air segments.
What's unclear from the editor's note is whether NBC News sources changed their stories of the Pakistani officer's involvement or if their version of events was misinterpreted by reporters.
Esposito referred this reporter to an NBC News spokeswoman. The spokeswoman did not provide additional comment.
Such backtracking on a major story comes at a significant moment for the network, as Esposito is leading NBC News' internal investigation into claims made by suspended anchor Brian Williams and following a shake-up of the news division. It also comes just months after NBC News walked back a report surrounding attacks on Charlie Hebdo offices in Paris.
Now, NBC News' story more closely matches a Tuesday AFP report that described the Pakistani officer as assisting in finding bin Laden. That AFP report didn't describe the Pakistani defector as providing bin Laden's whereabouts.
While both reports support Hersh's description of a Pakistani "walk-in" giving information to the CIA in 2010, they stop short of backing up the claim that he provided bin Laden's location to the agency.
However, Hersh did receive support Tuesday on that front from a journalist who extensively covered Pakistan and Afghanistan for more than a decade after the Sept. 11 attacks.
New York Times reporter Carlotta Gall wrote Tuesday that there had been rumors of a Pakistani defector within days of the U.S. raid, though she hadn't corroborated the claim.
While researching a book two years after the raid, Gall said she heard from "a high-level member of the Pakistani intelligence service that the ISI had been hiding Bin Laden and ran a desk specifically to handle him as an intelligence asset."
Gall said she learned after the book's publication that "it was indeed a Pakistani Army brigadier ... who told the CIA where Bin Laden was hiding, and that Bin Laden was living there with the knowledge and protection of the ISI," the country's spy service. Gall said she trusted the source of the information, which came secondhand from a friend "high enough in the intelligence apparatus to know what he was talking about." However, she did not previously publish that detail in The Times because of the difficulty of corroborating it in the United States.
Hersh's report is not surprisingly also generating attention, and follow-up, in Pakistan. The News, a Pakistani newspaper, also reported Tuesday that a former officer informed the CIA of bin Laden's presence in Abbottabad.
Calling all HuffPost superfans!
Sign up for membership to become a founding member and help shape HuffPost's next chapter