NBC has cut ties with business mogul Donald Trump, whose show "The Apprentice" has aired on the network since 2004, over Trump's recent derogatory statements about immigrants.
According to a statement, the network is "ending its business relationship" with Trump, noting the annual Miss USA and Miss Universe pageants and "The Apprentice" will no longer air on NBC.
Trump responded to NBC Monday, saying he'd "probably" sue the network, according to Mediaite and Fox.
"Whatever they want to do is okay with me," Trump said during remarks in Chicago, according to Fox News. "I've had a lot of great relationships with NBC, I think as far as ending the relationship, I have to do that, because my view on immigration is much different than the people at NBC."
In a statement released Monday, Trump stood by his controversial remarks and criticized NBC for how it handled his situation versus that of anchor Brian Williams, who was suspended for six months after admitting to making false statements on air and has since been moved to MSNBC as a breaking news and special reports anchor.
"If NBC is so weak and so foolish to not understand the serious illegal immigration problem in the United States, coupled with the horrendous and unfair trade deals we are making with Mexico, then their contract violating closure of Miss Universe/Miss USA will be determined in court," Trump said. "Furthermore, they will stand behind lying Brian Williams, but won't stand behind people that tell it like it is, as unpleasant as that may be."
While announcing his candidacy in the 2016 GOP presidential primary race, Trump bashed Mexican immigrants, calling some "rapists."
"When Mexico sends its people, they're not sending their best. They're not sending you," Trump said. "They're sending people that have lots of problems, and they're bringing those problems with us. They're bringing drugs. They're bringing crime. They're rapists. And some, I assume, are good people."
Colombian reggaeton singer J Balvin canceled his performance at the Miss USA pageant because of Trump's remarks, and former Miss Universe Lupita Jones -- who is in charge of the organization that chooses Miss Mexico -- denounced his comments.
Univision announced Thursday it would not air the Miss USA pageant because of Trump's remarks. Trump fired back, claiming he planned to sue the network for "hundreds of millions of dollars" if it fails to show the pageant on July 12.
Even after the backlash, Trump doubled down on his comments, claiming he was "exposing the truth" and arguing Mexico has "totally taken advantage of the United States."
"There is nothing to apologize for. Many bad people are pouring through. I'm not saying just Mexican, many bad people. All you have to do is ask the border patrol," Trump told People magazine. "I don't have a racist bone in my body. I'm just exposing things that everybody knows is happening, but nobody wants to talk about."
"In all fairness, I don't want it to sound trivial, NBC renewed 'The Apprentice,' because we had a great season last season. And they would love me not to be doing this, I will tell you right now," Trump told CNN Sunday.
"I mean the top people come to my office and they said, 'Please do this,'" Trump said, referring to NBC executives who he claims wanted him to stay with the show.
"I will be the greatest jobs president that God ever created," he said.
This post has been updated with a response from Trump.
Support HuffPost
The Stakes Have Never Been Higher
Before You Go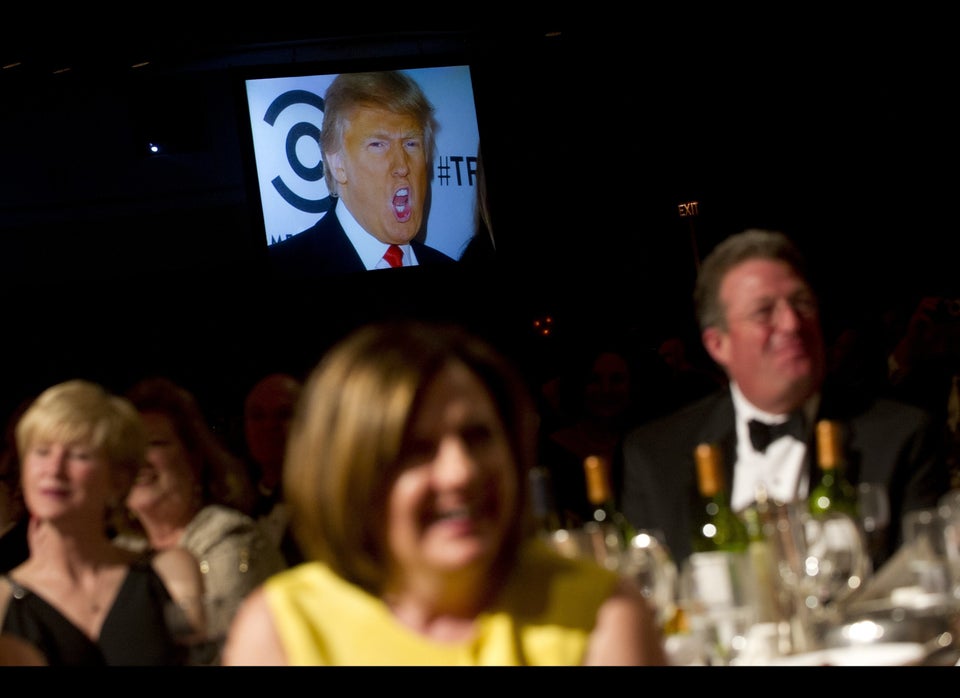 Donald Trump
Popular in the Community