 WASHINGTON -- A new Iowa poll from NBC and Marist College confirms the findings of this week's other polls. Mitt Romney and Ron Paul continue to be the first choice of likely caucus-goers, with Newt Gingrich plummeting. The poll also confirms the surprising late surge by former Pennsylvania Senator Rick Santorum.
In the new NBC/Marist poll, Romney receives 23 percent support to 21 percent for Paul, 15 percent for Santorum, 14 percent for Rick Perry, 13 percent for Gingrich and 6 percent for Michele Bachmann.
Romney's slight edge is not large enough to be statistically significant in the single Marist survey, but it is consistent with the current candidate estimates produced by the HuffPost Pollster chart, which is based on all available public polls. The chart currently shows Romney leading Paul by a percentage point and a half (21.7 to 20.2 percent), followed by Gingrich (14.3 percent) and Santorum (13.1 percent).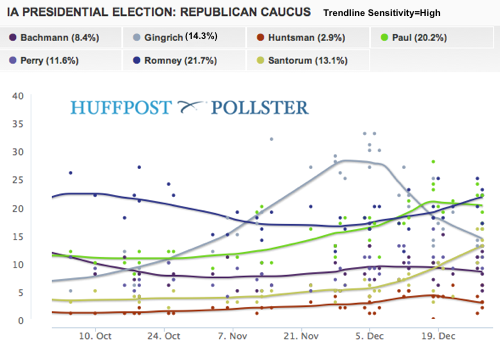 Of course, the current polling snapshot may prove to be only that, as late shifts in support continue in the days before the caucuses. Over the last 10 days, the chart shows Santorum's support rising slightly faster (+4.1 percentage points) than Gingrich's vote has been falling (-3.9 percentage points). Romney's support has also increased on the chart, though not as rapidly (+2.7 percentage points).
The new poll also yields evidence that suggests that Santorum's rise may continue. As NBC's First Read observes, Santorum has the most room to grow his support over the campaign's final days. On the NBC/Marist poll, nearly half the likely caucus-goers (49 percent) now consider Santorum an acceptable choice, far above his 14 percent support. Santorum is second on acceptability only to Romney (50 percent) and slightly ahead of Rick Perry (44 percent). Michelle Bachmann (37 percent), Ron Paul (35 percent) and Newt Gingrich (35 percent) score far lower.
The biggest question mark in the race for Iowa at present is whether the 46 percent of self-identified Tea Party caucus-goers will coalesce behind a single candidate. They currently split between Santorum (20 percent), Romney and Paul (17 percent each), Gingrich (16 percent), Perry (15 percent) and Bachmann (10 percent).
As First Read points out, "the divided conservative vote in Iowa creates a path to victory for Romney." That may be the end result. Tea Party supporters had momentarily rallied to Gingrich on a previous NBC/Marist poll, and variously to candidates like Herman Cain, Rick Perry and Michelle Bachmann in other polls earlier this year.
Tea Party conservatives have already demonstrated a tendency toward tactical or strategic voting, which is a willingness to support a less preferred but more popular candidate to prevent an undesirable outcome (in this case, the nomination of Romney). If media coverage of Santorum's late momentum sparks a similar rally, the former Pennsylvania senator may surge at just the right moment.
A note about methodology: The NBC/Marist uses live interviewers and is the only Iowa poll released this week based on samples of both landline and mobile telephone numbers. Their results confirm findings of the Washington Post/ABC News poll: Ron Paul runs strongest among those interviewed by cellphone, leading Romney by a 30-to-17 percent margin, while Romney does better among those interviewed over landlines (24 to 18 percent).
Nonetheless, the overall NBC/Marist findings generally resemble those produced by other polls that do call cellphones, so the steps taken by other pollsters to weight their landline-only samples may be controlling for the missing cellphone-only voters.
The NBC/Marist poll was conducted Dec. 27-28 among 425 likely Republican caucus-goers, with a reported margin of sampling error of plus or minus 4.7 percentage points. Likely voters were selected from a sample of 3,223 Iowa adults based on their self-reported chance of voting, interest in the election and past election participation.