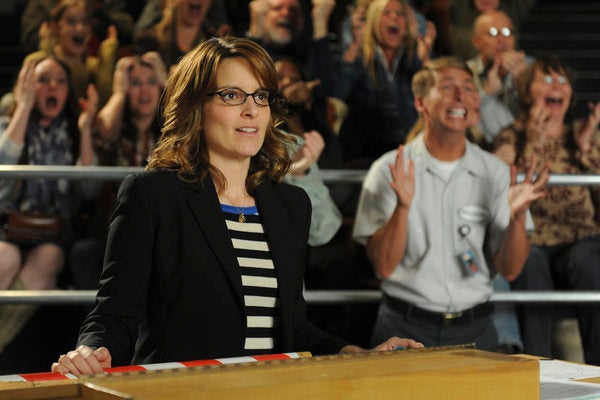 Television scheduling is a largely dubious, confounding and, in this day and age, increasingly irrelevant process. So what I'm about to offer isn't the first rumination on the disconnects between audiences and programmers, between mass markets and niche markets, and it definitely won't be the last. But this one is personal. It's about how sometimes you can stand in one place without realizing the rest of the world is heading off somewhere else. It's about staying alone in the stadium long after the final out. It's about how almost nobody, save for myself and people I consider either close personal friends or cosmic allies, still watches Thursday night television on NBC.
So maybe that's a bit melodramatic. NBC's Thursday night lineup hasn't been "Must See TV," in name or in practice, for some years now. And brand loyalty, as a concept, has never really held much water in the realm of entertainment television. But there are so few certainties in life (and certainly within the media landscape) that it's a bit of a shame when one of the sure things becomes not so sure. This dawned on me when looking at Thursday overnight ratings the past few weeks, when among adults aged 18-49, the most important demographic range for advertisers, NBC has placed fifth among broadcast networks. For reference, there are only four major American broadcast networks that air their programming in the English language. So this is quite a decline for an evening of entertainment that was, for years and years, home to the most popular and acclaimed shows on television.
A bit of history for the uninitiated. NBC began targeting Thursdays as its primary destination for its top sitcoms and dramas beginning in the early 1980s, and enjoyed an unprecedented run of success. Some of the flagship shows in its two-hour block of comedies included mega-hits like Family Ties, Cheers, The Cosby Show and Will & Grace, quirkier but still popular fare like Night Court, Wings and Mad About You, and perhaps its two most popular '90s-era crown jewels, Seinfeld and Friends. By the early 1990s, the NBC Thursday comedy block (now dubbed "Must See TV") had so captured the public imagination that when FOX briefly moved The Simpsons to Thursdays in an effort to blunt The Cosby Show, the act was viewed as borderline criminal. Meanwhile, for two decades Hill Street Blues, L.A. Law and E.R. dominated the 10:00 hour. In the middle part of the 2000s ratings began to decline, as they did across network television. But the cachet of the evening and the quality of the programs remained high, with long-running sitcoms like The Office and 30 Rock taking over.
Even today, in the wake of the dismal numbers, and as Thursdays have become much more competitive (in 2011 CBS shuffled the The Big Bang Theory into its Thursday night anchor spot in a direct effort to siphon viewers from NBC's comedies, while FOX has moved its hit Glee to the same spot this season), the current lineup remains quite strong. 30 Rock and, to a lesser extent, The Office have been creatively resurgent this season as they set the dominoes in place for their final episodes. Up All Night has refocused as a competent and enjoyable family sitcom (think Mad About You post-baby except funny). And Parks and Recreation is the most reliably funny, sweet, and sharply acted comedy on network TV, carefully balancing small town political satire with a true emotional investment in its characters. So why don't the numbers measure up?
Now, I realize I'll need to accept my share of the blame for this. For as much as I love NBC's current Thursday offerings, I never watch them in real time, delaying at least 8 or 10 minutes to DVR-dodge the ads. This is because, like any other self-respecting American, I love buying things but I hate having them sold to me. Whenever there's a DVR mishap and I have to catch up through Video On Demand, I'm forced to watch advertisements (but only then because NBC has smartly implanted a small demon in my cable box that prevents me from fast forwarding). Even though the Nielsen Company compiles ratings data that include same day and weekly DVR viewing numbers (along with other measures that track viewing on digital platforms), the figures that really matter for advertisers involve live viewing of a given program in its original context. And here NBC can really no longer compete on Thursday nights.
I was born in 1980, and I settled into a life of television watching at a pretty early age. With the exception, maybe, of Mr. Rogers and Big Bird, some of the first television personalities I can remember encountering were Cliff Huxtable, Alex P. Keaton and Sam Malone. I watched Seinfeld years before it was cognitively appropriate for me to do so. NBC's Thursday comedies became so reliable that I could even be made to believe that star vehicles centered around the likes of Jonathan Silverman and Breckin Meyer might be good ideas (they weren't). Not to hold aside some stale conception of TV as the electronic hearth, that a given group of programs should or could ever be all things to all audiences, but for years the Thursday lineup was something approaching that, with far more hits than misses. So it saddens me that, despite the current sitcom crop (NBC has replaced the traditional 10:00 drama with Brian Williams's Rock Center) still being pretty great, nobody gives it the time of day anymore.
Network television has largely gotten out of the tastemaking business, reliably coasting on established formats, letting the niche markets of cable and the web test out new trends before stealing them (witness the past several seasons' rush on period drams in the wake of Mad Men, for example). That a network as large as the National Broadcasting Company has been reduced to providing niche programming on one of the industry's most profitable viewing nights is, like many changes in the media business, unprecedented. And, truth be told, NBC's failure to compete has made ratings expectations so low that it's likely kept many of my favorite shows alive far longer than they would have made it in, say, 1995. So I suppose there's some kind of silver lining. In the current media climate, we're unlikely to find our own Must See TV conveniently assembled in one place. Still, a network that has been curating content so well for so long deserves to be lauded. NBC continues to receive plenty of praise; it's just a shame it doesn't have any viewers.
Calling all HuffPost superfans!
Sign up for membership to become a founding member and help shape HuffPost's next chapter