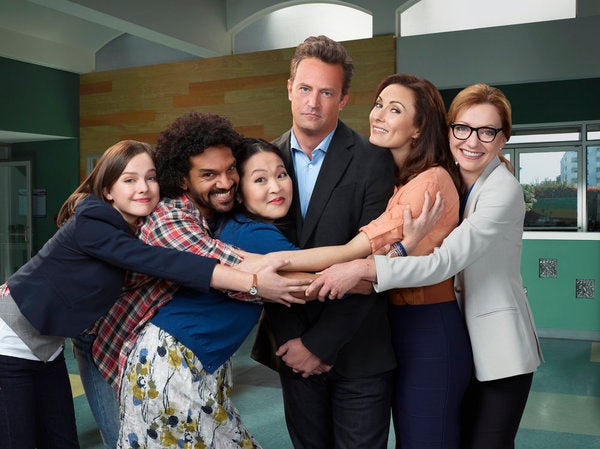 From a (presumably failed) adoption attempt in the trailer for Ryan Murphy's "The New Normal" to Matthew Perry's character's effort to have everyone in his grief group to share their sob stories in five seconds in "Go On," each trailer hints that the 2012-2013 will be a unique season for NBC.
Check out the trailers for "Go On," "The New Normal" and more below:
"Go On" Misery loves company. Unless you're sportscaster Ryan King (Matthew Perry) who thinks misery should just be left alone. After taking some time off, Ryan –- who recently lost his wife in a car accident -– is now ready to get back to work. And while he seems like his same old charming, cocky self, his boss won't set him back on the air until he seeks counseling. So, Ryan reluctantly joins a support group with one goal in mind: get in, get out and get back on the radio as quickly as possible. Also starring Laura Benanti, Julie White, Suzy Nakamura, Khary Payton and Allison Miller. From Emmy-winning writer and executive producer Scott Silveri ("Perfect Couples," "Friends") comes a new series that proves grief can be good.

"The New Normal":These days, families come in all forms -– single dads, double moms, sperm donors, egg donors, one-night-stand donors … It's 2012 and anything goes. Bryan (Andrew Rannells) and David (Justin Bartha) are a Beverly Hills couple and they have it all. Well, almost. With successful careers and a committed and loving partnership, the one thing missing is a baby. And just when they think the stars will never align, enter Goldie (Georgia King), an extraordinary young woman with a checkered past. A Midwestern waitress and single mother looking to escape her dead-end life and small-minded grandmother (Ellen Barkin), Goldie decides to change everything and move to L.A. with her precocious 8-year-old daughter. Desperate and broke –- but also fertile -– Goldie quickly becomes the guys' surrogate and quite possibly the girl of their dreams. Ryan Murphy serves as creator/executive producer and director along with executive producer/creator/writer Ali Adler and executive producer Dante Di Loreto.
"Guys With Kids": From Emmy winner and executive producer Jimmy Fallon comes a new comedy about three thirty-something dads trying to hold on to their youth, while holding onto their new babies' hands. Easy, right? Thankfully, Chris (Jesse Bradford), Nick (Zach Cregger) and Gary (Anthony Anderson) have each other to help navigate their survival as new dads, while still trying desperately to remain dudes. Balancing work or staying at home, painfully married or happily divorced, they know that taking care of the little ones while maintaining a social life is a daily challenge. Whether it's hosing the little squirt down in the kitchen sink or hitting the bar strapped with a baby bjorn, these guys are on a roller-coaster adventure -– parenting like you (and they) have never seen before. Also starring Jamie Lynn Sigler and Tempestt Bledsoe.

"Revolution": Our entire way of life depends on electricity. So what would happen if it just stopped working? Well, one day, like a switch turned off, the world is suddenly thrust back into the dark ages. Planes fall from the sky, hospitals shut down and communication is impossible. And without any modern technology, who can tell us why? Now, 15 years later, life is back to what it once was long before the industrial revolution: families living in quiet cul-de-sacs, and when the sun goes down, lanterns and candles are lit. Life is slower and sweeter. Or is it? On the fringes of small farming communities, danger lurks. And a young woman's life is dramatically changed when a local militia arrives and kills her father, who mysteriously –- and unbeknownst to her -– had something to do with the blackout. This brutal encounter sets her and two unlikely companions off on a daring coming-of-age journey to find answers about the past in the hopes of reclaiming the future. From director Jon Favreau and the fertile imaginations of J.J. Abrams and Eric Kripke, comes a surprising "what if" action-adventure series, where an unlikely hero will lead the world out of the dark. Literally. The series stars Billy Burke, Tracy Spiridakos, Anna Lise Phillips, Zak Orth, Graham Rogers, J.D. Pardo, Giancarlo Esposito, David Lyons, Maria Howell, Tim Guinee and Andrea Roth.
"Chicago Fire": No job is more stressful, dangerous or exhilarating than those of the Firefighters, Rescue Squad and Paramedics of Chicago Firehouse 51. These are America's everyday heroes -- the courageous men and women who forge headfirst into danger when everyone else is running the other way. But the enormous responsibilities of the job also take a personal toll. Big reputations and hefty egos, coupled with the pressure to perform and make split-second decisions, are bound to put squad members at odds. When a tragedy claims one of their own, there's plenty of guilt and blame to go around. In the middle of a divorce, Lt. Matthew Casey (Jesse Spencer) tries to go about business as usual but can't help butting heads with the brash Lt. Kelly Severide (Taylor Kinney) of the Rescue Squad –- and each blames the other for their fallen team member. When it's "go-time" though, they put aside their differences and put everything on the line for each other. "Chicago Fire" is a look inside one of America's noblest professions. Also starring are Eamonn Walker, Charlie Barnett, David Eigenberg, Monica Raymund, Lauren German, Teri Reeves and Merle Dandridge. "Chicago Fire" is produced by Universal Television and Wolf Films. Emmy Award-winning creator/ producer Dick Wolf, Derek Haas, Michael Brandt, Peter Jankowski and Danielle Gelber serve as executive producers.
Check out photos from NBC's new 2012-2013 shows here: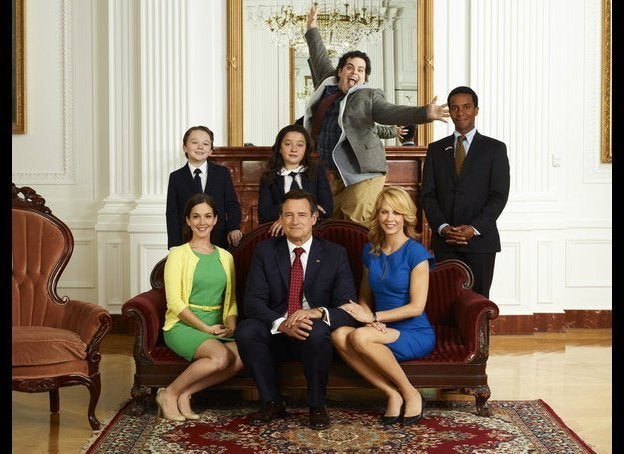 NBC's New Shows
Popular in the Community