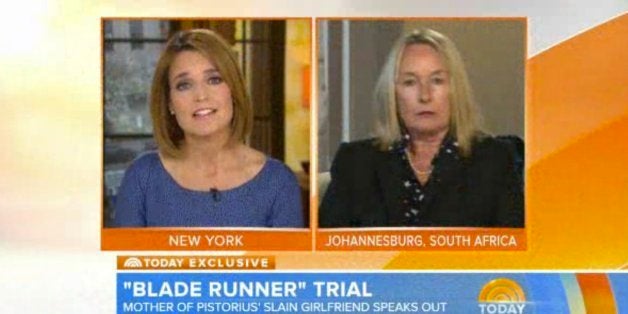 NBC News is facing ethical questions over revelations that it agreed to pay licensing fees to Reeva Steenkamp's family, which is giving the network a series of interviews.
The practice — known as "checkbook journalism," in which networks pay subjects licensing fees for footage and other materials used during interviews — is not uncommon, and has caused trouble for NBC News and ABC News before.
NBC News' Ali Zelenko confirmed to the Post that Peacock Productions, an NBC News subsidiary, paid the Steenkamp family what she described as "a very modest licensing fee" for "materials" to be used in upcoming documentaries.
Peacock Productions is the same group that negotiated a deal for interviews with Hannah Anderson and her father last year. At the time, NBC News defended itself saying that the fee — which was reportedly in the six figure range — would be for "footage and personal material" and not the actual interviews themselves.
The practice is controversial nonetheless, and the networks have traded fire over engaging in checkbook journalism. In 2011, for example, ABC News said that it would stop paying subjects licensing fees — which prompted NBC News to gloat, "We agree that their recent activity has been bad for journalism and the news industry." ABC News shot back, alleging that "NBC News lies about its practices."
CORRECTION: This article has been corrected to read that the Steenkamps' daughter was fatally shot by Oscar Pistorius. It originally said, "The Washington Post reported Wednesday that the network secured interviews with the Steenkamps, who was fatally shot by Oscar Pistorius, in exchange for licensing fees."
REAL LIFE. REAL NEWS. REAL VOICES.
Help us tell more of the stories that matter from voices that too often remain unheard.