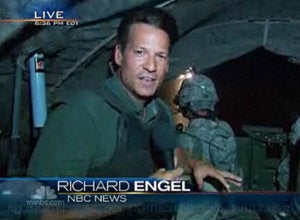 NBC News owned the exclusive on Wednesday night's withdrawal of combat troops from Iraq, with the network's Chief Foreign Correspondent Richard Engel embedded and broadcasting live as the last combat troops entered Kuwait.
"Richard, I understand your reporting of this at this hour tonight constitutes the official Pentagon announcement," anchor Brian Williams said on "NBC Nightly News."
"Yes, it is," Engel responded. "Right now we are with the last American combat troops who--and they are in the process of leaving this country right now. We are with the 4-2 Stryker Brigade. I'm broadcasting right now live from the top of a Stryker fighting vehicle. There are 440 American troops in this convoy...as soon as they cross the border into Kuwait. And it is not far to the border, just about 30 miles from here. As soon as all these soldiers leave Iraq, Operation Iraqi Freedom, the combat mission in Iraq, will be over."
The symbolic milestone was broadcast with the help of NBC's Bloom Mobile, named after the late NBC News correspondent who died while covering the Iraq War. NBC describes the vehicle as "part tank, part satellite truck" and says it "delivers a live satellite broadcast while reporting from the field."
The New York Times' Brian Stelter notes that broadcasting from the Bloom Mobile came "at great expense," but it provided NBC a symbolic bookend to the Iraq mission: Bloom used the vehicle to broadcast the first live report from the field at the beginning of the war as the troops entered Iraq via the same road Engel reported from Wednesday night.
"We came to the same conclusion [as we did when the war began]," NBC News Vice President David Verdi told Stelter, "that our audience would expect to experience it live as it's happening."
Rachel Maddow appeared live from Baghdad's International Zone (formerly called the Green Zone) as well to round out the network's live coverage from the region, while Keith Olbermann, Chris Matthews and Lawrence O'Donnell anchored MSNBC's wall-to-wall coverage throughout the night.
How did NBC News land the exclusive coverage of the symbolic milestone? They asked.
Stelter reports that the military debated their request:
NBC officials said their requests to report live during the withdrawal were first filed many weeks ago. The requests provoked debate within the military, with some people arguing that having reporters present would place excess attention on the fact that the troops were leaving.

"But the Iraqis know we're leaving; it's hardly a secret," Mr. Engel said.
Watch Engel report on "Nightly News" below:
Related
Popular in the Community