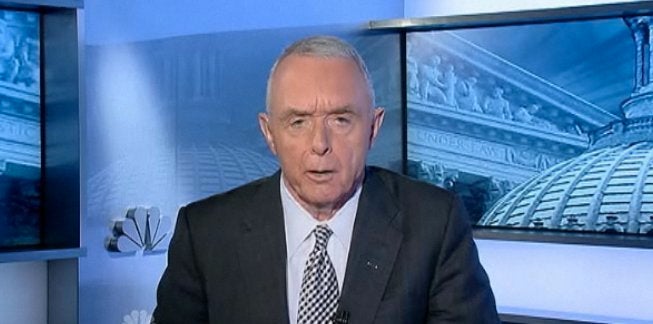 NBC News released a statement on Wednesday firing back at a report that a controversial former general was secretly briefing the network on war with Iran.
Salon's Glenn Greenwald reported on Tuesday that NBC News executives use Gen. McCaffrey as "some kind of private consultant and briefer on the news." Greenwald referred to a recent meeting between McCaffrey —who was identified in a landmark New York Times story as one of the generals involved in a highly controversial Pentagon media program— and "roughly 20 NBC executives and producers," which included a presentation from the general entitled ""Iran, Nukes & Oil: The Gulf Confrontation." Greenwald obtained what he called the "breathlessly hawkish" PowerPoint presentation McCaffrey used at the meeting.
NBC News responded to the allegations, calling Greenwald's article "inaccurate, ignorant," and an "insulting depiction of [NBC News'] editorial process." The network spoke of what it called its "longstanding tradition of editorial board meetings with leading analysts and news makers." Gen. McCaffrey recently spoke at one such meeting. Read the full statement below:
"The Salon piece is a woefully inaccurate, ignorant, insulting depiction of our editorial process.

Mr. Greenwald has stumbled upon a defining journalistic and organizational tool that differentiates us as a global news organization: our longstanding tradition of editorial board meetings with leading analysts and news makers. He chose to write the piece while not personally having one conversation with anyone from this news organization, so to critique how we do our reporting is quite ironic.

We listen to and value the views of retired Four-Star General Barry McCaffrey. He presented his thoughts on Iran in a recent editorial board meeting at NBC News. As have several senior officials from countries throughout the Middle East that represent vastly different world views. In similar sessions, we have received the views of current and former US government officials. We have been afforded the views of Israeli and other foreign governmental officials. We have heard from non-governmental organizations, respected journalists and opinion leaders.

There is no singular view of editorial issues that permeate our editorial discussions. Indeed, editorial board meetings, with diverse representation are an important part of any open-minded journalistic enterprise."
UPDATE: Greenwald responded to NBC News' statement with a lengthy statement of his own. Writing on his blog, he said that NBC had only identified one minor inaccuracy in his story, and that, while a colleague of his had done the lion's share of the reporting, he had been intimately involved every step of the way.
Without identifying from whom else they heard, it's impossible to assess the validity of NBC's claim that they invite to their editorial meetings those with "vastly different world views" when it comes to Iran, but suffice to say, both Kapp's original response and this latest one from NBC make clear that it is composed largely of government and military officials and the supporting Foreign Policy Community venues which exist to support them.

...Despite its opening flurry of accusations, NBC does not even purport to identify a single inaccuracy in any thing I reported. Replies like this one — that are long on screeching invective and short on any identified inaccuracies — do more to bolster the validity of the original article than anything else could.
Read the full response here.
Popular in the Community