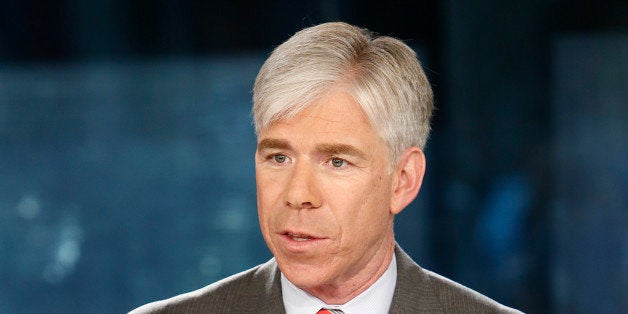 NBC News President Deborah Turness is standing by David Gregory amidst recent reports that the "Meet the Press" host may be struggling at the network. Turness wrote in a staff memo on Thursday that she supports Gregory and condemned most of what has been written about him by the media as "ludicrous."
"I wanted to reach out to reiterate my support for the show and for David, now and into the future, as we work together to evolve the format," Turness said in a memo to staffers Thursday. "Unfortunately, some of the chatter has been vindictive, personal and above all – untrue."
In March, NBC News' senior vice president Alex Wallace dismissed any talk that Gregory would or should be replaced, stating that Gregory "is our guy" and that the network is "really happy with him." He insisted to HuffPost's Michael Calderone that NBC News was "doubling down" on Gregory as they planned to turn "Meet the Press" into a "7 days-a-week source for politics and beltway buzz" with Gregory at the lead.
In her memo, Turness stressed that the network is "proud" of Gregory and will keep him "at the helm" of the program now and into the future.
"Meet the Press has always been the must-stop place where news is made and critical conversations take place – and we will continue that charge while at the same time adapting and innovating with new ideas on all platforms and connecting what's happening in Washington to Americans across the country," Turness wrote. "David is at the helm of these changes and will lead you and the program on the journey ahead."
Related
Popular in the Community