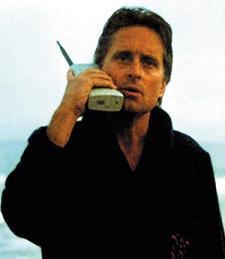 CONFIRMED: NEW NBC ANNOUNCER IS MICHAEL DOUGLAS...WE'RE SO CONFIDENT OF THIS THAT WE ARE PUBLISHING IT, WILLY-NILLY!
Damn, now we're totally regretting snoozing through that director's cut of Basic Instinct.
We first thought it was Richard Dreyfuss:
"We're gonna need A bigger boat! After listening a few times, and missing Howard Reig more than a little, we at HuffPo think the new announcer is....Richard Dreyfuss. I know, that's Nuts!"
...and then changed our mind:
"Update: No, it's totally Alan Alda!"
...and then it hit us, on the inflection at the very end, which was very Gordon Gekko:
"Update to the Update: NO! It's Michael Douglas!"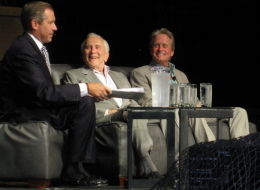 Williams moderated a panel with Douglas fils and pere, Kirk, in September — for AARP! Play to the demo! — and presumably the association flowered from there. Look, there they are now! Aw. Cute pic. Now, if they can get Spartacus on staff, that would be pretty cool, too.

Update to the Update's Update: BriWi confirms at the end of the newscast: "Yes, that is Michael Douglas — and most of you who emailed us guessed correctly." Oh. Well then, we don't feel so special anymore. Actually, we feel a little dumb for that whole Alan Alda thing.
Final update: Nice Huntley/Brinkley/"Goodnight, Moon" ref at the end, there, BriWi. (For those who missed it, here's how he closed: "Good night, Michael. Good night for all of us at NBC News.")
Next-day update, courtesy of the Hollywood Reporter: "Douglas went to a remote studio and did the voice-over, which doesn't take a lot of time. He worked for scale and donated his fees to charity."
(Yeah, Thanks For That Theater Red Herring, NBC.)

Image of Douglas as Gordon Gekko from Grooveking.com. Image of BriWi avec Douglases via ImageShack.

Related
Popular in the Community