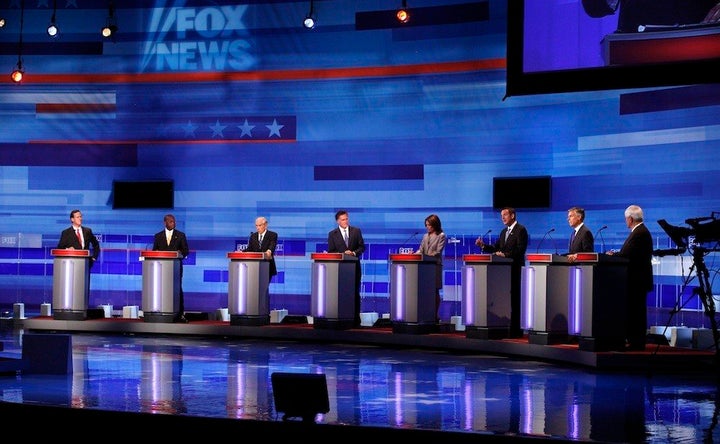 NEW YORK -- NBC and Politico will co-host a Republican presidential debate on Sept. 7, shortly after President Obama addresses a joint session of Congress on jobs and the economy -- or, depending on the timing for Obama's speech, maybe a day before instead. (Update: With Obama now moving his speech to Sept. 8, the debate will presumably air as planned at 8 p.m. on Wednesday).
It's unclear because the White House, House Speaker John Boehner's (R-Ohio) office, debate planners and television executives remain entangled in scheduling mess that began after Obama requested to speak before Congress at the same time as Republican candidates were scheduled to hit the stage at the Reagan Library.
Following Obama's request on Wednesday morning, an NBC spokeswoman confirmed that the debate -- which airs on MSNBC -- would still take place on Sept. 7. While the date wasn't changing, the network didn't say whether or not the start time might get pushed back.
But Politico editor-in-chief John Harris, who's co-moderating the debate with NBC Nightly News anchor Brian Williams, told The Huffington Post in the early afternoon that the debate's start time would be "adjusted slightly" until after Obama's done in Washington, D.C. (On MSNBC's "Hardball," Harris wouldn't commit to a specific start time: "I'm not really clear on precisely what the logistics will be," he said.)
Harris and others involved may not be clear on the start time, but Harris is convinced of the debate's importance in the election cycle. "This is effectively the first general election debate of the 2012 cycle," he said.
An NBC spokesperson similarly noted the benefits of two major political events taking place on the same night (without confirming any possible time change). "We are thrilled that we now have a terrific opportunity to hear from national leaders of both major parties about the most pressing domestic issues facing the country," the spokesperson said.
So for a while, it looked like Obama would get to have his say at 8 p.m., followed by those hoping to unseat him. But then House Speaker John Boehner turned down the president's request and urged him to give the joint session speech on Sept. 8.

NBC and Politico originally planned to co-host the debate last May, but there were still few confirmed GOP candidates. They first postponed the debate until Sept. 14 before moving it up a week to Sept. 7.
Press Secretary Jay Carney fielded several questions about the date selection in the briefing room and repeatedly said they did not pick Sept. 7 in an attempt to upstage the GOP contenders.
"There were a lot of considerations that once you decide you want to do a speech to Congress, and you have to deal with Congressional schedules and there are many other factors here," Carney said. "And obviously one debate of many that's on one channel of many was not enough reason not to have the speech at the time that we decided to have it."
Later, Carney said that "whatever the competing opportunities on television are, whether it's the wildlife channel or the cooking channel or political," before being cut-off with a question about whether he's making a specific comparison to Republicans. "Maybe the wildlife," he joked.
Still, there's another specific "competing opportunity on television" taking place next week that could add to the scheduling conflict: The Saints and Packerssquare off Sept. 8 in the NFL season opener.
Calling all HuffPost superfans!
Sign up for membership to become a founding member and help shape HuffPost's next chapter