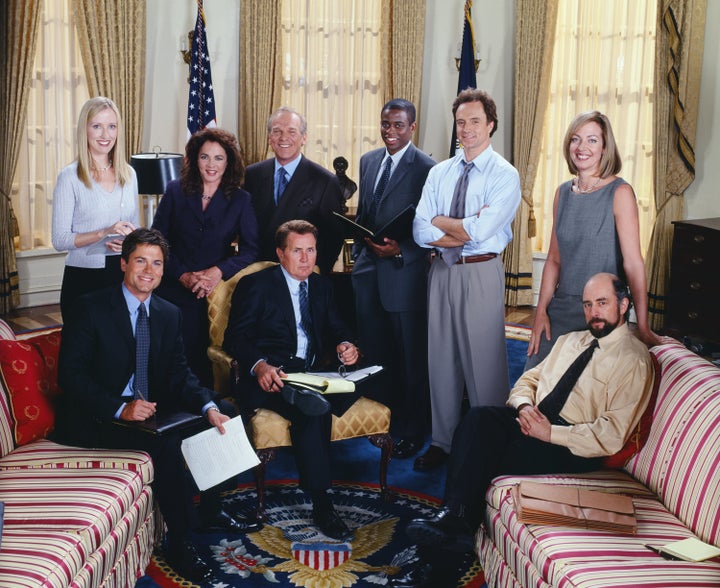 Television's revival fever keeps getting hotter.
On Thursday, the network upped the forthcoming "Will & Grace" return to 16 episodes and renewed it for a second season. Premiering Sept. 28, the show was first meant to span 10 episodes, which was then increased to 12. (As Karen Walker once said, "Gays rule!")
It hardly ends there. NBC Entertainment chairman Bob Greenblatt told Deadline that he's casually spoken to the creators of "The West Wing," "The Office," "ER" and "30 Rock" about bringing their respective series back to the air. "The Office" and "30 Rock" ended a mere four years ago, while "The West Wing" concluded in 2006 and "ER" in 2009.
Of the titles on Greenblatt's wish list, "The Office" seems most likely to reemerge. He said NBC's executives "often" discuss the show with creator Greg Daniels, weighing the option of introducing a new cast. "I've talked to Greg four times over the past few years," Greenblatt said. "It's always, 'Maybe some day but not now.'"
The other three are more questionable, but Greenblatt said he's talked to Tina Fey about "30 Rock" ("I don't know, maybe," Fey said), Aaron Sorkin about "The West Wing" ("You know I love that show and some day I'd love to revisit it, but it's not going to happen right now," Sorkin said), and John Wells about "ER" ("There is nothing concrete," Greenblatt said).
The reactions from Daniels, Fey, Sorkin and Wells sound wishy-washy, but that's how every revival starts. "Will & Grace" required "months of complex and difficult negotiations" to get everyone on board, according to Deadline. Lauren Graham first talked about a "Gilmore Girls" update in 2010, saying it would possibly be a movie. (It became a four-episode series on Netflix last year.)
Of course, some of these NBC shows are easier to resurrect than others. "ER" can pick up with more medical chaos at County General Hospital, and "The Office" can return to Dunder Mifflin, where Dwight Schrute had become regional manager. But "30 Rock" and "The West Wing" are trickier. The former had a satisfying ending, sending its characters in different directions in the wake of "TGS" getting canceled. And "The West Wing" concluded with President Bartlet ― whose staff was the heart of the show ― leaving office. Bringing it back would presumably require a new White House crew, and what is "The West Wing" without C.J. Cregg and Josh Lyman? (Then again, "Will & Grace" is pretending its series finale never happened, so who's to say what's possible?)
Each of the creators behind these series has other projects in the offing right now, so the first order of business would be clearing schedules. Wells is a writer on "Shameless," Sorkin has multiple movies in the works (including a live NBC production of "A Few Good Men"), Fey is a writer on "Unbreakable Kimmy Schmidt" and will appear on Season 2 of "Great News," and Daniels is working on shows with Conan O'Brien and Louis C.K.
Still, television has found luck with its revival frenzy. NBC is developing another "Miami Vice" go-round, "Roseanne" will return to ABC, "Dynasty" is headed to The CW, "Twin Peaks" is on the air now, ABC paid a lot of money to snatch up "American Idol," Netflix will shepherd another "Arrested Development" season, "Curb Your Enthusiasm" hits HBO again this fall, MTV will rebrand with "Total Request Live," and the list goes on. If NBC can wrangle its Emmy-winning hits for more content, don't think it won't.
Popular in the Community