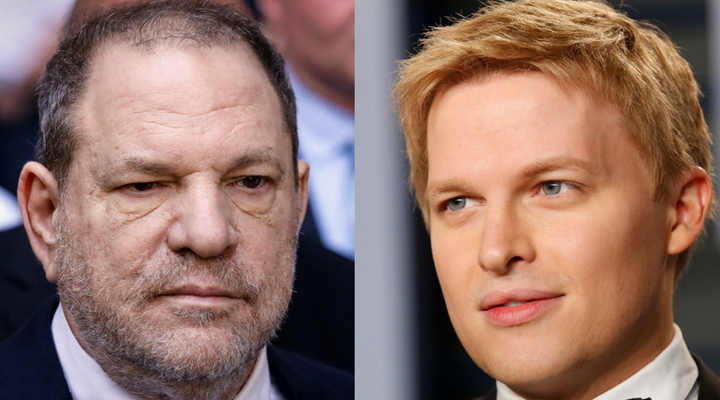 NBC News has not reorganized its news team, nor has it disciplined or fired anyone after refusing to run Ronan Farrow's Pulitzer Prize-winning Harvey Weinstein reporting.
The network has repeatedly and furiously denied reports — first published in HuffPost last summer — that top NBC executives actively quashed Farrow's story in August 2017, directing the journalist to back off Weinstein. 
What's not in dispute, however, is that NBC let Farrow take his Weinstein reporting to The New Yorker, which published it just two months later.
A review of the NBC News masthead confirms that letting the story of the year go to a competitor has had no consequences for top NBC management. Noah Oppenheim, who ran NBC News when it passed on Farrow's reporting, is still in charge. Rich Greenberg is still the executive editor of the NBC News investigative unit. Andrew Lack remains the chairman of NBC News and MSNBC.
But Farrow ― who has continued publishing a parade of scoops ― is no longer with the network. Nor is Rich McHugh, an NBC producer who worked closely with Farrow on the Weinstein story. McHugh quit his job with NBC's investigative unit earlier this month, telling The New York Times that he had delayed his departure from the network out of fear that NBC could retaliate against him.
Multiple NBC spokespeople declined to comment on the record about whether the company had made changes, but a network source confirmed that it hasn't.
Losing the Weinstein story did result in a 12-page internal report, which NBC provided to The New York Times, the paper reported Thursday. An NBC representative declined to confirm the report's existence or provide a copy to HuffPost.
NBC continues to deny it killed the Weinstein piece, calling the idea "an outright lie," and claiming Farrow's reporting had been deemed unfit to run on air or online at NBC when he had desired.
The Times and The Daily Beast both revisited NBC's handling of the story this week, with the Beast reporting that NBC News general counsel Susan Weiner had threatened to "smear" Farrow if he refused to drop the matter. 
"Weiner never made any threats against Ronan Farrow," an NBC News spokesperson told HuffPost in a statement, calling the allegation a "malicious distortion," and "just one of the many falsehoods circulating around this story."
The Daily Beast also cited multiple sources who alleged that Charles Harder, who was Weinstein's attorney at the time, claimed that NBC had provided written assurance that Farrow would not use any reporting from his time at the network. The NBC spokesperson directed HuffPost to a statement that was provided to The Daily Beast: "We immediately were clear with Weinstein's legal team that we disputed the characterizations."
Farrow has said little about how NBC handled his reporting on Weinstein while he was at the network. He'll present his own account in his book, "Catch and Kill," which has yet to be published.
NBC executives have also been accused of overlooking inappropriate behavior by "Today" anchor Matt Lauer, who was fired in November 2017 over accusations of sexual misconduct. An internal probe that was publicly released in May found "no evidence" that NBC leadership was aware of Lauer's alleged misconduct prior to receiving formal complaints.
More than a year before that, The Washington Post published an explosive story detailing then-presidential candidate Donald Trump's on-tape confession that he had sexually assaulted women. In a recorded 2005 conversation with Billy Bush, who worked as an NBC "Today" show host when the audio surfaced, Trump said he had grabbed women "by the pussy." NBC had been sitting on the footage when the Post broke the story.
Calling all HuffPost superfans!
Sign up for membership to become a founding member and help shape HuffPost's next chapter