NBC gymnastics commentator Al Trautwig landed in hot water Sunday, after stiffly rebuking viewers who called him out for failing to refer to American gymnast Simone Biles' adoptive parents as her actual parents.
The blunder was noticed by Twitter user Emily Mingus, who asked Trautwig to use the appropriate terms. In a since-deleted tweet, Trautwig fired back: "They may be mom and dad but they are NOT her parents."
The claim was met with immediate pushback, most notably from Biles' own coach, Aimee Boorman, who weighed in. "Actually they are her parents," she tweeted at Trautwig.
The 19-year-old gymnast and her sister were both adopted out of foster care by her maternal grandfather, Ron Biles, and his wife, Nellie. Her biological mother struggled with drug and alcohol addiction.
In an interview earlier this year with USA Today, Simone made absolutely clear she considers the two her parents.
"When I was younger, I was adopted by my grandparents, which are now my parents," she said. "I call them Mom and Dad. Everything's just been so normal."
The Associated Press reports NBC ordered Trautwig to delete the offending tweet, and on Monday, he sought to "set the record straight" and apologized in a statement.
"I regret that I wasn't more clear in my wording on the air," Trautwig's statement read. "I compounded the error on Twitter, which I quickly corrected. To set the record straight, Ron and Nellie are Simone's parents."
For more Olympics coverage: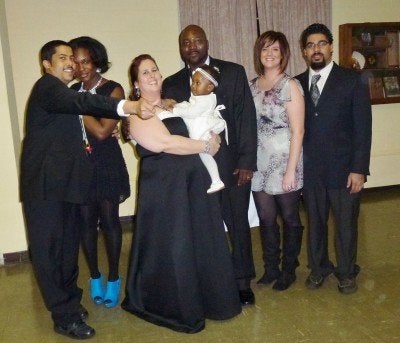 Adoption Portraits
Popular in the Community