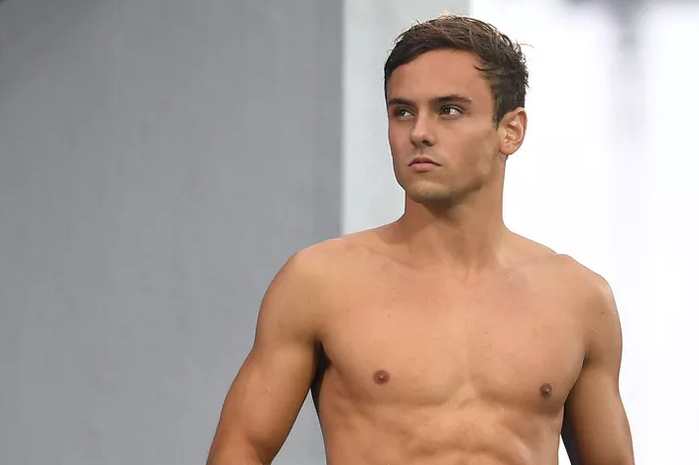 This article by Cyd Zeigler originally appeared on Outsports.
It's been apparent for years.
When Australian diver Matthew Mitcham won gold in the 10-meter platform in Beijing, stopping a Chinese sweep of diving gold on the final dive of the sport's final event, NBC Sports, the perennial broadcaster in the United States of the Olympic Games, failed to mention Mitcham's partner in the stands despite highlighting the partners of other straight athletes. Even worse, the network failed to mention that Mitcham was the only publicly out gay-male athlete at the Games.
Eight years later, nothing has changed at NBC. The network failed to identify Dustin Lance Black in the audience of the men's synchro diving finals as bronze-medalist Tom Daley's fiancé. Not boyfriend, not long-time friend... fiancé. And an Oscar-winning fiancé at that (read: public interest). They are, arguably, the "it" couple of the gay community, yet NBC didn't mention a word.
When NBC broadcast the match of Brazilian volleyball player Larissa França, they followed her to the stands where she embraced her wife. NBC commentator Chris Marlowe's colorful commentary?
"That is her husband. She married Lili in 2013 and Larissa is celebrating with her pals."
At the U.S. Olympic diving trials, diver Jordan Windle was accompanied by his two dads.
"They wouldn't say 'Jordan's dads' during the finals of Olympic Trials," Jerry Windle said. "They just said 'parents.' Then they wouldn't show both Andre and I together like they showed other parents."
Two years ago in Sochi, all of the NBC networks combined offered less than two hours of coverage of LGBT issues, including the new anti-gay law that had been implemented in Russia, during the 18 days of the Winter Olympics. There were mentions of the plight of Russian LGBT people during primetime coverage by NBC Sports, but according to HRC it diminished over time and was mostly pushed away from NBC Sports and onto MSNBC. According to HRC, during two of the Winter Olympic days ― 14 and 17 ― there was no coverage of the issue on any of NBC's networks.
To be clear, this all goes well beyond the Olympics.
Of course the network also employs openly gay commentator Johnny Weir. It's the one possible on-air feather in the network's cap. Though Weir's dress and manner leave some reducing him to the role of clown, it's a role he welcomes and plays well while also offering some great figure skating commentary. His antics (while I appreciate them) leave many gay people wishing for less.
Still, it's impossible to make the case that NBC Sports is sensitive to LGBT issues. While NBC has started NBC Out and has a robust NBC-Universal LGBT employee network, that is desperately lost on the coverage NBC provides sports.
While Dungy's continued employment on NBC Sports' cornerstone program is a slap in the face of the entire LGBT community, the subpar job the network has demonstrated covering LGBT athletes and issues at the Olympics over the years is downright inexcusable.
There are plenty of opportunities for NBC to recover. Ten days of LGBTI athletes competing and winning lie ahead. Will the network acknowledge their presence? Simply demonstrate the common courtesy to these athletes they show their straight counterparts?
Frankly, I doubt it. Their failure to properly address the Mitcham snub eight years ago, followed by transgression after transgression, shows very clearly that NBC Sports couldn't care less about gay athletes or gay fans. Maybe ESPN can get in the running to broadcast future Olympics.
For more from OutSports, check out these stories:
REAL LIFE. REAL NEWS. REAL VOICES.
Help us tell more of the stories that matter from voices that too often remain unheard.
BEFORE YOU GO
PHOTO GALLERY
29 Truly Remarkable Olympic Photos