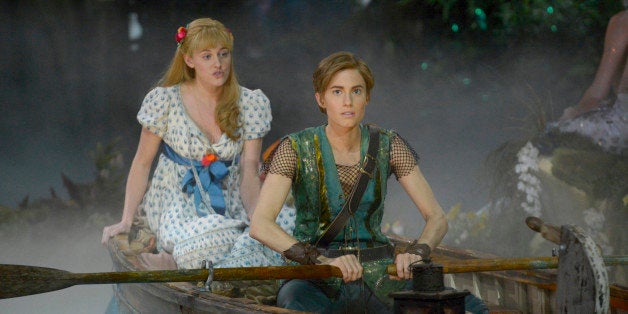 Pan: Robotic, lack of pizazz and athletic exuberance. I kept thinking Pink -- literally. Someone with Pink's athleticism and edgy demeanor/look/vocals would have really updated and shaken things up. William's voice and face were nice, but was that puffy 'do a wig? Why not a super cool haircut? If Hathaway and Lawrence can do it, so can a gal who is playing, of all things, Peter Pan. If that's her real hair, then kudos to the thick tresses. Can't say much else.
Hook: Walken's walk-on demeanor, from obvious card-reading to really bad lip synching, was obvious to the point where I wondered if it was fully part of the schtick and not just lack of prep. It'd been really funny had he paused and squinted and maybe gestured to a stage hand for a "better look" at a cue card. I found myself worrying if he'd make it through each dance scene, though his soft shoe slickness was still there. Now, I just love the dandy this stage rendition cooks up for the character, and the tap dancing was fun -- but I kind of missed Cyril Ritchard's overtly-perfected dandy, both in look and demeanor. The bared chest is/was better left to Jason Isaacs.
Wendy: Would've made a better Mrs Darling. Good, but a smidge old.
Lost boys: Looked more like dudes from West Side Story. Imagine for a second a few finger snapping steps in homage to that.
Smee: A bright spot -- beefcake and silliness of voice and expression in equal measure, alongside his great sidekick, the whiny big pirate "go boom!" Funny, how as a kid, the drunkenness of Disney's animated pirates was a censorship non-issue, there to help explain some of the buffoonery. What is it now and are we doing any better?
Old songs cut out: Sad. Missed them -- the newly-penned space fillers fell short, especially melodically. So it goes. Am I to feel guilty for finding nothing wrong with their place in time and well-intended existence? Was reminded of the uninspired musical add-on (though yes, it garnered an Oscar nod) in the 2012 Les Miserables.
Set: Fun, wonderlandesque, especially the skewed scaled, Christmas card-like London cityscape. How fun to watch as a camera actually panned a real set, which has nothing to do with evoking reality, but creating a feeling of having stepped into a storybook come alive.
Live TV? Great concept, but nothing monumental, as it's done like this on stage every day, every time. The real-time flaws are no biggie and I find it interesting that on chat sites, those little elements are compared to film, which is fundamentally flawed. Coming on the heels of The Sound of Music and falling short in the same way -- the casting -- I just wish these grand projects had been cast with a harder, higher bar. There is talent a'plenty out there that can sing and act.
Best: The red pleather recliner with its rickety lever and the five-second snippets inserted into the commercial breaks (for all who actually watched live too), where Hook was just standing there, doing his own indulgent thing, warbling on as his crew cleaned or rowed...
Nutshell: We quit watching after two hours, having recorded the rest to catch whenever. The surest criticism, that we weren't compelled to hang in there (problematic family viewing time for a school night when on Eastern Time) with the rest of the hard-working TV-land gang.
Will there be an SNL spoof? Hope so.
Popular in the Community