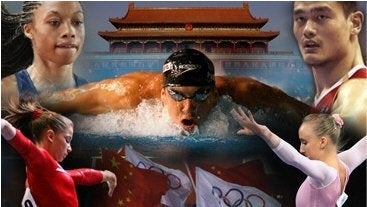 Wednesday, NBC announced the details of its comprehensive Olympic broadcast plans for the 2008 Summer Games, including 3,600 hours of coverage, over 1,000 more hours than devoted to the previous 12 televised Summer Olympics combined (2,562 hours). NBC plans to broadcast 75% of all Olympic events live (2,900 hours), despite the 12-hour time difference between Beijing and the East Coast, and will air coverage on USA, MSNBC, CNBC, Oxygen, Telemundo (in Spanish) and Universal HD as well as NBC.
NBC Universal, broadcasting its record 11th Olympics and surpassing ABC for the most Olympics broadcast by any network, will present an unprecedented 3,600 hours of Beijing Olympic Games coverage, the most ambitious single media project in history. NBCU's unprecedented Olympics coverage features the most live coverage in the United States (75 percent in all), across the most platforms, of any Summer Olympics in history when the Games of the XXIX Olympiad commence on Aug. 8. The announcement was made today by Dick Ebersol, Chairman, NBC Universal Sports & Olympics and Executive Producer of NBCU's Olympic coverage.

"With 25 sports streamed live at NBCOlympics.com and significant live coverage on our cable platforms and NBC, highlighted by all swimming finals, the biggest nights of gymnastics and beach volleyball live in primetime, the viewer has plenty of options for live coverage.

"In the 41 years since my first Olympics, it's staggering to me to be involved in a Games where we are producing 2,900 hours of live coverage -- especially from an Olympics half-a-world away. It's more live coverage from a single Olympics than the total of all previous Summer Olympics combined. The enormity of what we're doing just blows me away."
Women's Soccer - USA vs. Norway (LIVE)
NBC OLYMPIC SOCCER CHANNEL
Men's Soccer - USA vs. Japan (LIVE)
Men's Soccer - Honduras vs. Italy (LIVE)
Men's Soccer - Ivory Coast vs. Argentina (LIVE)
NBC OLYMPIC SOCCER CHANNEL
Opening Ceremony -- Parade of Nations, Lighting of the Olympic Cauldron
NBCOlympics.com -- LIVE STREAMING BROADBAND COVERAGE:
Men's & Women's Badminton - Singles Competition
Women's Fencing - Individual Sabre Competition
Men's Judo - 60kg Competition
Women's Judo - 48kg Competition
Men's Shooting - Trap & 10m Air Pistol Competition
Women's Shooting - 10m Air Rifle Competition & Gold Medal Final
Equestrian - Team Eventing Dressage
Women's Weightlifting - 48kg
Women's Volleyball - USA vs. Japan (LIVE)
Beach Volleyball - USA Match
Men's Cycling - Road Race
Women's Fencing - Individual Sabre Gold Medal Final
Swimming - Gold Medal Finals (LIVE)
Men's 400m Freestyle, 400m Individual Medley
Women's 400m Individual Medley, 4x100m Freestyle Relay
Beach Volleyball - USA Match (LIVE)
Men's Gymnastics - Team Competition
*Note: LIVE Swimming Semifinals Men's 100 breaststroke & Women's 100m Butterfly
Men's Volleyball - USA vs. Venezuela (LIVE)
Women's Soccer - USA vs. Japan (LIVE)
Women's Basketball - USA vs. Czech Republic (LIVE)
Equestrian - Eventing Dressage
Women's Fencing - Individual Sabre Gold Medal Final
Women's Shooting - Air Rifle Gold Medal Final
Badminton - Singles Competition
Women's Weightlifting - Flyweight Gold Medal Final
Boxing - 75kg, 81kg Competition (LIVE)
Boxing - 75kg, 81kg Competition
Women's Soccer - Nigeria vs. Germany (LIVE)
Brazil vs. North Korea (LIVE)
Women's Volleyball - Italy vs. Russia
Women's Handball - France vs. Angola
Badminton - Singles competition
Women's Soccer - USA vs. Japan (LIVE)
24-hour MSNBC & CNBC HD Simulcasts and Coverage
NBC OLYMPIC BASKETBALL CHANNEL
NBC OLYMPIC SOCCER CHANNEL
NBCOlympics.com -- LIVE STREAMING BROADBAND COVERAGE:
Women's Archery - Competition & Quarterfinals
Women's Fencing - Individual Sabre Semifinal & Gold Medal Final
Men's Fencing - Individual Epee Competition
Men's Judo - 60kg Competition & Gold Medal Final, 66kg Competition
Women's Judo - 48kg Competition & Gold Medal Final, 52kg Competition
Men's Shooting - 10m Air Pistol Gold Medal Final, Men's Trap Competition
Women's Shooting - 10m Air Pistol Competition & Gold Medal Final
Equestrian - Team Dressage
Women's Weightlifting - 53kg
Men's Weightlifting - 56kg
Men's Basketball - USA vs. China (LIVE)
Men's Water Polo - USA vs. China
Women's Cycling - Road Race
Women's Weightlifting - 53kg Gold Medal Final
Men's & Women's Badminton
Swimming - Gold Medal Finals (LIVE):
Men's 100m Breaststroke, 4x100m Freestyle Relay
Women's 100m Butterfly, 400m Freestyle
Women's Gymnastics - Team Competition
Women's Diving - Springboard Synchronized Gold Medal Final
Men's and Women's Rowing - Eights Competition
*Note: LIVE Swimming Semifinals Men's 200m Freestyle, 100m Backstroke & Women's 100m Backstroke, 100m Breaststroke
Women's Volleyball - USA vs. Cuba (LIVE)
Boxing - 64kg, 69kg Competition (LIVE)
Boxing - 64kg, 69kg Competition
Men's Soccer - USA vs. Netherlands (LIVE)
Men's Basketball - Lithuania vs. Argentina (LIVE)
Women's Archery - Team Gold Medal Final
Men's Weightlifting - 56kg Gold Medal Final
Men's Soccer - Italy vs. South Korea (LIVE)
Men's Volleyball - Serbia vs. Russia
Women's Field Hockey - USA vs. Argentina (LIVE)
Men's Shooting - Trap Gold Medal Final
Men's Water Polo - Hungary vs. Montenegro
Men's Handball - Croatia vs. Spain
Men's Soccer - Argentina vs. Australia (LIVE)
Swimming - Gold Medal Finals
Boxing - Elimination Bouts
24-hour MSNBC & CNBC HD Simulcasts and Coverage
NBC OLYMPIC BASKETBALL CHANNEL
NBC OLYMPIC SOCCER CHANNEL
NBCOlympics.com -- LIVE STREAMING BROADBAND COVERAGE:
Women's Archery - Team Semifinal & Gold Medal Final
Men's Archery - Team Competition
Badminton - Qualifying Competition
Men's Fencing - Individual Epee (Semifinals & Gold Medal Final)
Women's Fencing - Individual Foil Competition
Men's & Women's Field Hockey
Men's Judo - 66kg Competition & Gold Medal Final, 73kg Competition
Women's Judo - 52kg Competition & Gold Medal Final, 57kg Competition
Men's Shooting - Trap Gold Medal Final, Men's 10m Air Competition & Gold Medal Final
Women's Shooting - Trap Competition
Men's & Women's Basketball
Women's Weightlifting - 53kg, 58kg Competition
Men's Weightlifting - 56kg, 62kg Competition
Equestrian - Cross Country
Canoeing - Whitewater Competition
Men's Gymnastics - Team Gold Medal Final (LIVE)
Swimming - Gold Medal Finals (LIVE)
Men's 200m Freestyle, 100m Backstroke
Women's 100m Backstroke, 100m Breaststroke
Beach Volleyball - USA Match (LIVE)
Men's Diving - Platform Synchronized Gold Medal Final
*Note: LIVE Swimming Semifinal Men's 200m Butterfly
Men's Volleyball - USA vs. Italy (LIVE)
Women's 200m Freestyle, 200m Individual Medley
Boxing - 57kg, 60kg Elimination Bouts (LIVE)
Boxing - 57kg, 60kg Competition
Women's Basketball - USA vs. China (LIVE)
Women's Volleyball - Brazil vs. Russia
Women's Water Polo - USA vs. China (LIVE)
Men's Archery - Team Gold Medal Final
Women's Basketball - Australia vs. Brazil (LIVE)
Women's Handball - South Korea vs. Germany
Women's Volleyball - China vs. Poland
Men's and Women's Badminton - Singles Competition
Women's Water Polo - Russia vs. Italy
Men's Weightlifting - 62kg Gold Medal Final
Equestrian - Eventing Cross Country
Gymnastics - A Daily Look
Swimming - Gold Medal Finals
Women's Diving - Springboard Synchronized Gold Medal Final
24-hour MSNBC & CNBC HD Simulcasts and Coverage
NBC OLYMPIC BASKETBALL CHANNEL
NBC OLYMPIC SOCCER CHANNEL
Best of Men's & Women's Soccer
NBCOlympics.com -- LIVE STREAMING BROADBAND COVERAGE:
Men's Archery - Team Semifinal & Gold Medal Final
Women's Fencing - Individual Foil (Semifinals & Gold Medal Final)
Men's Fencing - Individual Sabre Competition
Men's & Women's Field Hockey
Men's Judo - 73kg Competition & Finals
Women's Judo - 57kg Competition & Finals
Women's Shooting - Trap Gold Medal Final
Men's Shooting - Double Trap Competition
50m Pistol Competition & Gold Medal Final
Women's and Men's Basketball
Women's and Men's Handball
Women's Weightlifting - 58kg, 63kg
Men's Weightlifting - 62kg, 69kg
Wrestling - Greco Roman Competition
Men's Water Polo - USA vs. Italy
Canoeing - Whitewater Gold Medal Finals
Women's Gymnastics - Team Gold Medal Final (LIVE)
Men's 200m Butterfly, 4x200m Relay
Women's 200m Freestyle, 200m Individual Medley
Women's Diving - Platform Synchronized Gold Medal Final
*Note: LIVE Swimming Semifinal Men's 100m Freestyle
Women's Volleyball - USA vs. Venezuela
Women's 200m Butterfly, Men's 200m Breaststroke
Softball - USA vs. Venezuela (LIVE)
Boxing - Elimination Bouts (51kg, 54kg) (LIVE)
Boxing - 51kg, 54kg Competition
Men's Basketball - USA vs. Angola (LIVE)
Women's Field Hockey - USA vs. Japan (LIVE)
Badminton - Round of 16 Competition
Men's Handball - Spain vs. Poland
Men's Basketball - China vs. Spain (LIVE)
Women's Soccer - USA vs. New Zealand (LIVE)
Men's Wrestling - Greco Roman, 55kg & 60kg Competition & Finals
Men's Volleyball - Serbia vs. Brazil
Badminton - Round of 16 Competition
Men's Weightlifting - 69kg Competition
Men's Water Polo - Serbia vs. Croatia
Equestrian - Eventing Gold Medal Finals
Gymnastics - A Daily Look
Swimming - Gold Medal Finals
Men's Gymnastics - Gold Medal Final
Women's Soccer - Nigeria vs. Brazil
24-hour MSNBC & CNBC HD Simulcasts and Coverage
NBC OLYMPIC BASKETBALL CHANNEL
NBC OLYMPIC SOCCER CHANNEL
NBCOlympics.com -- LIVE STREAMING BROADBAND COVERAGE:
Men's & Women's Archery -Individual Competition
Badminton - Competition & Semifinals
Men's Fencing - Individual Sabre Semifinal & Gold Medal Final
Individual Foil Competition
Women's Fencing - Individual Epee Competition
Men's and Women's Field Hockey
Men's Judo - 81kg Competition & Gold Medal Finals
Women's Judo - 63kg Competition & Gold Medal Finals
Men's Shooting - Double Trap Gold Medal Final
Women's Shooting - Women's 25m Pistol Competition
Canoeing - Whitewater Gold Medal Finals
Softball - Qualifying Round Competition
Women's Weightlifting - 63kg, 69kg
Men's Weightlifting - 69kg, 77 kg
Wrestling - Greco Roman Competition & Gold Medal Finals
Women's & Men's Cycling - Time Trial
Men's & Women's Table Tennis
WEDNESDAY, AUG. 13 - DAY 5
Women's Water Polo -- USA vs. Italy
Men's Gymnastics - Individual All-Around Gold Medal Final (LIVE)
Men's 200m Breaststroke, 100m Freestyle
Women's 200m Butterfly, 4x200m Relay
Beach Volleyball - USA Match (LIVE)
Men's Diving - Springboard Synchronized Gold Medal Final
Women's Cycling - Individual Time Trial
*Note: LIVE Swimming Semifinal Men's 200m Individual Medley
Women's Swimming - 200m Breaststroke Semifinals
Men's Water Polo - USA vs. Serbia
Softball - USA vs. Australia (LIVE)
Boxing - 48kg, +91kg Competition
Boxing - 48kg, +91kg Competition
Men's Soccer - USA vs. Nigeria (LIVE)
Women's Basketball - USA vs. Mali (LIVE)
Women's Water Polo - Hungary vs. Australia
Rowing - Semifinals (LIVE)
Badminton - Competition, Semifinals
Table Tennis - Team Competition
Canoeing - Whitewater Competition
Baseball - USA vs. South Korea
Women's Volleyball - Cuba vs. China (LIVE)
Men's Cycling - Individual Time Trial
Wrestling - Greco Roman, 66kg, 74kg Competition & Gold Medal Finals
Table Tennis - Team Competition
Men's Weightlifting - 77kg Competition
Equestrian - Team Dressage
Gymnastics - A Daily Look
Men's Soccer - South Korea vs. Honduras (LIVE)
Swimming - Gold Medal Finals
Men's Soccer - China vs. Brazil (LIVE)
Women's Gymnastics - Team Gold Medal Final
Diving - Synchronized Gold Medal Final
24-hour MSNBC & CNBC HD Simulcasts and Coverage
NBC OLYMPIC BASKETBALL CHANNEL
NBC OLYMPIC SOCCER CHANNEL
NBCOlympics.com -- LIVE STREAMING BROADBAND COVERAGE:
Badminton - Competition & Semifinals
Women's Fencing - Individual Epee (Competition, Semifinals, Gold Medal Final)
Men's Fencing - Individual Foil Semifinals & Gold Medal Finals
Men's & Women's Field Hockey
Men's Judo - 90kg Competition & Gold Medal Finals, 100kg Gold Medal Finals
Women's Judo - 70kg Competition & Finals, 78kg Competition
Women's Shooting - 25m Pistol Final
Three Position Competition & Gold Medal Final
Men's & Women's Basketball
Canoeing - Whitewater Competition
Men's Cycling - Time Trial
Equestrian - Team Dressage
Men's & Women's Table Tennis
Women's Weightlifting - 69kg
Men's Weightlifting - 77kg
Wrestling - Greco Roman Gold Medal Finals & Competition
THURSDAY, AUG. 14 - DAY 6
Canoeing - Whitewater Gold Medal Final
Women's Gymnastics - Individual All-Around Gold Medal Final (LIVE)
Swimming - Gold Medal Finals (LIVE)
Men's - 200m Backstroke, 200m Individual Medley
Women's - 200m Breaststroke, 100m Freestyle
Men's Volleyball - USA vs. Bulgaria
*Note: LIVE Swimming Semifinal Men's 100m Butterfly
Swimming - Women's 200 Back Semifinal
Canoeing - Whitewater Gold Medal Final
Softball - USA vs. Canada (LIVE)
Boxing - Elimination Bouts (69kg, 81kg) (LIVE)
Boxing - Elimination Bouts
Men's Basketball - USA Game (LIVE)
Baseball - USA vs. Netherlands
Women's Field Hockey - USA vs. Germany
Women's Fencing - Team Sabre Competition and Gold Medal Final
Women's Archery - Individual Gold Medal Final
Men's Basketball - Argentina Game (LIVE)
Russia vs. Lithuania (LIVE)
Men's Volleyball - China vs. Japan (LIVE)
Wrestling - Greco Roman 84kg, 96kg, 120kg Competition & Gold Medal Finals
Men's Handball - France vs. Croatia
Men's Water Polo - Hungary vs. Spain
Table Tennis - Team Competition
Equestrian - Team Dressage Gold Medal Final
Gymnastics - A Daily Look
Swimming - Gold Medal Finals
Men's Gymnastics - Individual All-Around Competition
Diving - Synchronized Gold Medal Final
24-hour MSNBC & CNBC HD Simulcasts and Coverage
NBC OLYMPIC BASKETBALL CHANNEL
NBC OLYMPIC SOCCER CHANNEL
Best of Men's & Women's Soccer
NBCOlympics.com -- LIVE STREAMING BROADBAND COVERAGE:
Women's Archery - Individual Competition, Semifinals & Final
Men's Archery - Individual Competition
Men's & Women's Badminton - Competition & Semifinals
Women's Fencing - Team Sabre Competition & Gold Medal Final
Men's Fencing - Team Epee Competition
Men's & Women's Field Hockey
Men's Judo - 100kg Competition & Gold Medal Finals
Women's Judo - 78kg Competition & Gold Medal Finals
Women's Shooting - Skeet Gold Medal Final
Men's Shooting - Skeet Competition
50m Rifle Prone Competition & Gold Medal Final
25m Rapid Fire Pistol Competition
Men's & Women's Basketball
Canoeing - Whitewater Gold Medal Finals
Equestrian - Team Dressage
Rowing - Semifinals & Competition
Men's & Women's Table Tennis - Team Competition
Wrestling - Greco Roman Gold Medal Finals
Women's Weightlifting - 75kg
Men's Weightlifting - 85kg
Women's Water Polo - USA vs. Russia
Swimming - Gold Medal Finals (LIVE)
Men's 100m Butterfly, 50m Freestyle
Women's 200m Backstroke, 800m Freestyle
Track and Field - Men's 100m competition
Men's Shot Put Gold Medal Final
Men's Volleyball - USA vs. China
*Note: LIVE Swimming Semifinal Women's 50m Freestyle
Women's Track & Field - 10,000m Gold Medal Final
Women's Diving - Springboard Competition
Softball - USA vs. Japan (LIVE)
Boxing - 57kg, 60kg Competition (LIVE)
Boxing - 57kg, 60kg Competition
Women's Soccer -- Quarterfinal (LIVE)
Women's Basketball - USA vs. Spain (LIVE)
Men's Archery - Individual Gold Medal Final
Cycling - Track Events Competition
Women's Volleyball - USA vs. China (LIVE)
Women's Soccer -- Quarterfinals
Women's Badminton - Doubles Gold Medal Final
Women's Handball - France vs. Norway
Men's Weightlifting - 85kg Gold Medal Final
Women's Table Tennis - Team Semifinal
Women's Water Polo - Netherlands vs. Australia
Equestrian - Jumping Competition
Gymnastics - A Daily Look
Swimming - Gold Medal Finals
Women's Gymnastics - Individual All-Around Competition
24-hour MSNBC & CNBC HD Simulcasts and Coverage
NBC OLYMPIC BASKETBALL CHANNEL
NBC OLYMPIC SOCCER CHANNEL
NBCOlympics.com -- LIVE STREAMING BROADBAND COVERAGE:
Men's Archery - Individual Competition, Semifinals & Gold Medal Final
Men's & Women's Badminton - Semifinals & Gold Medal Finals
Women's Fencing - Team Foil Competition
Men's Fencing - Team Epee Semifinal & Gold Medal Final
Men's & Women's Field Hockey
Men's Judo -- +100kg Competition & Gold Medal Final
Women's Judo -- +78kg Competition & Gold Medal Final
Men's Shooting - 25m Rapid Fire Pistol Competition & Gold Medal Final
Women's & Men's Basketball
Equestrian - Individual Jumping Competition
Men's Table Tennis - Team Competition
Women's Table Tennis - Team Competition
Men's & Women's Tennis - Semifinals
Women's Weightlifting - 75kg
Men's Weightlifting - 85kg
Women's Wrestling - Freestyle 48kg
SATURDAY, AUG. 16 - DAY 8
Men's Basketball - USA vs. Spain (LIVE)
Men's & Women's Gymnastics - Trampoline Competition
Women's Diving - Springboard Semifinals
Men's Water Polo - USA vs. Croatia
Rowing - Gold Medal Finals
Cycling - Track Gold Medal Final
Women's Badminton - Singles Gold Medal Finals
Swimming - Gold Medal Finals (LIVE)
Men's 4x100m Medley Relay, 1500m Freestyle
Women's 50m Freestyle, Women's 4x100m Medley Relay
Track & Field - Women's Marathon (LIVE)
Track & Field - Gold Medal Finals
Women's Heptathlon, Shotput
Women's Beach Volleyball - USA Match
Women's Track & Field - 800m Semifinals
Softball - USA vs. Chinese Taipei (LIVE)
Boxing - 51kg, 75kg Competition (LIVE)
Boxing - 48kg, 75kg Competition
Women's Tennis - Singles Gold Medal Final (LIVE)
Men's Track & Field - 20k Walk
Men's Tennis - Doubles Gold Medal Final
Women's Field Hockey - USA vs. New Zealand
Cycling - Track Gold Medal Finals
Men's Table Tennis - Team Semifinals
Men's Soccer -- Quarterfinals (LIVE)
Baseball - USA vs. Canada
Women's Wrestling - 48kg, 55kg Gold Medal Finals (LIVE)
Men's Badminton - Doubles Gold Medal Final
Equestrian - Individual Dressage
Men's Soccer -- Quarterfinals (LIVE)
Track & Field - Gold Medal Finals
Swimming - Gold Medal Finals
Women's Diving - Springboard Competition
24-hour MSNBC & CNBC HD Simulcasts and Coverage
NBC OLYMPIC BASKETBALL CHANNEL
NBC OLYMPIC SOCCER CHANNEL
NBCOlympics.com -- LIVE STREAMING BROADBAND COVERAGE:
Men's Badminton - Singles Bronze Medal
Badminton - Mixed Doubles Semifinals & Gold Medal Finals
Men's & Women's Field Hockey
Sailing - Qualifying & Gold Medal Finals
Men's Shooting - Skeet Gold Medal Final
50m Rifle Three Position Competition & Gold Medal Final
Women's Fencing - Team Foil Semifinals & Gold Medal Finals
Men's Fencing - Team Sabre Competition
Men's & Women's Basketball
Equestrian - Individual Dressage
Men's Table Tennis - Team Semifinals & Bronze Competition
Men's & Women's Tennis - Singles & Doubles Gold Medal Finals
Women's Weightlifting -- +75kg
Women's Wrestling - Freestyle 48kg, 55kg Gold Medal Finals
Women's Basketball - USA vs. New Zealand (LIVE)
Beach Volleyball - Quarterfinal
Women's Volleyball - USA vs. Poland
Cycling - Track Gold Medal Finals
Women's Table Tennis - Team Gold Medal Final
Equestrian - Team Jumping Competition
Rowing - Gold Medal Finals
Gymnastics - Individual Event Gold Medal Finals
Men's Floor, Pommel Horse
Track & Field - Gold Medal Finals
Women's 100, Steeplechase
Women's Diving - Springboard Gold Medal Final
Rowing - Eights Gold Medal Finals
Track & Field - Gold Medal Finals
Men's Beach Volleyball - Quarterfinal
Women's Beach Volleyball -- Quarterfinal
Women's Weightlifting - Super Heavyweight Competition
Boxing - 64kg, 69kg, 91kg Quarterfinals
Men's Tennis - Singles Gold Medal Final (LIVE)
Women's Tennis - Doubles Gold Medal Final (LIVE)
Cycling - Track Gold Medal Finals
Women's Handball - Russia vs. Germany
Men's Table Tennis - Team Bronze Playoff
Softball - USA vs. Netherlands (LIVE)
Women's Wrestling - 63kg, 72kg Gold Medal Finals
Women's Table Tennis - Team Bronze
Badminton - Mixed Doubles Gold Medal Final
Men's Fencing - Team Sabre Gold Medal Final
Men's Badminton - Singles Gold Medal Final
Men's Weightlifting - 94kg Competition
Women's Basketball - Australia vs. Russia
Women's Volleyball - Italy vs. Brazil
Women's Water Polo -- Quarterfinal
Swimming - Gold Medal Finals
Women's Diving - Springboard Semifinal
Track & Field - Gold Medal Finals
Gymnastics - Trampoline Competition
24-hour MSNBC & CNBC HD Simulcasts and Coverage
NBC OLYMPIC BASKETBALL CHANNEL
NBC OLYMPIC SOCCER CHANNEL
Best of Men's & Women's Soccer
NBCOlympics.com -- LIVE STREAMING BROADBAND COVERAGE:
Badminton - Mixed Doubles Gold Medal Finals
Men's Badminton - Singles Gold Medal Finals
Baseball - Qualifying Games
Men's & Women's Field Hockey
Sailing - Competition & Finals
Men's Fencing - Team Sabre Semifinal & Gold Medal Final
Men's & Women's Basketball
Equestrian - Team Jumping Gold Medal Final
Women's Table Tennis - Team Bronze, Gold Medal Matches
Men's Tennis - Singles Gold Medal Final
Women's Tennis - Doubles Gold Medal Final
Men's Weightlifting- 94kg
Women's Wrestling - Freestyle 63kg, 72kg Gold Medal Final
Men's Volleyball - USA vs. Japan (LIVE)
Men's Diving - Springboard Competition
Gymnastics - Individual Event Gold Medal Finals
Track & Field - Gold Medal Finals
Men's Steeplechase, 400m Hurdles, Long Jump
Women's 800, Discus Throw, Pole Vault
Women's Beach Volleyball - Semifinal (LIVE)
Women's Gymnastics - Trampoline Gold Medal Final
Men's Diving - Springboard Semifinal
Softball - USA vs. China (LIVE)
Boxing - 54kg, 57kg, +91kg Competition
Men's Basketball - USA Game (LIVE)
Men's Water Polo - USA vs. Germany (LIVE)
Women's Field Hockey - USA vs. Great Britain (LIVE)
Men's Table Tennis - Team Gold Medal Final & Bronze Medal Final
Women's Table Tennis - Singles Competition
Men's Basketball - Argentina vs. Russia (LIVE)
Women's Soccer - Semifinals (LIVE)
Cycling - Track Gold Medal Finals
Men's Handball - Germany vs. Denmark
Men's Weightlifting - 105kg Competition
Equestrian - Team Jumping Final
Gymnastics - A Daily Look
Gymnastics - Individual Event Gold Medal Finals
Women's Diving - Springboard Gold Medal Final
Track & Field - Gold Medal Finals
Women's Soccer - Semifinal (LIVE)
24-hour MSNBC & CNBC HD Simulcasts and Coverage
NBC OLYMPIC BASKETBALL CHANNEL
NBC OLYMPIC SOCCER CHANNEL
Women's Soccer -- Semifinals
NBCOlympics.com -- LIVE STREAMING BROADBAND COVERAGE:
Men's & Women's Field Hockey
Sailing - Competition & Gold Medal Finals
Canoeing - Flatwater Competition
Equestrian - Team Jumping Gold Medal Final
Women's Soccer - Semifinals
Men's Table Tennis - Team Bronze & Gold Medal Final, Singles Competition
Women's Table Tennis - Singles Competition
Men's Weightlifting - 105kg
Men's Wrestling - Freestyle 55kg, 60kg
TUESDAY, AUG. 19 - DAY 11
Women's Volleyball (LIVE)
Women's Water Polo - Semifinal
Track & Field - Gold Medal Finals
Women's 400m, 100m Hurdles
Men's 1500m, High Jump, Discus Throw
Gymnastics - Individual Event Gold Medal Finals
Men's Parallel Bars, High Bar
Men's Beach Volleyball - Semifinal (LIVE)
Men's Diving - Springboard Gold Medal Final
Men's Gymnastics - Trampoline Gold Medal Final
Men's Cycling - BMX Competition (LIVE)
Wrestling - Freestyle, 55kg, 60kg Competition (LIVE)
Table Tennis - Singles, First Round Competition (LIVE)
Boxing - 48kg, 60kg, 81kg Quarterfinals
Women's Basketball - Quarterfinals (LIVE)
Women's Handball -- Quarterfinals
Men's Beach Volleyball - Semifinal
Table Tennis - Singles, First Round Competition
Women's Water Polo - Semifinal
Cycling - Track Gold Medal Finals
Men's Soccer - Semifinals (LIVE)
Wrestling - Freestyle, 55kg, 60kg Gold Medal Finals
Weightlifting - Super Heavyweight Gold Medal Final (LIVE)
Baseball - USA vs. Chinese Taipei
Women's Volleyball -- Quarterfinals
Synchronized Swimming - Duet Competition
Equestrian - Individual Dressage Gold Medal Final
Gymnastics - A Daily Look
Men's Soccer - Semifinals (LIVE)
Gymnastics - Individual Events Gold Medal Finals
Track & Field - Gold Medal Finals
Men's Diving - Springboard Semifinal
Women's Beach Volleyball - Semifinal
Men's Soccer - Semifinal (LIVE)
24-hour MSNBC & CNBC HD Simulcasts and Coverage
NBC OLYMPIC BASKETBALL CHANNEL
NBC OLYMPIC SOCCER CHANNEL
Men's Soccer -- Semifinals
NBCOlympics.com -- LIVE STREAMING BROADBAND COVERAGE:
Sailing - Competition & Gold Medal Final
Men's Taekwondo - 58kg Competition
Women's Taekwondo - 49kg Competition
Canoeing - Flatwater Competition
Cycling - Track Competition
Equestrian - Individual Dressage Gold Medal Final
Men's Soccer - Semifinals
Men's & Women's Table Tennis - Singles Competition
Men's Weightlifting -- +105kg
Men's Wrestling - Freestyle 55kg, 60kg Gold Medal Finals
Women's Swimming - Open Water Competition
WEDNESDAY, AUG. 20 - DAY 12
Men's Volleyball - Quarterfinal (LIVE)
Women's Diving - Platform Competition
Track & Field - Gold Medal Finals
Women's Beach Volleyball - Gold Medal Match (LIVE)
Women's Diving - Platform Semifinal (LIVE)
Cycling - BMX Gold Medal Finals (LIVE)
Women's Volleyball - Semifinal (LIVE)
Women's Track & Field -- Hammer Throw Gold Medal Final
Women's Beach Volleyball - Bronze Medal Match
Boxing - 51kg, 75kg Quarterfinals
Men's Basketball - Quarterfinal (LIVE)
Canoeing - Semifinals (LIVE)
Women's Swimming - Marathon Gold Medal Final
Softball - Bronze Medal (LIVE)
Wrestling - Freestyle 66kg, 74kg Gold Medal Finals
Men's Handball -- Quarterfinal
Synchronized Swimming - Duet Gold Medal Final
Gymnastics - A Daily Look
Men's Basketball -- Quarterfinal
Track & Field - Gold Medal Finals
Men's Diving- Springboard Competition
Men's Beach Volleyball - Semifinal
Gymnastics - Individual Event Gold Medal Finals
24-hour MSNBC & CNBC HD Simulcasts and Coverage
NBC OLYMPIC BASKETBALL CHANNEL
NBC OLYMPIC SOCCER CHANNEL
Best of Women's & Men's Soccer Semifinals
NBCOlympics.com -- LIVE STREAMING BROADBAND COVERAGE:
Women's Field Hockey - Semifinals
Sailing - Competition & Gold Medal Finals
Men's Taekwondo - 58kg Gold Medal Finals, 68kg Competition
Women's Taekwondo - 49kg Gold Medal Finals, 51kg Competition
Men's Modern Pentathlon - Shooting, Fencing
Canoeing - Flatwater Semifinals
Softball - Bronze Medal Game
Swimming - Marathon Gold Medal Final
Men's & Women's Table Tennis - Singles Competition
Men's Wrestling - Freestyle 66kg, 74kg Gold Medal Finals
Freestyle 84kg, 96kg,120kg Competition
THURSDAY, AUG. 21 - DAY 13
Men's Swimming - Marathon
Gymnastics - Rhythmic Competition
Women's Water Polo - Gold Medal Match
Equestrian - Individual Jumping Gold Medal Final
Softball - Gold Medal Game Report
Track & Field - Gold Medal Finals
Men's 400m, 110m Hurdles, Triple Jump
Women's 200m, Javelin Throw
Women's Diving - Platform Gold Medal Final
Men's Beach Volleyball - Gold Medal Match (LIVE)
Men's Volleyball - Semifinal (LIVE)
Men's Beach Volleyball - Bronze Medal Match
Women's Track & Field - 20k Walk
Wrestling - Freestyle 84kg, 96kg, 120kg Gold Medal Finals
Women's Soccer - Gold Medal Match (LIVE)
Softball - Gold Medal Game (LIVE)
Canoeing - Semifinals (LIVE)
Wrestling - Freestyle 84kg, 96kg, 120kg Competition
Women's Table Tennis -- Quarterfinals
Women's Basketball - Semifinal (LIVE)
Women's Soccer - Bronze Medal Match (LIVE)
Women's Water Polo - Bronze Medal Match (LIVE)
Women's Handball - Semifinals
Women's Volleyball - Semifinal
Track & Field - Gold Medal Finals
Women's Diving - Platform Competition and Semifinal
Women's Soccer - Gold Medal Match (LIVE)
Women's Beach Volleyball - Gold Medal Match
24-hour MSNBC & CNBC HD Simulcasts and Coverage
NBC OLYMPIC SOCCER CHANNEL
Women's Soccer - Gold Medal Match
NBC OLYMPIC BASKETBALL CHANNEL
Women's Basketball -- Semifinals
NBCOlympics.com -- LIVE STREAMING BROADBAND COVERAGE:
Men's & Women's Field Hockey
Men's Modern Pentathlon - Swimming, Riding & Running
Women's Modern Pentathlon - Shooting & Fencing
Sailing - Gold Medal Finals
Men's Taekwondo - 68kg Gold Medal Finals, 80kg Competition
Women's Taekwondo - 57kg Gold Medal Finals, 67kg Competition
Women's Basketball - Semifinals
Canoeing - Flatwater Semifinals
Women's Handball - Competition & Semifinals
Equestrian - Individual Jumping Gold Medal Final
Women's Soccer - Gold & Bronze Medal Games
Softball - Gold Medal Game
Men's & Women's Table Tennis - Singles Competition & Semifinals
Men's Wrestling - Freestyle 84kg, 96kg, 120kg
Men's Basketball - Semifinal (LIVE)
Canoeing - Gold Medal Finals
Women's Table Tennis - Gold Medal Final
Track & Field - Gold Medal Finals
Men's 4x100m Relay, Pole Vault
Women's 4x100m Relay, Long Jump, 5000m
Men's Diving - Platform Semifinal (LIVE)
Gymnastics - Rhythmic Competition
Women's Volleyball - Bronze Medal Match (LIVE)
Men's Table Tennis - Singles Semifinals
Synchronized Swimming - Team Competition
Boxing - Semifinals (51kg, 57kg, 64kg, 75kg, 91kg)(LIVE)
Baseball - Semifinal (LIVE)
Boxing - Semifinals (48kg, 54kg, 60kg, 69kg, 81kg, +91kg)
Men's Basketball - Semifinal (LIVE)
Men's Water Polo - Semifinal (LIVE)
Men's Track & Field - 50k Walk
Women's Table Tennis - Singles Semifinal
Men's Table Tennis -- Quarterfinals
Canoeing - Gold Medal Finals
Men's Soccer - Bronze Medal Match (LIVE)
Men's Volleyball - Semifinal
Women's Field Hockey - Bronze Medal Game
Women's Modern Pentathlon
Men's Handball -- Semifinal
Women's Field Hockey - Gold Medal Game
Women's Diving - Platform Gold Medal Final
Track & Field - Gold Medal Finals
Men's Beach Volleyball - Gold Medal Match
Men's Soccer - Bronze Medal Match (LIVE)
Men's Basketball - Semifinal (LIVE)
Men's Soccer - Gold Medal Match (LIVE)
24-hour MSNBC & CNBC HD Simulcasts and Coverage
NBC OLYMPIC SOCCER CHANNEL
Men's Soccer - Bronze Medal Match
Women's Soccer - Gold Medal Match
NBC OLYMPIC BASKETBALL CHANNEL
Men's Basketball -- Semifinals
NBCOlympics.com -- LIVE STREAMING BROADBAND COVERAGE:
Baseball - Semifinal & Bronze Medal Game
Women's Field Hockey - Gold Medal Game
Women's Modern Pentathlon - Swimming, Riding & Running
Men's Taekwondo - 80kg Gold Medal Finals, +80kg Competition
Women's Taekwondo - 67kg Gold Medal Finals, +67kg Competition
Men's Basketball - Semifinals
Canoeing - Flatwater Gold Medal Finals
Men's Handball - Competition & Semifinals
Women's Handball - Competition & Bronze Medal Game
Men's Soccer - Bronze & Gold Medal Matches
Men's Table Tennis - Quarterfinals
Women's Table Tennis - Singles Bronze & Gold Medal Matches
SATURDAY, AUG. 23 - DAY 15
Women's Basketball - Gold Medal Game (LIVE)
Synchronized Swimming - Team Gold Medal Final
Canoeing - Gold Medal Finals
Gymnastics - Rhythmic Individual Gold Medal Final
Women's Volleyball - Gold Medal Match
Boxing - Gold Medal Finals
Men's Track & Field - Marathon (LIVE)
Track & Field - Gold Medal Finals
Men's 800m, 5000m, Javelin Throw, 4x400 Relay
Women's 1500m, 4x400 Relay, High Jump
Men's Diving - Platform Gold Medal Final
Men's Basketball - Gold Medal Game (LIVE)
Men's Table Tennis - Gold Medal Match
Men's Soccer - Gold Medal Game (LIVE)
Baseball - Gold Medal Game (LIVE)
Women's Handball - Gold Medal Game (LIVE)
Women's Volleyball - Bronze Medal Match
Men's Field Hockey - Gold Medal Game (LIVE)
Men's Table Tennis - Singles Semifinal
Men's Table Tennis - Singles Gold & Bronze Medal Matches
Baseball - Gold Medal Game (LIVE)
Track & Field - Gold Medal Finals
Men's Diving - Platform Semifinal
Boxing - Gold Medal Finals
Men's Volleyball -- Semifinal
Women's Volleyball - Gold Medal Match
24-hour MSNBC & CNBC HD Simulcasts and Coverage
NBC OLYMPIC SOCCER CHANNEL
Men's Soccer - Gold Medal Match
NBC OLYMPIC BASKETBALL CHANNEL
Women's Basketball - Gold Medal Game
NBCOlympics.com -- LIVE STREAMING BROADBAND COVERAGE:
Baseball - Gold Medal Final
Men's Field Hockey - Gold Medal Final
Men's Taekwondo -- +80kg Gold Medal Final
Women's Taekwondo -- +67kg Gold Medal Final
Women's Basketball - Gold & Bronze Medal Games
Men's Basketball - Bronze Medal Game
Canoeing - Flatwater Gold Medal Finals
Women's Handball - Gold & Bronze Medal Games
Men's Handball - Classification & Bronze Medal Games
Men's Soccer - Gold Medal Match
Men's Table Tennis - Singles Gold & Bronze Medal Matches
Boxing - Six Gold Medal Finals
Men's Water Polo - Gold Medal Match
Gymnastics - Rhythmic Group Gold Medal Final
Men's Volleyball - Gold Medal Match
Men's Basketball - Bronze Medal Game (LIVE)
Men's Basketball - Gold Medal Final Game (re-air)
Men's Volleyball - Bronze Medal Match
Men's Water Polo - Bronze Medal Match
Men's Handball - Gold Medal Game
Track & Field - Gold Medal Finals
Men's Basketball - Gold Medal Game
Men's Diving - Platform Gold Medal Final
Boxing - Gold Medal Finals
24-hour MSNBC & CNBC HD Simulcasts and Coverage
NBC OLYMPIC BASKETBALL CHANNEL
Men's Basketball - Gold Medal Game
NBCOlympics.com -- LIVE STREAMING BROADBAND COVERAGE:
Men's Basketball - Gold Medal Game
Men's Handball - Gold & Bronze Medal Games

Popular in the Community