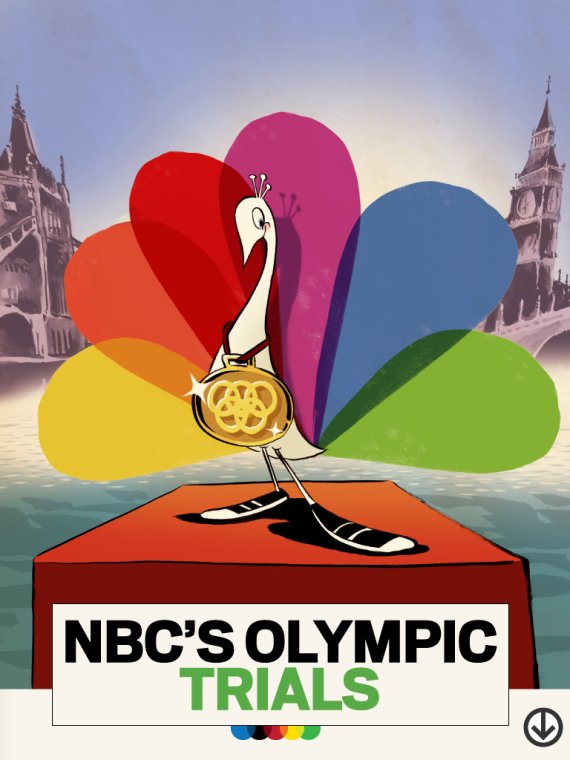 As NBCUniversal was gearing up for round-the-clock coverage of the Olympics, chief executive Steve Burke recalled his fears of a competitor swooping in and getting broadcast rights to the games after London. Burke, who landed the top job at 30 Rock after Comcast took control, described last summer's pitch to the International Olympic Committee as a "binary moment" for the newly merged company.
"We would either come home with the games, or we would come home without the games," Burke said. "And as the new sort of people showing up in this building, it would have been an awful thing to come home without the games."
Fortunately for Burke, who was previously Comcast's chief operatingofficer, the team succeeded, and NBCUniversal will be the go-to place for the Olympics through 2020. It's a long-term strategy that carries some possibly lucrative benefits down the line, but also sizeable risks for a company still in the process of merging its various holdings under one roof.
On a recent morning, Burke wasn't thinking about risks. He focused instead on rewards, while talking up the London games from Studio 8H, the legendary home of Saturday Night Live. The Olympics, he said, are vital "for the soul of the company," along with its brand, financial future and ability to showcase the many different parts of NBCUniversal and Comcast. "There's nothing more important to us than the Olympics."
The brief Olympics takeover of NBCUniversal was apparent in Studio 8H, which NBC sports reporter Michelle Beadle described as a "little London away from London."
NBC is trying its best to make the windowless space a bit more like Jolly Old England for those staffers not among the 2,800 who'll be actually on the ground in London during the games. There was a "Downing Street" sign and London Olympics posters hung up in the makeshift "highlights factory." During competition days that can stretch to 18 hours, NBC staffers will churn out highlight clips from 32 sports for use on television, online and on mobile devices. Staffers glancing up from their computers can glimpse Big Ben or the London Eye Ferris wheel, famous sights depicted on a large wall hanging.
Creating "little London" is just one example of how the Olympics permeate the NBC network, and now, the larger Comcast-NBCUniversal juggernaut. For 17 days, it's all Olympics all the time.
NBC needs to produce the games without a hitch. And the company has more on the line this time around. NBCUniversal executives are hoping that the Olympics can help revive NBC's sagging primetime ratings, kickstart the Today show, which recently dropped out of the top ratings spot for the first time in 16 years, and get viewers to recognize its newly rebranded NBC Sports Network, a relative newcomer in a cable sports media world dominated by ESPN.
Simultaneously, the post-merger NBCUniversal team needs to show Wall Street that it can pull together its various content and distributions arms for a major event. The Olympics is the executive team's chance to prove the merger made sense and won't go the way of others, like AOL Time Warner, which came together in grand fashion only to later pull apart. The Olympics serves as a thread that weaves throughout the entire company and, in Burke's view, is a worldwide spectacle that's inextricably linked to NBCUniversal.
That view wasn't always clear. Some industry-watchers doubted whether executives hailing from the cost-conscious cable giant, which already paid G.E. $6.5 billion last year for a majority stake in NBCUniversal, would pledge billions more to outbid rivals like ESPN and FOX and keep the games within the Peacock Network, which has been home to the Olympics broadcast since 1988.
It's not that the Olympics lost its luster. The games remain one of the most prestigious events in all of television, a global spectacle capable of drawing more than 200 million U.S. viewers over the course of a couple weeks. In the age of DVR, and amid increased fragmentation across media, the primetime Olympics telecast is still considered must-see TV across demographics. Advertisers want to be tied to the games, which are ratings gold.
However, the huge expense of obtaining rights and then producing the games would understandably give pause to a new management team hoping to cut down on red ink. NBC reportedly lost $223 million on the 2010 winter games in Vancouver and is expected to lose money on the London games, the rights of which were sold years before the Comcast deal. And costs aside, NBCUniversal executives were forced to head to Lausanne, Switzerland, to try and obtain post-London rights without Dick Ebersol, the long-time NBC Sports chairman and Olympics overseer who resigned in May 2011 after reported clashes with the new regime.
But roughly six weeks after Ebersol's much-publicized departure, Burke's fears were allayed. NBC not only won broadcast rights to the next two games — in Sochi (winter 2014) and Rio de Janeiro (summer 2016) — but also the following two Olympics, thus keeping the network tied to the worldwide sports extravaganza through 2020.
Andrew Billings, a University of Alabama professor and author of the book Olympic Media: Inside the Biggest Show on Television, says the $4.4 billion bet could prove to be a smart one for the company, especially given the possible impact on its sister cable networks. Still, he notes, there are risks that accompany such a huge investment.
"There are always unforeseen events that could make the NBC deal through 2020 a boondoggle — the threats from a social media-based, 24/7 news cycle will likely only be greater in the future," Billing says.
NBC is already operating in a very different media landscape than just four years ago. Since the summer games in Beijing, Facebook has grown from 100 million to more than 900 million subscribers, while Twitter has jumped from a relatively minor group of users to over 140 million today. The Wall Street Journal recently noted that there were more Olympics-related tweets in one day of London trials than in the entire Beijing Olympics.
NBCUniversal executives say they're optimistic about the impact of social media — that platforms like Twitter and Facebook will help elevate interest throughout the day and drive more viewers to primetime. That strategy will be proven right or wrong by the Nielsen numbers. And if ratings drop significantly in primetime, executives may be forced to re-evaluate how to produce the Olympic spectacle in an ever-changing media world that could look vastly different in eight years.
Billings adds that not yet knowing the location of the 2020 games makes it difficult to ascertain the value of the telecast. "It is all about time zones if they continue to seek the 'live to tape' format for the primetime telecast," he says. (In a live-to-tape format, the announcer calling the game or event was recorded live as it happened, rather than a studio announcer later describing the action recorded earlier).
"The biggest threat to NBC's telecast down the road is that we continue to develop new avenues for information and that these threats would force NBC's hand," said Billings.
Location is always a wildcard — and not just because of how time zones can throw off hopes of broadcasting live. Geopolitical conflicts have impacted the games in recent decades, from the Munich massacre during the 1972 games to the U.S. and Russia boycotts during the 1980 and 1984 games, respectively. The threat of terrorists making an Olympics attack has loomed over every recent games.
The $4.4 billion cost may prove a bargain in the long run, but could also be a black hole that the relatively new management finds itself stuck in for years to come.
While executives hope to trim losses around the 2012 games, they're quick to point out the ancillary benefits of producing the Olympics that go beyond profits and losses in the company ledger, such as promoting other shows or networks now under one umbrella. And the games, says one executive, will also serve as a "billion-dollar lab" for the network, allowing researchers to analyze media consumption habits of millions of people across demographics and platforms.
NBC's coverage begins on July 27 with the dramatic opening ceremony, a classically over-the-top kick-off to the games. For 17 nights, NBC — along with its affiliated networks and online platforms — will carry 5,535 hours of coverage of the London Olympics, nearly 2,000 more hours than it did four years ago in Beijing. In total, that amounts to 231 days of coverage in just two and a half weeks.
The NBC broadcast network will air 272.5 hours of coverage of the summer games, including increased daytime hours that build to the primetime crescendo. Cable networks MSNBC, CNBC, Bravo and Telemundo will also be airing games each day, while NBCOlympics.com will be home to live, streaming coverage of every event and the awarding of all 302 medals — a first in Olympics history. Online access is free to anyone with a cable or satellite television subscription that includes MSNBC and CNBC. Some NBC-affiliated networks will focus on specific sports, such as tennis (Bravo) and boxing (CNBC).
In addition, the rebranded NBC Sports Network will air more than 300 hours of coverage — the most of any network — and serve as the home for U.S. team sports, including basketball, women's soccer and field hockey.
Perhaps most important, executives hope the Olympics will raise the profile of the fledgling NBC Sports Network, which until earlier this year, was Comcast's profitable, albeit little known, Versus sports channel. Comcast has invested in sports before by way of its regional networks and the Golf Channel, along with ownership of the Philadelphia Flyers hockey team and past ownership of the Philadelphia 76ers basketball team. But analysts see a company's taking great strides in the sports game since merging with NBCUniversal.
"They've always played around the margins of big time sports," says Craig Moffett, a media analyst at Sanford C. Bernstein & Co. "In some ways, the Olympics is Comcast's ticket to being a tier-one sports player."
Since stepping in to fill Ebersol's big shoes a few months after the merger, NBC Sports Group chairman Mark Lazarus hasn't been shy about the network's sports ambitions, which stretch beyond popular weekend events like Sunday night football and producing the Olympics every couple years. Lazarus, according to a December New York Times profile, hopes to "build a sports empire."
At 30 Rock last month, Lazarus remarked on the network's "long-term agenda with the NBC Sports Network," describing the Olympics as "another seminal moment" in its evolution.
Shortly after securing long-term Olympic rights last summer, NBC began working with brand consulting and creative agency Troika on sharpening the identity of NBC Sports — primarily viewed as a weekend TV option — and the 24-hour sports network, which would later drop Versus and rename itself after the network's sports operation.
Troika creative director Gil Haslam says his firm's "job was to bring focus and clarity under one brand tradition" and, in the process, created a platform called "Immersive Moments" that focused on the core story-telling brand of NBC Sports that stretches across both broadcast and cable. The idea, he said, is for the viewer to "feel like you're inside the family of NBC Sports," whether watching Football Night in America on NBC, a hockey game on NBC Sports Network, or the Olympics across NBCUniversal channels, websites and mobile platforms.
Jon Miller, president of programming for NBC Sports and NBC Sports Network, says that when viewers "come to see an NBC Sports branded property, they know that it's going to be real quality content." Production values are the same level whether on broadcast or cable, he says, thus offering a seamless transition for viewers switching back-and-forth.
But potential viewers first need to find the network, which doesn't have ESPN-type placement high up, but may fall another hundred or so channels down the dial. While hardcore hockey and soccer fans may have sought out the NBC Sports Network in recent months for games on the network, and are thus familiar with the slight name change, executives predict the Olympics will be a much bigger draw. The summer games, Miller says, is like "17 days of Super Bowls."
Already, Miller says, dedicated Olympics fans are finding the network to watch early round trials for swimming and track and field, which he considers "a really good indication that foreshadows once we get to London."
Billings views the creation of the NBC Sports Network as "a recognition that NBC wants to get back in the game" of competing for big-time sports broadcast contracts. Of course, the Olympics could be an outlier, and aren't necessarily indicative of how the company will perform in other sports broadcasts.
While Billings notes NBCUniversal is "putting some muscle behind that channel," they're not going to approach ESPN-levels over night. Right now, Billing said no sports network "is even remotely close to competing with ESPN." But he did see a possible parallel to ESPN's trajectory, in that neither Versus nor the reigning champ of sports media drew much attention in blockbuster media deals.
When Disney acquired ABC in 1996, the inclusion of ESPN was an afterthought compared to the attention paid to the sale of the prestigious, "Big Three" broadcast network. But these days, ESPN is Disney's most valuable media property.
While executives would surely be pleased if the rebranded NBC Sports Network achieves anywhere near ESPN's post-merger success, they're keeping expectations down for the time being. Miller says he considers ESPN the "gold standard" and says that such comparisons with the 34-year-old sports network are off base, especially since "we're barely six months old."
"We can't worry about what the other guys are doing and what the other guys are saying," Miller says. "Slow and steady wins this race."
The Olympics aren't only geared toward the hard-core sports fan who can't leave the house without a SportsCenter fix. It's a more diverse audience and one of only two major sporting event that draws more women than men. (The Kentucky Derby is the other).
So when it comes to cross-promotion, NBC isn't only interested in the sports media market but also wants to get viewers excited about its fall line-up. The network is trying to turn around its rating woes with a comedy-packed, fall schedule, a formula that's worked in the past with sitcom smashes like The Cosby Show, Seinfeld and Friends.
"You can't get a better launching pad," says Jessica Reif Cohen, a media analyst at Bank of America Merrill Lynch. "This is their chance to set up the network and give it a shot in the arm."
Still, it remains to be seen if the strategy pays off, because, as Billings says, "the promotional benefits of the telecast are difficult to predict."
"Certainly the NBC Sports Network helps and they'll do everything they can to provide optimal synergy," Billings continues. "Nonetheless, with DVRs now in 45 percent of all U.S. homes, some promotions will be skipped. We love to say sports are DVR-proof, but the truth is they're just less likely to be time-shifted than virtually all other programming. People will time-shift the already time-shifted live-to-tape Olympic telecast."
Given this problem with traditional spot promos during commercial breaks, Billings suggested that the network may opt more for "promos within the Olympic telecast itself."
But even if some heavily promoted falls flounder, NBC executives would be happy if at least one gets a ratings boost and keeps up the pace long after breaks down the Olympics sets and returns home.
"NBC desperately needs a hit. And all it takes is one," Moffett says. "And if they can get one hit show out of Olympics by generating a sufficiently large audience that eventually sticks, then the promotion will be judged a huge success."
Bob Costas, who makes his ninth appearance as Olympics host in London, describes the games as "a primetime miniseries spread out over nearly three weeks."
But gone are the days when Olympics fans could only find out who won a race or match by tuning in that evening. Real-time results are now available online and over social media, while viewers can also watch events on tablets, mobile devices and laptops when not in front of a television.
Executives decided against trying to prevent fans from seeing the action in real-time if they choose to and instead suggest that their livestream strategy could drive viewers to primetime. "If someone is ambitious enough to get up at six in the morning to see the 10,000 meter race walk, and they see it and it's good, they'll tell 10 friends, 'You should watch the race walk at prime time,'" Burke recently told the Wall Street Journal. "It's hard for me to believe that someone is going to watch streaming and not be a booster of what they saw more times than not."
Still, primetime is still key when it comes to drawing advertising dollars and promoting shows that NBC's pinning its hopes on this fall. Executives hope that daytime viewing on cable or online — along with engagement through social media — drives more viewers to primetime, where the focus is more on highly-produced narrative packages instead of serendipitous emotional peaks and troughs of live sports.
NBC's primetime focus in London is unlikely to be too different than what they created in Beijing or past summer games. For decades, NBC's primetime has been dominated but three sports: swimming, diving and track and field.
When programming those hours, executives have long figured out that some sports work and others don't. For instance, the network wouldn't show a full Olympics boxing match in primetime, both because it would cut into a far great chunk of programming than a 100-meter race and also possibly turn off the larger, female viewership. Instead, boxing fans can head to CNBC for entire matches or watch online. Every niche sport is now available to watch live.
The primetime broadcast has to appeal to casual sports viewers who may not watch another swimming competition until the Olympics heads to Rio in four years. For that reason, Costas said it's the network's job to know not only names of athletes, but also to get across "what's at stake, and what the likely dynamics of the competition are... to give them some kind of back-story about at least some of these competitors, to give them a reason to be invested in it."
While Costas hosts primetime, veteran sports broadcasters Al Michaels and Dan Patrick will host weekday and weekend daytime coverage, with Mary Carillo hosting late night. NBC has also tapped Ryan Seacrest and tennis great John McEnroe for packages on Olympics athletes. Overall, NBC will have about 2,800 credentialed NBC workers in London, from on-air talent like Today's Matt Lauer and late-night host Jimmy Fallon, to numerous producers and crews that make the broadcasts happen.
NBC also has a new primetime producer for the first time in decades, Today executive producer Jim Bell.
Bell got his start in television during 1992 Olympics in Barcelona when he was hired to assist an NBC executive, who was in a wheelchair at the time, get around the city. Ebersol noticed Bell and later hired him at the network. Bell, a former Harvard University football player, ascended up the network ladder to eventually oversee the profitable morning show. (Ebersol, who learned the craft under the legendary ABC executive Roone Arledge in the 1960s and later commandeered NBC's long-running primetime strategy, signed on an adviser this time around.)
It's unlikely Bell will deviate greatly from Ebersol's strategy, a huge influence on how the Olympics is produced for television.
Bell said the "first order of business is arranging the prime time broadcast, and then from there the other shows flow, the daytime show, the programming decisions, they get made." As the competition continues, Bell said, "things will change, storylines will develop, and I think one of the most important roles will be, once that torch is lit, reacting to what's happening, and making changes if needed."
Costas considers his nightly role as similar to Olympics' past, regardless of the many ways media is now consumed and shared.
"You know, there are a lot of things that technology has brought us, and these additional, you know, tubes of communication have brought us that are wondrous, and a lot of it is just crap," Costas said. "You know, the more you broaden anything out, it's like American Idol auditions, you let everybody audition, and you're going to find some diamonds in the rough. You're also going to find people who would be lousy singing in the shower."
Costas says that "the essence of what's good hasn't changed." According to him, it still comes down to the skill of the individual commentator.
"So some of the features may be shorter because of attention span, some of where we funnel the viewership may be different," he said, "but the way in which I anchor the games, based on what they ask me to do, is not much different."
"At the heart of it," he said, "is to tell stories well."
-- Rebecca Ballhaus provided reporting assistance.
REAL LIFE. REAL NEWS. REAL VOICES.
Help us tell more of the stories that matter from voices that too often remain unheard.