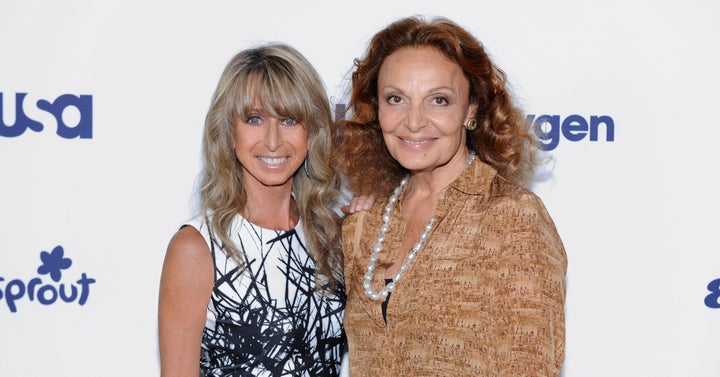 Longtime programming executive Bonnie Hammer has been called "the queen of sci-fi" and "one of the most successful programmers in cable television" by The New York Times. She made wrestling a television event, and worked on Lifetime documentaries with "a shoestring budget" from a colleague's place "in the Village, drinking a bottle of wine and watching the rough cuts." Now, Hammer is chairman of NBCUniversal Cable Entertainment, overseeing USA, Syfy, E!, Bravo, Oxygen, the Esquire Network and others. 
"While leading men have been celebrated for their timeless charm and weathered good looks, women my age have been barely visible on screen," she wrote for Fortune, adding that women "try to remain visible by remodeling what age has created."
"Bowing to societal pressures, they've lifted brows, tightened skin, filled laugh lines, and realigned proportions," Hammer observed, "all to stretch careers that would have otherwise been jeopardized by simply looking one's age."
Indeed, we're familiar with stories of women in Hollywood being told they're "too old." (Maggie Gyllenhaal's might the cake -- she was told that 37 was too much for her to play the role of a 55-year-old man's love interest.) After their mid-30s, one report found actresses are paid "significantly less" than their male counterparts, whose peak earnings happen in their 50s and decrease much more gradually after.
But Hammer thinks of ageism and sexism as a broader issue, too. Experienced professional women in any field are routinely dismissed and ignored, she states.
"In racetrack jargon, we old mares are sent out to pasture while our male counterparts frolic in stud farms," she writes. 
 "I feel relevant and valuable and I am struggling to understand why, when women reach age 65, they encounter an invisible barrier of perception that says it's time to walk away." Her experience -- which comes with age, as some of us apparently need to be reminded -- has made her "more focused, more intuitively decisive, much less afraid to take risks." In racetrack jargon, age actually makes women execs just as studly as the men. 
"The stereotype that says we're past our prime and ready to be forgotten needs to change," Hammer concludes. Amen.
PHOTO GALLERY
Celebrity Photobombs
For a constant stream of entertainment news and discussion, follow HuffPost Entertainment on Viber.
Calling all HuffPost superfans!
Sign up for membership to become a founding member and help shape HuffPost's next chapter