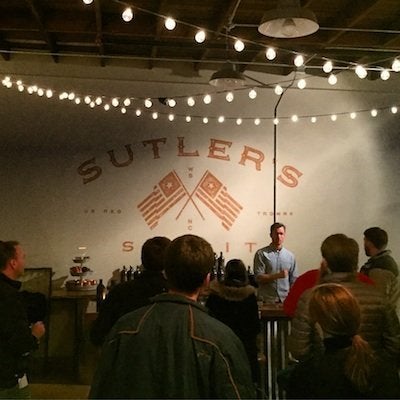 Scot Sanborn stood behind the bar and concentrated on a drinking glass. He wiped it clean and carefully laid the glass on the bar, alongside another just like it. He pointed at each glass and counted in silence, save for the soft jazz that came from a speaker set high in the corner of the candle-lit room.
He glanced toward Moose — a 6-year-old Goldendoodle incessantly searching for attention — took a deep breath and smiled.
"It's a dream come true," says Sanborn, owner of Sutler's Spirit Co., which is tucked inside a building that's part of the once-gritty-now-trendy West End Mill Works district in Winston-Salem, North Carolina.
It was Saturday evening, and Sanborn was preparing to host a tour — fully booked.
Sutler's — named for the purveyors of alcohol and other goods who traveled with soldiers — makes small-batch gin, which for now is available only in North Carolina, and rum, which ages in charred white oak Bourbon barrels — new and used — stacked along a wall near the distillery bar. Made with sugar cane syrup and molasses in a copper still crafted in Portugal, the rum will hit market when it's ready — when Sanborn is ready; probably in six to eight months, he says.
A distillery passport —much like the small booklet employed by the Kentucky Bourbon Trail — is designed to encourage people to visit North Carolina distilleries, as is the new "Visit NC Spirits" app. Visitors can have their passports stamped and, much like his gin — which you pour from a heavy, black ceramic bottle —Sanborn prefers authenticity, heating wax and embossing his logo in perpetuity.
Winston-Salem's other distillery, Broad Branch — in an old tobacco warehouse in the city's hip and historic North Trade Street district — uses North Carolina heirloom corn and malted barley — as well as rye and hops — in its NIGHTLAB whiskey.
Making liquor in North Carolina is nothing new, as anyone who knows a smidgeon about our country's history will tell you. Legal spirits in the Tar Heel State go back about 10 years, but arguably the biggest boost for North Carolina liquor came in October, when it became legal for distillers to sell their products on site.
The state still keeps a pretty tight fist around liquor sales. Distilleries, though, can now sell each customer one bottle per year.
Doesn't sound like much, but …
"This was a big step for distilleries to be able to engage with consumers and sell directly to them the way that our wineries and breweries can," says Paul Jones, media marketing specialist for the ag department and consumer services.
Esteban McMahan is spirit guide at Top of the Hill, TOPO for short, a virtual landmark at East Franklin and North Columbia streets in Chapel Hill, North Carolina. The longtime restaurant is home to one of the state's first micro-breweries and, most recently, a distillery.
McMahan said the new law "is a really good start to setting up a better system for North Carolina distillers to succeed," predicting more than 50 distilleries will be operating in the state by year's end.
"I still think there's going to be more flexibility needed from the (N.C. Alcohol Beverage Control Commission) going forward as the amount of distillers explodes across North Carolina.
"It's become harder and harder for the current ABC structure … to stock all North Carolina sprits," he says. "The majority of them don't; they'll pick and choose.
"In general, the further you get away from your home base, excluding the big cities, the less the smaller boards are going to carry you … . They just don't have the shelf space."
At TOPO, McMahan says, the spirits are selling well.
"It's one bottle at a time ... but the important thing is we're putting a bottle in someone's hand to take home."
The distillery at TOPO produces gin, vodka and whiskey moonshine using organic soft red winter wheat, which, says McMahan, makes for a much smoother alcohol, compared to corn, for example. That sweet, smooth wheat comes Jack H. Winslow Farms, fewer than 100 miles to the east of Chapel Hill in Scotland Neck.
TOPO recently rolled out Eight Oak, a hyper-aged "Carolina Whiskey," and a "Reserve," two-year-barrel-aged whiskey is on the way, which, McMahan says, could well be the world's only locally sourced, organic, 100-percent wheat-mash-billed straight wheat whiskey.
"It's pretty rare to find locally sourced whiskeys. It's even rarer to find organic, locally sourced whiskeys, and it's that much rarer to find organic, locally sourced whiskies aged for two years in barrels."
TOPO's distilled products became available in 2012, and they've collected awards ever since. "They're all world-class spirits," McMahan says. "It shouldn't matter that they're distilled in North Carolina. Our goal is to be a world-class distillery that's located in North Carolina using North Carolina agricultural products."
Agriculture and agribusiness contribute $76 billion to North Carolina's economy, Jones says.
"From our perspective," says Jones, "craft spirits are value-added agricultural products. The distillers that we work with use a variety of N.C. products, such as apples, corn, wheat, rye, honey and even sweet potatoes to create their spirits. It's our objective to make sure that working farmlands continue to exist."
For the Sutler's gin, Sanborn and distiller Tim Nolan use a corn-based alcohol — which they re-distill in a copper column still — and infuse it with eight fresh botanicals, including lavender, coriander, as well as juniper. The duo experimented with up to 25 botanicals, and getting it right took more than 10 months, Sanborn says.
"We made a lot of bad gin."
Not anymore. The juniper is there, but it's mostly in the background. The citrus is more pronounced, but the gin is so smooth that tonic becomes an afterthought.
"I wanted to make something I have a passion for," Sanborn says. "We're selling it as fast as we can make it."