The NCAA has spent three years investigating the UNC athletic department's role in academic fraud at the university, but it has yet to move forward with sanctions against the basketball program. And head coach Roy Williams, who won his third championship at UNC when the Tar Heels defeated Gonzaga in the title game, wasn't telling the whole truth about what happened.
"Were there some mistakes made? You're darned right there were," Williams told reporters Sunday. "Were there some things I wish hadn't happened? You're darned right. But there were no allegations against men's basketball. So I've sort of hung my hat on that part, and I know we did nothing wrong."
That's untrue. In 2012, the Raleigh News & Observer uncovered rampant cheating inside UNC's African and Afro-American studies department, or AFAM. The department had carried out an 18-year scheme of fraudulent "paper classes" that often didn't require students to show up for class or submit more than a single paper to receive a passing grade, concluded the press and independent investigators.
More than half of the 3,100 students who took the classes, investigators found, were athletes, and the classes were "especially popular" among "those who played the 'revenue' sports of football and men's basketball." Athletes who took the classes earned higher grades, on average, than in their other courses, while "a significant proportion of the papers submitted in these classes included large amounts" of plagiarism, according to an independent investigation.
Roughly half of the athletes enrolled in paper classes played either basketball or football, according to an independent report on the scandal, and 10 of the 15 members of the Tar Heel team that won the 2005 national championship ― Williams' first title ― were AFAM majors. The NCAA's latest notice of allegations, issued in December, said that "many at-risk student athletes, particularly in the sports of football and men's basketball, used these courses for the purposes of ensuring their continuing NCAA athletic eligibility."
Williams' inaccurate response and the lingering nature of the scandal once again dulled some of the luster of UNC's appearance in the title game, and it's easy to see Carolina's presence as an affront to the very ideals of college athletics, premised as these sports are on the idea of "student-athletes" who compete for their schools only as an adjunct to their educational pursuits.
But that's the wrong view. If UNC is indeed an indictment of the collegiate sports model, it is not because the fraud scandal represents an assault on the sanctity of college athletics but because it exposes the inherent hypocrisy of that system's entire approach to education.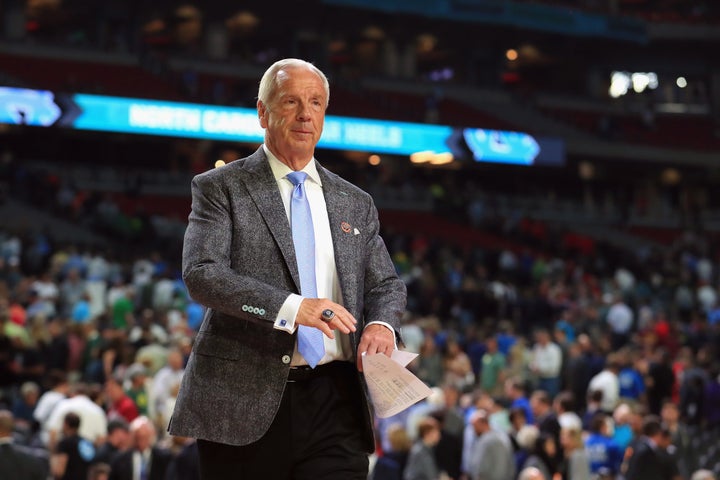 At its core, the UNC scandal is illustrative of the worst that can happen when a school prioritizes the maintenance of an athlete's eligibility ― and the massive revenue he can generate as long as he stays on the field ― over his education.
But education always has been a talking point for the NCAA ― a convenient excuse for preventing the athletes who provide its labor from sharing in the fruits of it. The term "student-athlete" was manufactured by NCAA lawyers in the 1950s to protect the organization from worker's compensation liabilities. Today, the NCAA leans on "student-athletes" and "amateurism" to defend itself against antitrust claims in lawsuits seeking better compensation and benefits for college athletes.
The system of collegiate sports, in other words, is already built on the priorities that set the stage for the academic fraud scandal that took place at UNC. And there may be no better example than the tournament UNC is competing to win.
This year alone, the NCAA Tournament will generate roughly $900 million in revenue for the NCAA. It's a lucrative endeavor for CBS and Turner, the tournament's broadcast partners, and for the athletic departments at schools that compete. Coaches and administrators, meanwhile, will haul in six-figure performance bonuses depending on how their teams do. (Williams has already earned a $200,000 bonus for reaching the Final Four and received $250,000 more when UNC won Monday.)
The athletes, by contrast, are left only with scholarships that cover the cost of classes they often can't attend. In 2014, for instance, Forbes estimated that basketball players at Syracuse would have missed 17 days of classes ― nearly a quarter of the spring semester ― had the Orange advanced all the way to that year's Final Four (they fell short). Last year, Vocativ posited that Division I men's basketball players would collectively miss more than 10,000 days of classes from the start of conference tournaments through the end of the postseason.
The NCAA's own surveys have shown that athletes report spending more time on sports than on their academics throughout the year. In a 2015 study of Pac-12 conference athletes, 80 percent said they'd missed a class for a game in the previous year, more than half said they didn't have enough time to study and many said they often felt "too exhausted to study effectively."
It's true that athletes receive help keeping up on studies from advisers and tutors while they're on the road. But it's impossible to argue that this setup actually puts their studies first, as the NCAA and so many proponents of the collegiate model would have us believe. Athletes say it doesn't, and, once again, UNC is an example: In 2009 exit interviews, Tar Heel athletes "commented on the difficulties athletic participation can impose in developing relationships with classmates and other non-athletes," limiting their educational potential.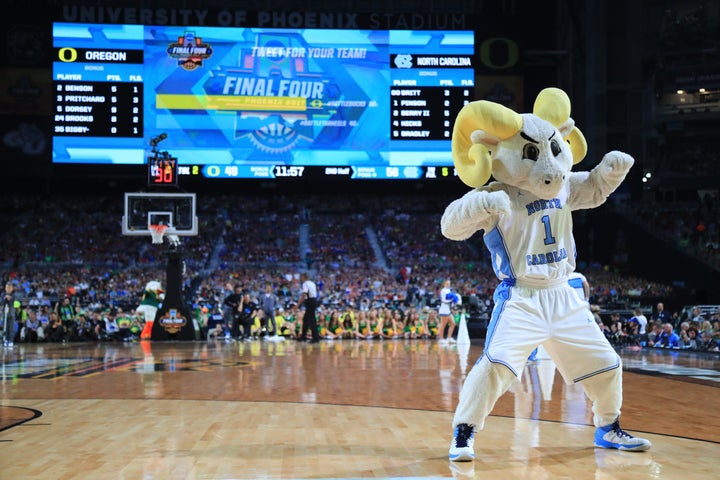 As with everything in college sports, non-white athletes in revenue sports suffered the worst effects of this dynamic, according to exit interviews conducted at UNC in 2005 and 2006.
"The tension between athletics and academics is most salient for non-white and revenue student athletes, and they express less confidence in the push toward academics for them," UNC officials reported. "They express more concerns about not being able to choose the major they want, not being able to study while on athletic trips, being too tired to complete homework or prepare for class, and that they would study a lot more if they had fewer athletic responsibilities. Nonwhite and revenue student athletes are the most likely to report that their effort toward academic work relative to their maximum potential is less than 50%."
In court, the NCAA often argues that compensating athletes will damage their educational pursuits. But if the North Carolina case is any indication, the existing system already does an excellent job of doing exactly that. "The documents in the UNC case illustrate that, under the current NCAA model of amateurism, the race to the top in athletics inevitably results in a race to the bottom in academics," economist Ted Tatos wrote earlier this year. For no one is that more true than the athletes who are supposedly getting a free education for their work.
North Carolina's scandal is shameful. The school sacrificed athletes' educational opportunities at the altar of sports, exploiting their labor and athletic talent to win championships and earn the vast amounts of money that come with them.
But while UNC might be an extreme case, it is not alone, and the scandal that is still hanging over its head is only a natural result of the fraudulent approach to education on which the entire system of college sports is constructed. When the Tar Heels won on Monday, that didn't make them a disgrace. Instead, they're one of the more appropriate champions the NCAA Tournament has ever had.
Calling all HuffPost superfans!
Sign up for membership to become a founding member and help shape HuffPost's next chapter
BEFORE YOU GO
PHOTO GALLERY
College Basketball's Top 25 Freshmen