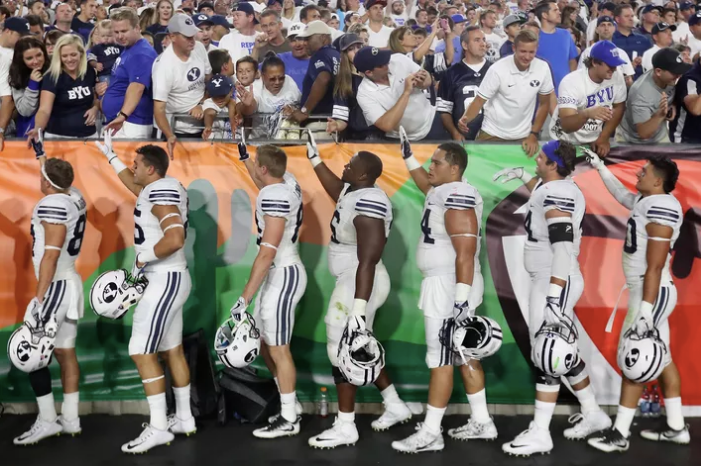 This article originally appeared on Outsports.
The NCAA made a great public relations move when it announced this week that it would remove all championship events from North Carolina, in response to the state's anti-LGBT "HB2" law. Praise came from fans, media members and even athletic departments of schools within North Carolina.
In the NCAA's own words, "NCAA championships and events must promote an inclusive atmosphere for all college athletes, coaches, administrators and fans."
The association's claim to protect "all" so far hasn't extended to student-athletes at BYU and other Christian schools that isolate and target gay people with policies and practices.
If the NCAA is serious, it is only a matter of time before BYU gets kicked out of the association. And every other school with an anti-LGBT policy will be removed as well.
If they are not removed in a timely fashion, this move by the NCAA out of North Carolina was truly just a public relations maneuver that I'm afraid too many people fell for.
It's remarkable that schools like BYU haven't been kicked out of the NCAA already, given the association's claims of dedication to equality. BYU's policies are far more sinister and discriminatory than North Carolina's HB2 law. While the law bars discrimination protection and forces trans people to use the bathrooms of their birth sex, BYU's policy outright discriminates against the entire LGBT community at every level and bans homosexuality all together.
Married same-sex couples cannot live together at BYU. Their children are considered bastards by the school. Gay students are afraid to show simple affection on campus. This is not hyperbole.
"We believe in providing a safe and respectful environment at our events and are committed to providing the best experience possible for college athletes, fans and everyone taking part in our championships," NCAA president Mark Emmert said in a statement.
It's nothing new. BYU has maintained these anti-LGBT policies for decades, openly discriminating against gay, lesbian and bisexual student-athletes in the name of God, Jesus, religion and the Mormon Church. If the NCAA is serious about maintaining its commitment to "fairness and inclusion," it cannot do so while BYU is a member of the NCAA. Frankly, that they have allowed BYU to remain speaks to the lack of true commitment to equality on behalf of the NCAA.
What do they all have in common? They are members in good standing of the NCAA.
"Lets not forget, what about the closeted or questioning student athletes who play at NCAA member institutions with anti-LGBTQ policies, programs and practices?" Campus Pride founder Shane Windmeyer said in an op-ed for NBC News. "When will the NCAA be concerned for their protection and safety? What about the transgender athlete who has no choice but to visit, compete and play, use the bathrooms and public facilities at these campuses?"
The NCAA claims to have made their commitment to fighting homophobia and transphobia clear with their move out of North Carolina.
"The NCAA Constitution clearly states our values of inclusion and gender equity, along with the membership's expectation that we as the Board of Governors protect those values for all," the NCAA said in a statement.
"For all" either includes all LGBT student-athletes, coaches and administrators at all schools... or the NCAA is failing on their own stated commitment.
For more from OutSports, check out these stories:
Popular in the Community