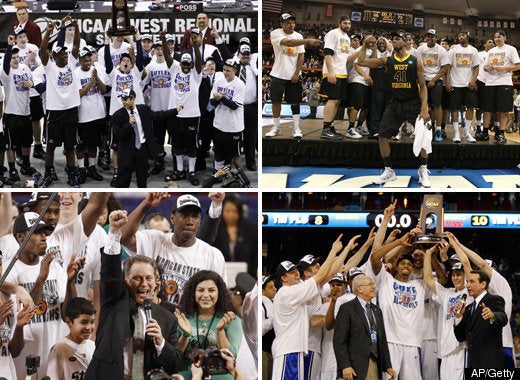 Duke entered this tournament as an underrated #1 seed and has covered the spread in all 5 NCAA Tournament games so far by an average of 8 points. Butler's journey has been a lot more stressful with 3 of their 5 wins being by 4 points or less. The Bulldogs have already toppled #1 seed Syracuse and #2 seed Kansas State, so they are capable of beating good teams, but Duke is better than both of those teams and the Blue Devils match up pretty well in this game. Butler's offense is heavily dependent on 3-point shooting, as 40% of their field goal attempts are from beyond the 3-point arc. That strategy is a good equalizer against more talented teams, but Duke defends the 3-point line better than any team in the nation, allowing opponents only 14 attempts per game at 28.1% success. Butler interior player Matt Howard is going to have to step up his production if the Bulldogs want to compete, but Howard has been cold during this tournament (just 7.0 points per game on 37% shooting) and he's a game time decision due to a concussion he suffered on Saturday (although I'm assuming he'll play).
Butler's calling card in this tournament has been defense, but Duke is the most efficient offensive team in the nation (based on compensated points per possession) and it will be a tall task for the Bulldogs to defend all 3 of Duke's scorers - Scheyer, Singler, and Smith - who all average 17.5 points or more per game. Butler has shown that they can defend good offensive teams and the slow pace of this game will also serve to keep the game closer than a game played at a normal pace, but the Bulldogs will need to hope that the Blue Devils are not hitting their outside shots like they did against West Virginia's stingy defense.
My ratings, adjusted for pace, favor Duke by 6.6 points and the match-up analysis is 0.7 points in favor of the Blue Devils, which makes my fair line Duke by 7.3 points. Apparently Duke is no longer underrated given that the line on this game is what it should be, and the Blue Devils apply to a negative 36-72-3 ATS NCAA Tournament situation. Butler, meanwhile, has the advantage of playing in their home city (teams playing in their home state are 124-82 ATS in the NCAA Tournament). The only negative for Butler, aside from what I think is a bad match-up, is the fact that teams seeded #5 or worse are 0-3 ATS in the Championship game the last 20 years with all 3 losses by 12 points or more.
The situation and fair line would generally result in an endorsement for Butler, but I just think the match-up is very favorable towards Duke so I have no opinion on the side in this game.
The total, currently 128 points, looks a bit high and is based on the entire season, as I get 130 points using all games for both teams. However, Duke's pace slowed down when they got into conference play and it has slowed even more in the NCAA Tournament. Butler tends to slow the pace of their games against better competition as well and I get 125 total points as a prediction using each team's games against better competition. I'll lean Under 127 points or higher.
While this game is not worth of being a Best Bet, I have had 9 consecutive winning weeks on my Basketball Best Bets and I'm 56.3% for the season, which is very profitable. If you want more information, check out my site at drbobsports.com
Calling all HuffPost superfans!
Sign up for membership to become a founding member and help shape HuffPost's next chapter