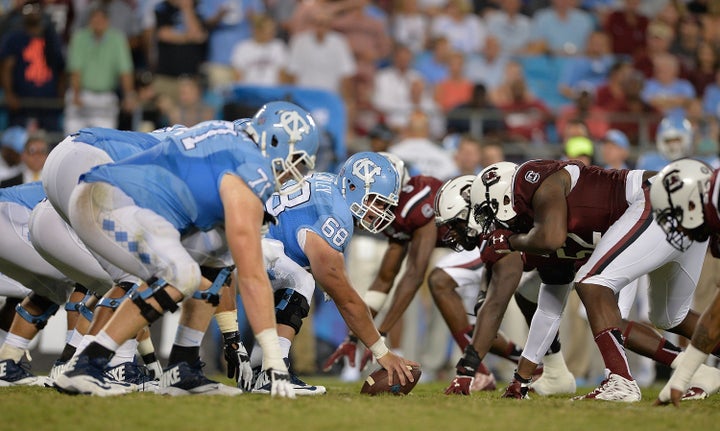 The NCAA scored a victory in August when the National Labor Relations Board declined to grant college athletes at Northwestern University the right to unionize. But even as the start of college football season this week diverts attention from a tumultuous summer, the NCAA and its major conferences are bracing for more challenges.
"It's hard to have a feeling other than being an enterprise under siege," Big 12 Conference Commissioner Bob Bowlsby told The Huffington Post this week. 
While the Northwestern players' defeat was a win for the NCAA, the association will soon have to face a number of other adversaries who are seeking to make college sports friendlier to players. Three federal lawsuits and a pending bill in Congress could all force the NCAA to reconsider the way it treats its athletes.
"Northwestern was just one school," said Jay Bilas, an ESPN college basketball analyst and a prominent critic of the NCAA's current model. "This issue is being litigated on a lot of different fronts, and this was just one of them."
The most immediate threat facing the NCAA is an appellate panel's upcoming decision about an antitrust suit brought by former UCLA basketball player Ed O'Bannon. In 2014, a federal judge ruled that athletes are entitled to as much as $5,000 per year in revenue generated from the use of their names, images and likenesses. The NCAA appealed that decision, and achieved a minor victory in August when the panel granted a stay, meaning schools would not have to start offering money to athletes on Aug. 1 as previously mandated.
The decision on the NCAA's appeal could come at any time.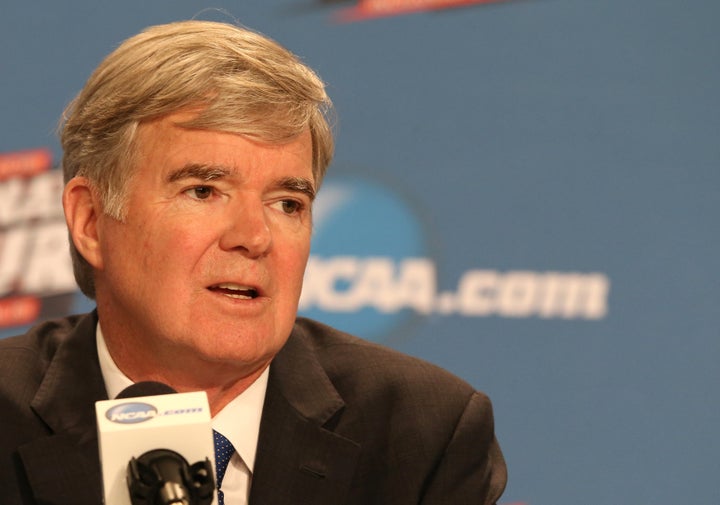 A second lawsuit, also brought by the lead attorneys in the O'Bannon case, could pose an equally serious threat to the NCAA's traditional relationship with its players. The lawsuit, filed against the University of North Carolina and the NCAA, addresses the scandal involving fake and no-show classes in the school's African-American Studies department. The plaintiffs allege that UNC violated the terms of athletic scholarship agreements by putting athletes in those classes and failing to provide them with a legitimate education. The suit also alleges that the NCAA could and should have known about such problems.
A judge is currently considering the NCAA's motion to dismiss that case. While the suit has gotten comparatively less attention, Sathya Gosselin, an attorney for the plaintiffs, says it could have major ripple effects because it highlights a "gross inconsistency" in how the NCAA approaches education and athletes' rights.
In O'Bannon, Gosselin pointed out, the NCAA argued that it had to restrict compensation in order to uphold its core mission of educating athletes. But in a filing in the UNC suit, the association took the opposite approach, positing that it has no responsibility "to ensure the academic integrity of the courses offered to student-athletes at its member institutions."
"That's a big deal," said author and historian Taylor Branch, a UNC alum and author of a 2011 piece in The Atlantic that offered a scathing assessment of the current collegiate model. "It's beginning to expose the fact that [the NCAA] can't really claim an academic role."
"The North Carolina suit is a step toward clarity that there are two separate roles of being student and being athlete," Branch added. "One is managed by the faculty and should be. The other is managed by the athletic department and doesn't have much to do with the student function."
The broadest legal challenge to the NCAA is a lawsuit from current and former athletes who want to create a free market for college players. The athletes are represented by prominent labor attorney Jeffrey Kessler, who helped bring free agency to the NFL more than two decades ago, and who just scored a victory over the NFL for New England Patriots quarterback Tom Brady. Kessler argues that the NCAA and its five biggest conferences violated federal antitrust law by colluding to artificially cap scholarship amounts.
That case will return to court on Oct. 1, and Kessler and the athletes will argue that their suit deserves class-action status, which will allow it to represent all college athletes instead of just those who have signed on. If the judge overseeing the case approves that petition, Kessler hopes to bring the suit to trial by June 2016.
The NCAA is also facing a battle in Congress. Reps. Charlie Dent (R-Pa.) and Joyce Beatty (D-Ohio) re-introduced legislation this summer that seeks to bring about modest reforms mirroring many of those sought in the Northwestern unionization effort.
Their bill, the NCAA Accountability Act, requires all NCAA member schools to institute improved concussion testing for athletes playing contact sports, enhance due process rights for athletes and schools accused of breaking NCAA rules, and provide four-year scholarships for athletes to replace the year-by-year agreements many schools offer now. Though Dent says he doesn't expect his colleagues to address the legislation immediately, he insisted that "there is a groundswell in Congress" to address "the health, education and welfare of student-athletes."
"Is it a growing concern for many [lawmakers]? Absolutely it is," he told HuffPost.
Bowlsby expects the NCAA and its conferences to continue internal reform efforts, too. In January, the five largest conferences voted to become more autonomous from the rest of Division I. Immediately after that, they approved a rule that allowed them to provide athletes thousands of dollars a year beyond their scholarships to cover additional costs of attendance, a move smaller schools had previously blocked.
Some conferences have implemented their own reforms, such as mandating four-year scholarships, expanding health care offerings that allow athletes to return to school after they are done playing sports and improving concussion policies -- all central demands of the Northwestern labor effort. Those efforts will continue in other areas, Bowlsby said.
The idea somehow that it's just a bunch of students playing ball is not the way this works."

Jay Bilas
But the NCAA and its opponents remain divided on the major point: the organization's view that college athletes are students who do not deserve rights or compensation as employees.
"It's been our assertion all along that these are students, that intercollegiate college athletics operates for the sole purpose of preparing 18-year-old adolescents to become 22-year-old adults and get a good education during the process," Bowlsby said. "We spend a lot of time trying to build championship-level teams, but this is really about educating students. These are not employees, they are not professional athletes. They are students, and it's that simple."
Not everyone agrees. Bilas, for example, scoffs at the notion that athletes in major college programs are merely students. (The full NLRB, it should be noted, did not rule on the question of whether athletes are employees; instead, it declined to assert jurisdiction in the case).
"The idea somehow that it's just a bunch of students playing ball is not the way this works," Bilas said. "If you substitute any other person for an athlete, the argument would make zero sense. No other student is told they can't make money in their chosen field of endeavor."
Kessler, the labor attorney, believes that despite the NCAA's adherence to its position and the setback in the Northwestern case, change is inevitable.
"It's a question of when, not whether," he said.