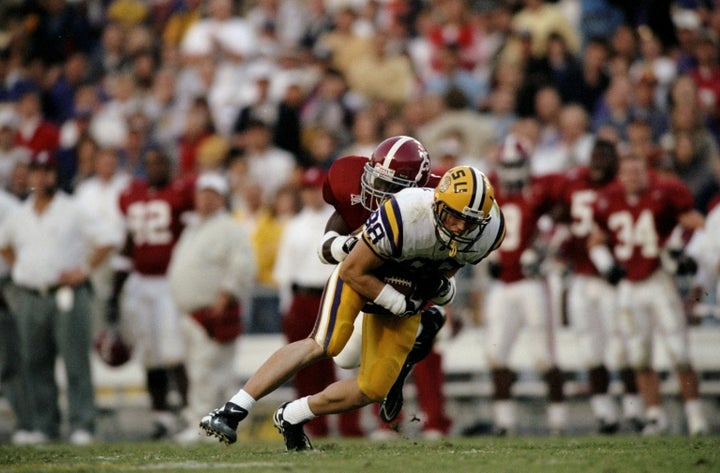 The NCAA is already facing legal and public relations challenges over its treatment of college athletes on issues ranging from compensation to health care and player safety. Soon, it could face similar scrutiny on the big screen.
Former college football stars, including Green Bay Packers quarterback Aaron Rodgers, Heisman Trophy winner Desmond Howard and ex-Baltimore Raven Ray Lewis, have signed on to support "Work Horses," a feature film about the lack of compensation and benefits for major college athletes.
The movie is the brainchild of former LSU wide receiver Abram Booty, who is now a high school football coach in Newport Beach, California. While in college, Booty told The Huffington Post, he and his teammates often talked about feeling as if they didn't properly share in the massive revenues they helped generate. He says he spent his college career vowing to "do something about it" once he left Baton Rouge.
"We know this isn't fair, this isn't right, this isn't just," he said. "I don't think college kids should be driving around in big fancy cars, but they ought to be able to go out and get something to eat on the weekend when they're hungry."
His inspiration for "Work Horses" came years after his career ended, as he watched his younger brother, John David, guide the University of Southern California to victory in the 2007 Rose Bowl. John David's favorite target that night was the Trojans' star wide receiver, Dwayne Jarrett, who caught 11 passes for 205 yards and two touchdowns to earn MVP honors.
After the game, Booty said he noticed Jarrett walking down a dark street away from the stadium. When Booty stopped to ask the Rose Bowl MVP what he was doing, Jarrett said he was walking to McDonald's to eat because he didn't have money for a ride or a nicer meal.
"In my mind, I said, 'I can't believe I forgot,'" Booty said this week. "I always wanted to do something about it. I always felt this was tremendously unjust. That brought all those emotions back."
"Work Horses," which is scheduled to begin production in the spring, is not a documentary. Instead, it is a feature film that will tell the behind-the-scenes story of life as a major college athlete. Rather than join an academic debate about whether, how or how much athletes should be paid, Booty said he wants the movie to show what players' lives are like off the field.
The film will "pull back to the curtain and say, 'You see the athletes under the bright lights, but here's what the other six days look like. Here are the struggles they go through,'" Booty said.
Booty launched a crowdfunding campaign on Kickstarter this week to help fund production and marketing of the film. His script has drawn interest from major studios, but he said the crowdfunding effort will allow him to keep control of the movie's script and its message.
The video teases the themes the movie will highlight, such as the amount of money college athletes help schools and conferences generate and the lack of compensation and benefits they receive in return.
"So many people say they're getting a free college education, but there's nothing about that education that's free," Booty said. "The average athlete puts 40 hours a week in blood, sweat and tears into their sport. On top of that, they're bringing hundreds of millions of dollars in revenue in. They're the product. They're what people are coming to see."
The NCAA is currently under a microscope, as labor attorney Jeffrey Kessler and current and former athletes argue in a high-profile lawsuit that the organization has violated antitrust law by capping athletes' benefits at the value of a scholarship. A federal judge granted class-action status to that suit, which seeks an injunction that could create a de facto free market for athletes' services, last week.
Booty wouldn't share spoilers about the script, but he said he hopes it will advance the conversation about the treatment of athletes on issues ranging from health care to compensation.
"This isn't a movie," he said. "It's a mission."