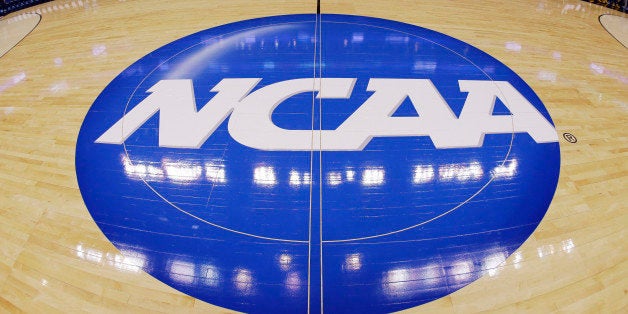 The NCAA is brandishing a new weapon in its fight against paying student-athletes: an argument that doing so would lead to a reduction in the number of scholarships that "many -- if not most --" Division I schools would be able to offer.
The argument was made in defense of lawsuits that challenge the NCAA's financial model. But when The Huffington Post talked to three prominent sports economists, all of them questioned the logic of the argument, saying it sounded dubious at best and obviously incorrect at worst.
"That's nonsense. They have all the money," David Berri, a professor of economics at Southern Utah University, told HuffPost. "The money exists. They can pay them. It's ridiculous to say that they wouldn't be able to pay them."
"The argument that ending restrictions in the labor market will lead to lower levels of employment seems unlikely on the face of it," Stefan Szymanski, a sports economist working in the sport management department at the University of Michigan, said.
Most of the NCAA's member institutions barely break even or lose money -- the NCAA itself says only 20 of its 1,1000 schools make more than they spend on sports -- but the schools are non-profits, which means they have an incentive to spend all the money the pull in, rather than rake in excess revenue.
So no matter how much money the NCAA generates, it will always look like any extra costs -- say, from paying players -- would push programs over the edge and maybe even leave some student-athletes out to dry.
But that's simply a function of a system that is set up in a way that makes the NCAA appear as if it is always just barely scraping by, despite big-time money in the form of ticket sales, TV deals and many other revenue sources. (The NCAA brought in nearly $1 billion in revenue on its own in its most recent fiscal year, and many athletic programs bring in tens of millions on their own as well.)
David Carter, executive director of the USC Marshall Sports Business Institute, told me over the phone that he feared paying student-athletes would lead to cuts in other areas. "Where are you going to get that [theoretical] one million dollars?" he asked.
But Rodney Fort, a sports economist and professor of sports management at the University of Michigan, told HuffPost that, should athletic departments need to reshuffle resources to compensate players, he expects that the schools would first pull money from the pool of money presently dedicated to coaches' salaries, athletic directors' salaries and new facilities before they took away athletic scholarships.
"There will be fewer scholarships if athletes wish to pay their own way. Otherwise not," Fort wrote in an email. "Much more likely is that salaries to coaches and [athletic directors] will fall, and so will spending on facilities for athletes."
(For its part, the NCAA called this line of reasoning "economic nonsense" in its court filing, arguing that head coaches' salaries are high not because of excess revenue, but because professional head coaches' salaries are high, and so schools must pay in-demand college coaches at professional levels to attract and retain them.)
There are two other major ways athletic directors could cover the additional costs associated with paying athletes, according to Szymanski: one, they could raise prices; and two, they could obtain more money from the university.
And Szymanski and Fort said two separate factors from those would convince schools to continue to offer scholarships to those who the athletic department deemed worth it: the schools' desire to win and the athletic directors' desire to keep their jobs.
"As long as the number of players required remains the same, and injuries are equally probable, and colleges want to win, then they will need to offer incentives at every level of talent, not just the top end," Szymanski wrote. Fort added. "Any AD [athletic director] that bucks this will just lose talent to ADs that meet athlete demands."
There is precedent for the NCAA's reasoning. A similar argument was made in England during the 19th century, when it was argued there was a fixed pool of money available for labor at any one time. According to the economic concept, known as the wage fund theory, adding more people to the labor pool theoretically meant less money available per person (or in the NCAA's case, giving some people a raise means less scholarship money for others).
But in practice, the wage fund theory was "shown to be a fallacy by the end of the 19th century," Szymanski said. "Had it not been, then rapidly rising population in the 19th century would have led to mass starvation." It didn't.
Regardless of wonky economics arguments, the idea that there is a finite amount of scholarship money available for student-athletes is false logic anyway, Berri said.
"We give scholarships to people in all sort of things that have nothing to do with generating revenue," Berri noted, citing music and academic scholarships as two of the most common. "So this is utterly ridiculous."
"We don't say this for any [other type of other scholarship]," he said.
The NCAA told HuffPost it could not comment due to ongoing litigation.
Related
Popular in the Community