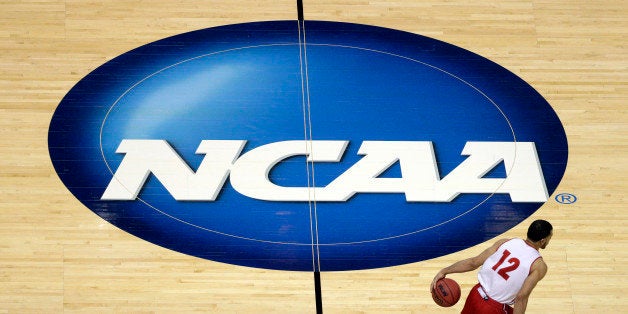 The NCAA pulled in $989 million in its 2014 fiscal year, according to an audited financial statement cited by USA Today on Wednesday.
Since the association had $908.6 million in expenses, it ended up with a nearly $80.5 million surplus for the year. A large percentage of the surplus will go to an ever-growing endowment fund whose main purpose is to safeguard the institution against a financial catastrophe, particularly related to its primary moneymaker: the March Madness basketball tournament.
The annual surplus is the NCAA's greatest in at least 10 years and $20 million more than its surplus in 2013, according to calculations made by USA Today. But the NCAA has been generating surpluses in the tens of millions of dollars for years now, and its assets have grown tremendously as a result.
That same website says that more than 90 percent of that revenue goes straight back to student-athletes in some form -- whether as scholarships, catastrophic injury insurance, emergency travel expenses, etc. -- and "the remainder is used to administer day-to-day operations of the Association."
"As a non-profit organization, we put our money where our mission is: equipping student-athletes to succeed on the playing field, in the classroom and throughout life," Stacey Osburn, the NCAA's director of public and media relations, said in a statement provided to The Huffington Post. "The NCAA and our member colleges and universities together award $2.7 billion in athletic scholarships every year to more than 150,000 student-athletes."
Roughly $547 million of the NCAA's revenue was handed out to Division I conferences and schools in the last financial year, according to USA Today.
The association has faced a series of public battles over how it spends its money, particularly its unwillingness to pay student-athletes. It lost a key court fight last August, in which former student-athletes, led by onetime UCLA basketball star Ed O'Bannon, challenged the NCAA's refusal to share revenue derived in part from use of the players' likenesses and images in video games and elsewhere.
NerdWallet, a personal finance website, recently calculated that the average value of a male basketball player at a top 25 school is $487,617. Duke freshman Jahlil Okafor alone is worth $2.6 million.
This gives an idea of how much players are worth to top-tier basketball programs.
Yet the nation remains largely divided over whether the NCAA and its member schools should pay their athletes. In a recent HuffPost/YouGov poll, only 30 percent of Americans favored the idea of paying student-athletes, while 44 percent were against the idea and 25 percent said they were not sure.
When the poll question focused specifically on basketball and football players at schools with top-tier athletic programs, the numbers barely shifted at all.
Are you a current or former college athlete with opinions about the fight for NCAA pay? Talk to me about it. My email is maxwell@huffingtonpost.com.
Related