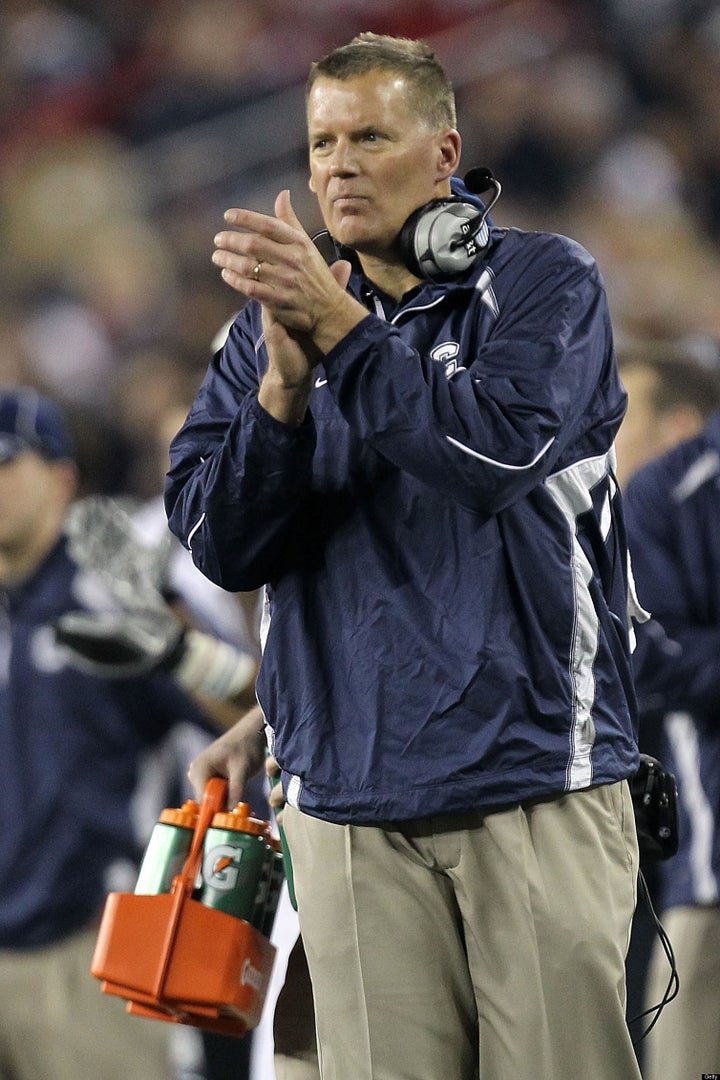 As the hit song by Duffy goes:
You got me beggin' you for mercy
Why won't you release me
You got me beggin' you for mercy
Why won't you release me
I said release me
Deep in the middle of the 426 pages that comprise the 2011-12 NCAA Division I Manual is Bylaw 13.1.1.3 entitled "Contacts & Evaluations: Four-Year College Prospective Student-Athletes" which reads:
"An athletics staff member... shall not make contact with the student-athlete of another NCAA collegiate institution... without first obtaining the written permission of the first institution's athletics director to do so... regardless of who makes the initial contact."
The result is that while coaches are free to enjoy free agency and jump from school to school at will, a student-athlete needs permission from his or her school's athletic department before a conversation with another school is allowed.
If the request for contact under Bylaw 13.1.1.3 is granted, the student-athlete may transfer, accept a scholarship, and compete immediately. If the request is denied, the student-athlete is free to transfer to another institution but must do so without any contact with the athletic department or any form of athletic scholarship. After transferring, the student-athlete must wait at least one calendar year before they may accept a scholarship and compete.
Additionally, further restrictions are placed on individuals in the sports of baseball, basketball, football, and men's ice hockey -- in Bylaw 14.5.5.2.10 entitled "One-Time Transfer Exception." Under this rule, even if a student-athlete is granted permission to transfer, they must sit one year before being able to compete in these sports unless granted an additional release from his or her initial institution. Permission is therefore required for an immediate scholarship and the right to compete -- the problem is that this permission is often withheld and the process to challenge a denial is flawed.
These restrictions are intended to curtail the free movement of student-athletes. Typically, schools allow their student-athletes the ability to compete immediately if the transfer is based on personal hardship (returning home to care for a sick relative) or if the student-athlete has graduated and intends to pursue graduate work at a school that offers graduate coursework in a field that the initial school does not.
The basic concept, rooted deep into the NCAA rules and codified in the National Letter of Intent (NLI) that every student-athlete signs, is that the student commits to an institution not a coach. While coaches may make promises about building something together and partnership for the future with a recruited student-athlete, when recruiting a student-athletes these promises are, under the NCAA rules, unenforceable and irrelevant.
Undoubtedly written by lawyers, there is a semblance of due process in both transfer bylaws which provides a student-athlete, denied the transfer request by his or her institution, the right to a hearing. The rules read, in part, that the student-athlete may be "provided a hearing conducted by an institutional entity or committee outside of the athletic department."
To summarize: The NCAA rules, written by schools claiming to protect the best interests of student-athletes, allow coaches to move about at will but, student-athletes need permission to do so. Certainly schools may limit coaching movement by attempting to enforce employment contracts but there has been limited success in the court system in this regard. To better understand the issues surrounding transfer rules, I submit three cases that have brought the concept of NCAA releases into the national spotlight over the past several months.
Danny O'Brien was recruited by the University of Maryland to play quarterback and did so
tremendously well -- earning 2010 ACC rookie of the year honors. One of his main reasons for heading to College Park was to work with their offensive coordinator James Franklin. Furthermore, it seemed a safe bet that Franklin would be at Maryland for some time as the school's athletic director Debbie Yow announced, four months earlier, that Franklin was the team's "coach in waiting" under the head coach Ralph Friedgen. Clearly this claim was used by the university to recruit student-athletes and convince them to sign the binding NLI.
In 2011, the University of Maryland hired football Coach Randy Edsall after a 12 year career as head coach at the University of Connecticut. While Edsall's first year at the helm of the Terrapins football program could not be described as successful, most recently his actions have brought the school unwanted attention beyond the gridiron.
Unfortunately for both O'Brien and Franklin, Maryland switched athletic directors firing Yow and replacing her with Kevin Anderson. Apparently Anderson did not hold Franklin with the same regard and the offensive coordinator left to become the head coach of Vanderbilt University in the SEC. At the end of the season, Friedgen was fired and Edsall brought in. Edsall promptly benched O'Brien leading him to request his release from the University of Maryland.
Not surprisingly, O'Brien wished to follow Franklin to Vanderbilt. Edsall and Maryland did grant O'Brien his release but stipulated that he couldn't attend another ACC school or any team that is scheduled to play Maryland. This is a common caveat since student-athletes are obviously not part of a free market system. However, Maryland also refused to grant O'Brien's release to Vanderbilt -- who is not scheduled to be on their schedule in the future.
It took former University of Kansas quarterback Brock Berglund to hire an attorney and national press attention to convince head coach Charlie Weis, formerly of Notre Dame, to grant his release. After the 2011 season, Weis was chosen to replace fired head coach Turner Gill and brought with him a "pro-style" offensive system. Weis intends to install former (via a transfer) Notre Dame quarterback (and Weis recruit) Dayne Crist as the starting quarterback. Berglund promptly requested his release. Weis said no. It was fine if Crist wanted to join Kansas from another school but allowing a player to leave Kansas was another story. ltimately, after some public outcry, the university's student-athlete appeal board granted Berglund his unconditional release.
Saint Joseph's University
The most visible story capturing the media's attention this winter has been the unbridled mess between Saint Joseph's University and Todd O'Brien. O'Brien, the seven-foot starting center on the men's basketball team, intended to transfer to the University of Alabama at Birmingham (UAB) for the 2011-12 season. Three courses short of his undergraduate degree, which he intended to complete over the summer at Saint Joseph's, O'Brien wished to pursue a graduate degree program at UAB not offered at Saint Joseph's. Accordingly, O'Brien notified head coach Phil Martelli of his intent to transfer to UAB.
Martelli opposed the idea of his center transferring and refused to grant O'Brien his release. After some time, Saint Joseph's granted O'Brien the right to speak with other schools and O'Brien enrolled in UAB this past fall. The only thing between O'Brien and playing for UAB was a final release from Saint Joseph's allowing O'Brien to immediately compete for UAB. Saint Joseph's, with no future of facing UAB on the schedule, objected and refused to offer any rationale.
UAB appealed to Saint Joseph's, O'Brien appealed to Saint Joseph's, O'Brien and his attorney appealed to the NCAA. Initially, the NCAA deferred to the institution's decision. A second appeal to the NCAA also came up short. Thus, O'Brien can attend UAB but may not play for their basketball team because Saint Joseph's deems -- without citing a reason publicly -- it unacceptable.
These three cases are not aberrations as other schools including University of Oregon, Penn State University, and Rutgers University have all restricted their student-athletes from transferring without delay. Why give head coaches this level of power over student-athletes? Once a student-athlete signs an NLI, they are bound to a school and the coach has every right to walk away despite whatever promises that were made during a recruiting cycle. Shouldn't student-athletes have the same right?
The solution is quite simple, take the transfer approval process away from coaches and their athletic departments. Furthermore, take the appeal process out of the institution entirely. As we've seen in recent months, the administrations of many schools are unwilling to control their revenue producing football and men's basketball programs.
A few simple solutions would address this injustice. First, grant all student-athletes the right to transfer, immediately, if their head coach leaves their current institution. Second, place the initial request for transfer at a school's academic senate. Place the appeal process outside the university entirely, perhaps with the faculty athletic representatives for the conference. If we care about free choice in our society, protect it for the coaches and athletic administrators, why not the student-athletes?
Popular in the Community