Nick Cannon stopped by AOL BUILD on Wednesday 6/8/16 to discuss his latest projects and gigs. He's partnered with Merial, the maker of NexGard, to promote the Hero Tails video series. Hero Tails is a web series where Merial will donate $1/view, up to a total of $175,000, to Canine Companions for Independence until October 31, 2016. CCI is a non-profit organization that helps people with disabilities by providing them with a service dog free of charge so that their lives are better improved. People like Steven (as seen in the first Hero Tails video released at herotails.com) are paired up with a CCI dog. In Steven's case, he got Ringo, the service yellow labrador. Ringo helps Steven out with his day to day routine while also being a family pet for he and his wife. They're feel good videos that people can enjoy knowing that each video view helps this great organization.
Cannon narrates these videos a.k.a. "dogumentaries" for Hero Tails. So far the Ringo and Steven video is the only one that's currently available to watch but stay tuned to herotails.com for more videos later this year. In real life, Cannon is a pet lover, having multiple pets throughout his life including multiple pets with his now 5 year old kids, Moroccan and Monroe. He considers the dogs a loving part of his family.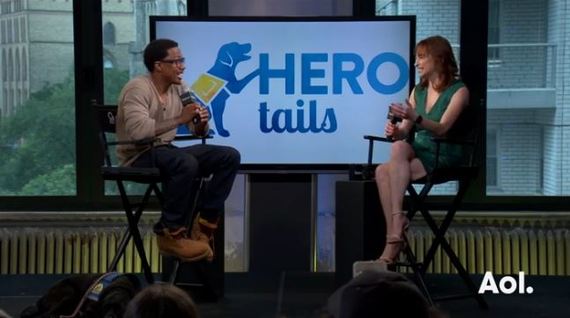 All that love and passion towards this cause is radiated in other dedicated roles he has in his life like being the host of NBC's America's Got Talent since 2009. Cannon told the audience that he enjoys being the host (now in its 11th season) of this successful summer competition series. You'll notice that during the audition rounds, Cannon is normally behind the scenes along the side of the stage for majority of the time the contestants take the stage. But that doesn't wash away any of his warm personality. In fact, it's quite the opposite. He's quite animated! Case in point, take a look at this moment from the current season.
Cannon said that "when something crazy happens, I acknowledge it, and when something nasty happens, I cringe. We have a lot of fun with it." Cannon explained that he empathizes with the contestants because he knows it takes a lot of courage to audition in front of the 4 judges. So even if he knows they're not going to the next round, he still cheers for them. He prefers his hosting duties at AGT over a judging role. He said that if he were to be the 5th judge, he would be the softy judge on the show. Cannon in my opinion is best suited as the host of AGT or any talent show for that matter.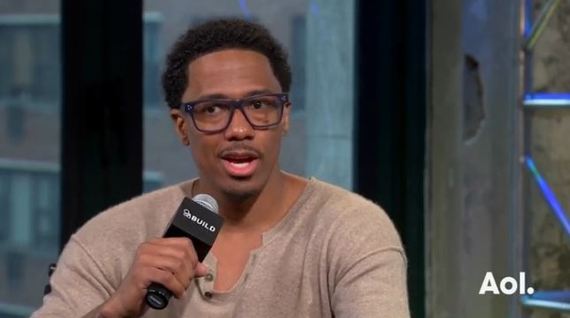 Cannon grew up warming up the audience during his dad's evangelical TV specials back in the day. He has also entertained the crowd when he first started out at Nickelodeon's sketch comedy show, All That which led him to being a writer, and eventually a full time cast member. Cannon has surrounded himself amongst talent all his life. Cannon has come so far since those days at All That, proving to be what he calls himself an "entrepretainer". He's an entertainer and an entrepreneur. He owns his own media entertainment company called Ncredible Entertainment. According to the official Ncredible website, it "is not just a brand name, it's a way of life. Feel Ncredible, Be Ncredible." That resonates with everything Nick Cannon is. Ncredible has helped artists such as 4 Count, and Kreesha Turner launch content while also releasing content and products on his behalf for the masses to enjoy and interact with such as Ncredible headphones and Rocket Copters.
Prior to this interview, I didn't even know that Nick Cannon has his own line of headphones. Cannon plugged his partnership with RadioShack. He cited that retailer for his early love of music, having bought his first ever microphone, DJ mixer, and keyboard from the retail chain. Now you can own a pair of his stylish wireless Bluetooth headphones. Click here to learn more.
Cannon recently tapped into the toy market with the Ncredible Rocket Copters. These helicopter like toys are like Angry Birds meets toy helicopters. Kids can sling these hybrid helicopters into the air and watch them spin as they descend back down to the ground with bright colors, and excitement. Cannon believes these copters are the safer alternative to the 4th of July fireworks. See for yourself here and you will probably agree.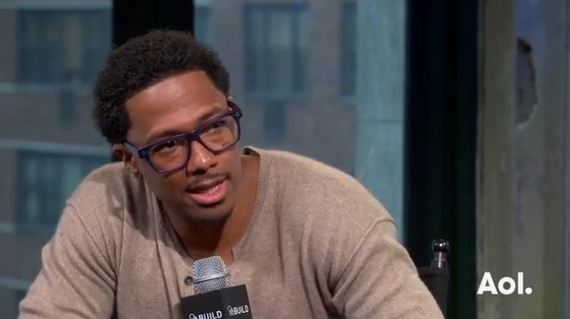 There's no stopping Nick Cannon these days. His busy lifestyle has kept him on the forefront of great entertainers and entrepreneurs in today's industry. When asked what's next for him, he jokingly confirmed to the audience that 'astronaut' is next. Hey! He may very well do that too! But regardless if he does or doesn't, Nick Cannon is an ncredible person with an ncredible lifestyle!
Watch the full AOL interview below to hear more about his current music, and his upcoming plans this summer including the return of his hit MTV series, Wild 'n Out in August. Watch Nick host America's Got Talent on NBC Tuesdays at 8 p.m., and make sure you check out www.herotails.com to watch the Hero Tails web series raising awareness for Canine Companions for Independence.
Calling all HuffPost superfans!
Sign up for membership to become a founding member and help shape HuffPost's next chapter