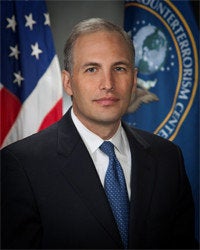 WASHINGTON -- The federal government's top official in charge of analyzing intelligence warned Congress Wednesday not to "wait until the last minute" to renew a law, set to expire at the end of the year, that allows the secret collection of information on foreign nationals overseas who are suspected of being terrorists without a court order.
In rare public remarks to a breakfast meeting of national security lawyers, Matthew Olsen, director of the National Counterterrorism Center (NCTC), urged lawmakers to quickly reauthorize that section of the Foreign Intelligence Surveillance Act (FISA) or risk a "very serious negative impact on our collection from a counterterrorism perspective. It is a vital tool of intelligence."
FISA has been used for decades to authorize covert government wiretaps in foreign intelligence investigations. Months after the Sept. 11, 2001 terrorist attacks, President George W. Bush secretly bypassed the special courts set up under FISA to allow the National Security Agency (NSA) to spy on Americans and others in the country without a warrant. The law was rewritten in 2008, but still remains controversial among civil liberties groups who want stricter limits on warrantless wiretapping included in the next iteration of the law.
Olsen, a former chief legal advisor for the NSA, also weighed in on the debate over the growing use of drones to kill al Qaeda terrorists in Yemen and elsewhere, which White House counterterrorism adviser John Brennan recently defended in a major policy speech. While being careful not to criticize the strikes, which can eliminate dangerous actors but which also deprive suspects of due process and have the potential to kill nearby civilians, Olsen said it was important to give officials a chance to interrogate suspects. "I have a strong preference for gaining intelligence," he said. "That is our goal ... we need to always take advantage of whatever opportunities we have to interrogate."
Calling all HuffPost superfans!
Sign up for membership to become a founding member and help shape HuffPost's next chapter
BEFORE YOU GO