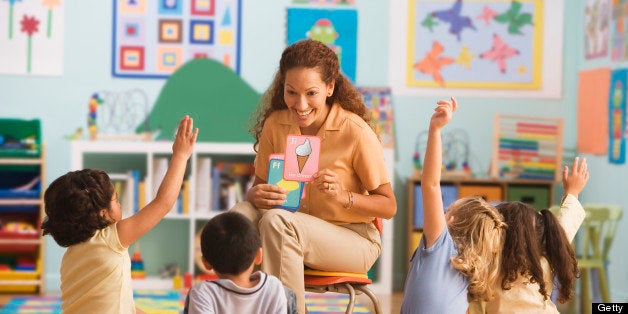 As high school students trickle into a classroom, they're greeted by their teacher, as usual. Except this time, he welcomes them by speaking into a bullhorn. Another teacher enters the room, yelling that the class is 100 times louder than usual. The teacher with the bullhorn challenges his students to prove the intruder wrong.
Who says Algebra II has to be boring?
With a program created by the National Education Association, the largest U.S. teachers union, and the for-profit lesson-sharing site BetterLesson.com, lesson plans like the one that teacher Jarod Hammel calls "Exponentials and Logarithms: Loud and Clear" will be curated, recorded, and shared with teachers across the country for free. The initiative, known as the NEA Master Teacher Project, would fund the redesign and expansion of BetterLesson's site and pay 95 math and English language arts teachers selected by an intense vetting process $15,000 to record and share all of their lesson plans -- an entire year's worth.
The union said the lesson plans will create a practical body of support for teachers. BetterLesson will host that body of work and also gain a marketing opportunity.
The site will launch later this summer as America's schools implement Common Core state standards, a set of learning goals adopted by 45 states and Washington, D.C., that aim to create a coherent educational identity for U.S. schools and prepare students to be college and career-ready. The common core stresses skills and things like fractions and informational texts. Many teachers have reported receiving little help from their school districts in preparing for the new standards, but can find a dizzying array of lesson plans on the Internet.
Last year, the American Federation of Teachers union stepped into lesson-sharing with Share My Lesson, an open-source website that allows teachers to post their own plans and to read others' for free. The site, in partnership with British company TSL Education, reported garnering 250,000 registered teacher members and 2.4 million lesson downloads in the 2012-2013 school year.
Now, the NEA is jumping into the market with the NEA Master Teacher Project. The union has paid BetterLesson $3.6 million to expand its "Master Teacher" program, initially funded by the Bill & Melinda Gates Foundation, for one year. The initiative will recruit teachers the NEA and the company deem the best in the country and pay them $15,000 a year to make all of their lesson plans and related materials available for fellow teachers. Teachers will keep their rights to the lessons, but the website will have a license to use them.
"It's Share My Lesson plus," said Bill Raabe, an NEA executive.
The NEA venture joins Share My Lesson and many other lesson-sharing sites, including Teachingchannel.org, LearnZillion and Edutopia.org. The American Federation of Teachers union did not respond to repeated requests for comment on the competition.
The creators of the NEA project said it will provide both "the what" (lesson plans) and "the how" (instructional philosophies and implementation tips) to teachers seeking fresh ideas. The NEA and BetterLesson will assess teachers' selected for the project by the quality of the curricula and lessons, in addition to the record of their students' achievement through standardized test scores or students' projects.
"We're looking for master teachers who can really share all of their thinking and make explicit all of their decisions around how to enact an effective lesson," BetterLesson co-founder Erin Osborn said.

BetterLesson has more than 275,000 registered users. The Cambridge, Mass.-based company, founded by Osborn and Alex Grodd four years ago, has about 15 full time employees and grew from an infusion of venture capital. Grodd, a former Teach for America teacher, found he was spending too much time writing lesson plans. "When I wrote a great plan, there was no way to throw a wrench in that cycle and share it," he said.
The company generates revenue by selling schools internal networking tools to helping them manage BetterLesson content. More than 400 schools pay for the service, which costs $60 per teacher, Grodd said. The partnership with NEA will provide free content to all teachers, but will expose BetterLesson's paid option to the NEA's over 3 million members.
Raabe, who directs the NEA's Center for Great Public Schools, saids the partnership came about when John Stocks, the union executive director, met Grodd. "We started talking about the possibilities," Raabe said. "We really wanted to reach teachers with good content."
Raabe said the deal "won't generate revenue for us at all … and we're paying them for the bare bones of making this happen."
The NEA hopes to expand the partnership to include science as the Common Core's science standards are rolled out.
Popular in the Community