Co-authored by Elizabeth Brown
Last Monday, fishery managers with the National Oceanic and Atmospheric Administration (NOAA) announced that they are banning nearly all fishing for Gulf of Maine Atlantic cod for at least the next 6 months, to protect the severely depleted population.
In August, scientists declared that the abundance of Gulf of Maine cod was at an all-time low. Scientists estimated that the population was at a mere 3-4 percent of a sustainable abundance level. They also found very few young cod in the population, which means recovery of the population is not going to occur anytime soon (1).
Recognizing the severity of the situation, fishery managers realized that emergency measures were needed to drastically reduce fishing on Atlantic cod. Managers have decided to restrict commercial and recreational fishing in the areas where the highest concentrations of cod catch has occurred in recent years and in cod spawning areas. Any fishing gears capable of catching cod will not be allowed in these areas. John Bullard, Greater Atlantic Regional Administrator of NOAA, says "we believe protecting these remaining aggregations of fish provide our best chance to prevent a cod population collapse and a complete fishery closure." (2)
In addition, in other areas fishermen will be restricted to catching 200 lb. of cod per fishing trip, to discourage any targeting of cod when fishing for other species. Recreational fishermen, including party and charter boats, are prohibited from retaining any Gulf of Maine cod (3).
These temporary measures are effective until May 2015. But managers could decide to make them permanent for next year's fishing season.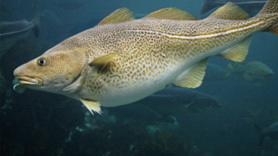 Atlantic cod. Photo Credit: NOAA
The new regulations are quite devastating for New England fishermen and fishing communities that have relied on catching cod. They are concerned about how they will make a living. Some fishermen also remain in denial about the severe state of the cod population, questioning the science and questioning whether these strict regulations are needed 4. The fishermen fail to understand that when they see aggregations of cod in certain areas, this does not mean the population as a whole is abundant. Those aggregations are the last remaining cod out there.
The situation for New England's iconic fish is sad. It is sad that it has come to this. And it is sad that there is so much distrust among scientists, managers and fishermen in New England.
But there is a lesson to learn here.
The near collapse of cod is a result of poor management decisions that have favored short-term economic interests over the conservation of the resource. Managers have allowed fishermen to catch cod faster than they can reproduce [known as "overfishing"] for over thirty years. For many years, managers failed to implement meaningful regulations to control fishing on cod. And in recent years, while managers have implemented hard catch limits for cod, they have been set too high. When setting regulations to rebuild cod, managers have consistently chosen risky options that only have a 50 percent chance of success [the lowest allowed under the U.S. fishery law] 5. They have not been precautionary enough with New England's most important fish. And they have failed to adequately take into account how factors like rising ocean temperatures and the abundance of small prey fish, are affecting the cod population.
Now, both cod and the fishing communities are suffering.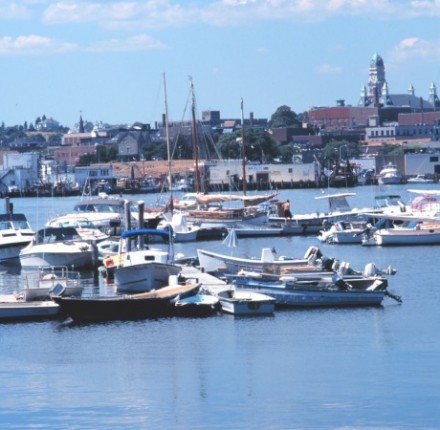 Gloucester, Massachusetts fishing port. One of the most important cod fishing ports in the Gulf of Maine. Photo Credit: NOAA.
Hopefully, New England fishery managers can learn from these mistakes and make the right choices going forward. The emergency measures for cod are only a start to fixing the situation. Over the next few weeks, New England fishery managers will discuss long-term management measures to protect and rebuild cod. They must make the hard choice to limit fishing mortality on cod to the lowest possible level until the population shows significant improvement.
Fishery managers are also currently considering revising the closed habitat areas in New England waters, which will have a significant effect on the cod population. Cod need safe places to feed, grow, and reproduce, if they are going to have a chance at recovery. The current proposal for amending the closed habitat areas in New England includes several options that would reduce habitat protections 6. These options, favored by the fishing industry, are once again short-sighted. Managers must instead focus on expanding and strengthening current habitat protections.
In other regions where fishery managers have reduced fishing to appropriate levels and protected important habitats, they have seen fish recover and have developed sustainable fisheries (e.g. West Coast rockfish, flounder, and sole) 7. If New England wants to turn their fisheries around they must do the same. They must focus on long-term sustainability. And all New Englanders -- scientists, managers, fishermen, businesses, politicians, and consumers -- need to get on-board.
Calling all HuffPost superfans!
Sign up for membership to become a founding member and help shape HuffPost's next chapter