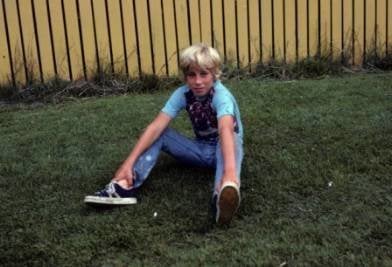 When I was 20 years old I was awakened in the middle of the night with the most devastating news I had ever received. My 17 year-old-brother Scott and 17 year-old-cousin Matthew had been killed together in a traumatic car accident. My beautiful little brother who I had grown up with, shared a history with, and expected to grow old with, was suddenly gone forever from my life. Scott had unruly blond curls and bright emerald green eyes. He devoured Twix candy bars, chewed big red gum, was a NY Jets fan and loved playing practical jokes. My brother was funny, easy going, compassionate, and adored by me and my sisters. Unlike me, Scott was very athletic, and was the catcher on the Varsity baseball team and quarterback on the Varsity football team, even being awarded Most Valuable Player. He was healthy, physically fit and in the prime of his life. It was inconceivable to me that he could die.
For a long time I replayed his death in my mind like a broken record and the question that haunted me most was; did he suffer during those last seconds of his life? The only account I had was a police report, which stated the following: "The accident happened shortly before midnight, it had been raining when the car skidded sideways near the George Washington Memorial Parkway, smashed into a bridge abutment and burst into flames, it was not known if the youths died from the impact or as a result of the fire."
Although Matthew & Scott were burned over 90 percent of their bodies, ironically both their right feet were completely intact. This made no logical or rational sense. How could this be? It gave me comfort to think it was because they were putting their right foot forward as they entered heaven, on that dark rainy April night, one minute before Easter.
My story may have ended there, had it not been for a head on automobile collision I would have some 20 years later. By this time, Scott's death had changed my career path. I was now a psychologist, specializing in grief and loss. Heading home to NYC on a dark rainy night after working with a family who had lost a Firefighter in the World Trade Center, I was driving down a narrow road, when a car going 75 mph rounded the corner and lost control. As the car came barreling straight towards me, my last thought before being hit was, "My parents cannot lose another child."
I passed out on impact and was immediately enveloped by a warm bright light. As I moved towards the light I had the most euphoric feeling of love and inner peace that I had ever experienced. It was a place that I never wanted to leave. I felt that I would soon be reunited with my brother again. I have no idea how much time elapsed, although it couldn't have been long, when I was jarred awake, by an EMT pounding on my window and using the jaws of life to pry open my door, while firefighters threw gravel on my smoking engine. My car was totaled and as I was taken by ambulance to the hospital I was told it was a miracle that I had survived the crash. Being pregnant at the time, I learned several days later that I had unfortunately experienced a miscarriage as a result of the accident.
As traumatic and frightening as the accident was, it was a turning point in my life, for I realized only then that I didn't really know what the very last seconds of my brother's life were like. I had always believed that my brother and cousin had been stuck in the trauma, trapped and fearful in those last seconds. However, after my own "near death experience," I now believe they were not trapped in the car, as several newspaper articles had insinuated. While their bodies may have been trapped in the fiery blaze during the final seconds of their lives, I believe their spirits were enveloped by light and love, just as mine had been, and that they were at peace as they made their way together out of this life and into the next.
I dedicate my life's work today to my brother Scott, and to all of those who have died before their time. My mother and I started the Open to Hope Foundation to help people find hope after loss. If you or someone you love has suffered a loss, please visit www.opentohope.com.
PHOTO GALLERY
Scott Horsley
REAL LIFE. REAL NEWS. REAL VOICES.
Help us tell more of the stories that matter from voices that too often remain unheard.