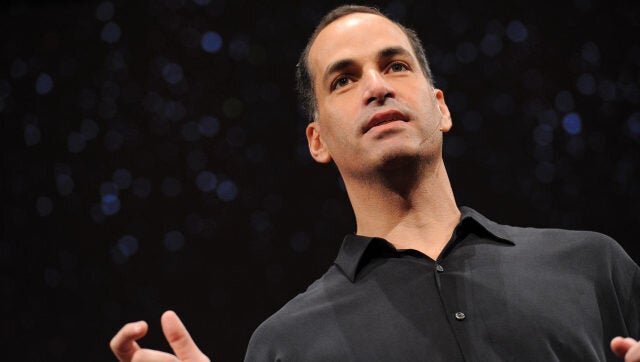 TED and The Huffington Post are excited to bring you TEDWeekends, a curated weekend program that introduces a powerful "idea worth spreading" every Friday, anchored in an exceptional TEDTalk. This week's TEDTalk is accompanied by an original blog post, along with new op-eds, thoughts and responses from the HuffPost community. Watch the talk above, read the blog post and tell us your thoughts below. Become part of the conversation!
Few of us come face-to-face with death in such a clear and present way as Ric Elias, who was on board Flight 1549 when it crash-landed on New York's Hudson River four years ago. Ric (the CEO of Red Ventures) and everyone on board, expected to die on impact. And when the now famous Captain Sully safely landed the plane, Ric was given a new lease on life, and also a new perspective on it.
The days between Thanksgiving and the New Year are always a time for reflection: On what's been accomplished, on what remains ahead of us, and -- most importantly -- what matters most. - June Cohen
Ric's TEDTalk has proven so compelling because he answers the question so many of us have: When my life draws to a close, will I look back with regret? Or satisfaction? What will I wish I had done? What will matter most? It's a gift, in some ways, to come so close to death, because it teaches us something essential about how to live. And this is a theme that many TED speakers have explored... What can we learn from near-death choices? Artists and athletes, gamers and monks have all tackled this question from different angles...
TED Fellow Candy Chang creates public art installations that explore the hidden landscape of near-death choices. Her work asks the audience, chalkboard-style, to fill in the blanks: "Before I die, I want to ________________" Their answers have been, in turn: hilarious, heart-breaking, raw, real.
Former Olympian Janine Shepherd had to rethink her answer to that question when a crippling accident ended her cycling career. In her TEDTalk, "A Broken Body Isn't a Broken Person," she recounts the challenge of facing a life where her dreams were no longer within reach. Instead of crumbling, she found new ones...
Jane McGonigal began her 2012 talk "The Game That Can Give You 10 Extra Years of Life" by listing the five regrets of the dying: "Number one: I wish I hadn't worked so hard. Number two: I wish I had stayed in touch with my friends. Number three: I wish I had let myself be happier. Number four: I wish I'd had the courage to express my true self. And number five: I wish I'd lived a life true to my dreams, instead of what others expected of me."
Then she makes a fascinating leap to a little-known phenomenon called post-traumatic growth. We've all heard of post-traumatic stress. But sometimes, when people are faced with a deeply traumatic experience -- illness, accident, or another brush with death -- they walk away not diminished, but super-charged by the experience. Suddenly, they can live a life without fear, focused on what matters most to them. And Jane's talk teaches the rest of us how we can experience this super-growth, without the trauma.
And Louie Schwartzberg's beautiful talk on gratitude challenges us to live each day as if it were our first and our last. He shares a recording of the Benedictine monk Brother David Steindl-Rast, which begins: "You think this is just another day in your life. It's not just another day. It's the one day that was given to you. Today. It's given to you. It's a gift. It's theonly gift you have right now. And the only appropriate response is gratefulness."
The days between Thanksgiving and the New Year are always a time for reflection: On what's been accomplished, on what remains ahead of us, and -- most importantly -- what matters most. We would love to hear your thoughts not only on what matters most to you, but how your perspective on death informs the way you live.
Ideas are not set in stone. When exposed to thoughtful people, they morph and adapt into their most potent form. TEDWeekends will highlight some of today's most intriguing ideas and allow them to develop in real time through your voice! Tweet #TEDWeekends to share your perspective or email tedweekends@huffingtonpost.com to learn about future weekend's ideas to contribute as a writer.
Related
Popular in the Community