Kathmandu, Nepal -- We snake our way deep into the Himalayan foothills along a dirt-and-rock path carved out of the mountainside. Terraces fan off the steep slopes, dipping down to emerald green rice patties nestled in the valleys. The snow-capped peaks of the Ganesh Himal mountain range peep through a layer of clouds in the distance.
But the stunning scenery is a stark juxtaposition from the loss and devastation left by the 7.8-magnitude earthquake that rattled these hillsides more than one week ago, triggering landslides and leveling thousands of homes.
We are making our way to Bakrang, a village just a few kilometers from the epicenter of the earthquake in Gorkha district. According to official figures, 515 of the 793 homes that made up Bakrang were destroyed.
After driving for roughly an hour, we reach Bakrang. A makeshift tent partially blocks the road and bricks spill out onto the footpath. The first thing we see is the school, its blue-and-white-walls crumbled into heaps of rubble.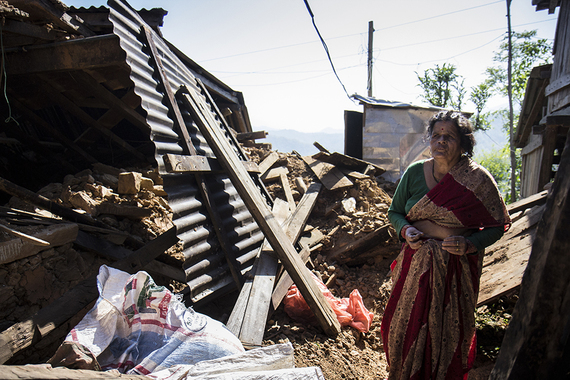 The center of Bakrang is nearly completely leveled. House after house is flattened into a mass of mud and stone. A few dozen people are at work, combing through the wreckage to salvage whatever they can.
Chandra Kumari, 58, wades through the pebbles and dirt to collect grains of rice that were buried when her house fell. "I have no place to go," she says, her hands caked in dust as she gestures towards the rice scattered around her. "I will have to eat this."
Unmarried and without children to care for her, Chandra has little or no support system apart from her neighbors, who also lost everything. She inherited her home from her parents and cannot imagine a life outside of Bakrang, but is not sure how she will pick up the pieces and rebuild. "Most of my things are buried in there," she says, motioning towards the pile of rubble that was once her home. "I can't get at them. They're buried."
Chandra is among tens of thousands of people who lost their homes and everything they owned in the worst earthquake Nepal has seen in 80 years. The earthquake rocked 40 districts and many of the hardest-hit communities, like Bakrang, are scattered across the hillsides. Some are only reachable on foot, while others have been cut off altogether due to landslides.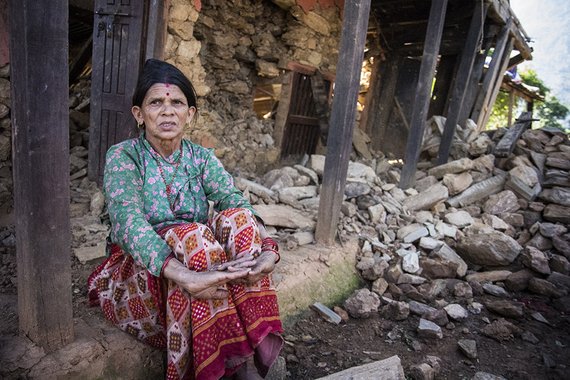 "The logistics are a nightmare," says Ros O'Sullivan, Concern Worldwide's emergency response team leader in Kathmandu.
We are facing bottlenecks at both the airport and the border for bringing in relief supplies and the mountainous terrain and limited road infrastructure makes it extremely difficult to move the materials where they are needed most.
The Kathmundu Airport is no longer receiving large aircraft, citing fears of planes exacerbating wear-and-tear to its runway. The supplies are now being broken up into smaller shipments that can be carried by lighter aircraft, while additional supplies are traveling into Nepal by road from India.
"It's incredibly frustrating," says O'Sullivan.
There are thousands of families who are yet to receive any assistance more than a week after the earthquake. People can't afford to go much longer without shelter and basic supplies, and we will work around the clock and explore every logistical possibility to reach them.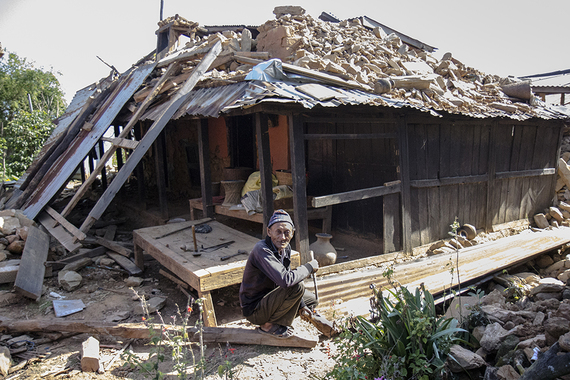 In Bakrang, a handful of families have tarps, but the community is yet to be reached by a full-scale distribution. Many of the villagers, like Chandra, are older and have spent their entire lives in Bakrang, even as spouses pass away and children migrate to Kathmandu and elsewhere to study and work. Some of those sons and daughters returned to Bakrang as soon as they could to check on their parents and help them recover what they can.
But they will eventually need to return to their jobs, and most of the older people we spoke to in Bakrang do not want to leave, despite the challenging landscape. Having lost everything, they will not only need basic relief supplies to get by, but also help to recover. Previous experience has shown that an effective way to do this is by getting people quick access to cash, which Concern will focus on after it gets emergency relief out to families like those in Bakrang who are still waiting for relief.
"What to do now - -how can we spend our lives staying here?" says Tulasa Aryal, 58, who used to share a home with Chandra before the earthquake. "The monsoon is coming. We really don't know what to do. We first need shelter and then clothes and food."
To support Concern Worldwide's emergency response in Nepal, visit concernusa.org.
Calling all HuffPost superfans!
Sign up for membership to become a founding member and help shape HuffPost's next chapter