Since 2000, nearly 600 people, many of them young black and Latino men, have been killed by Los Angeles law enforcement officers. That's according to a sobering new report from the Los Angeles Youth Justice Coalition, a youth advocacy organization, that looks into the use of lethal force among police.
The report, titled "Don't Shoot to Kill," examines homicide data from the Los Angeles County coroner's department and incorporates details from numerous media reports on specific incidents. Between Jan. 1, 2000 and August 31, 2014, the report found, law enforcement officers in Los Angeles County used lethal force resulting in the deaths of at least 589 people. That's almost one death a week, for nearly 14 years.
"If the killing of community residents is one measure of police-community relations," the report reads, "then law enforcement's fear, distrust and/or aggressive treatment of people –- especially youth and people of color –- have not improved, and may have increased."
From 2000 to 2006, the report says, overall homicides in L.A. County ranged between 1074 and 1231 per year. During that period, officer-involved killings made up between 2.5 and 4.5 percent of that total. However, since 2007, as overall homicide rates have trended downward -- there were 941 total killings in 2007, but only 595 in 2013 -- law enforcement use of deadly force resulting in homicide "doubled to between 4 and 8 percent" of the total, the report reads.
The report found that of the 314 people killed between 2007 and 2014, 97 percent were male, a combined 82 percent were black or Latino and 52 percent were under age 30.
There are 57 different law enforcement agencies in L.A. County, and "many departments had no killings" during the 14-year period examined in the report, said Kim McGill, an organizer with the YJC.
"We do know that, by far, the highest numbers [of police killings] are [committed by] county sheriffs and LAPD, with Long Beach and Inglewood leading among smaller cities," McGill told The Huffington Post in an email.
McGill's group is trying to drill down into the details of the hundreds of police killings. She told HuffPost that the YJC is filing formal public-record requests to the offices of the L.A. County district attorney, the LAPD Police Commission, the LAPD inspector general, the coroner's department, the L.A. County Board of Supervisors and the inspector general of the L.A. County Sheriff's Department. They're hoping to learn what departments were responsible for which deaths, who were the officers involved, and what kind of subsequent investigations and punishments took place. The YJC hopes to release a follow-up report with this information in December, McGill said.
The "Don't Shoot to Kill" report arrives at a tense moment for Los Angeles. In August, LAPD officers shot and killed an unarmed black man named Ezell Ford. The names of the officers have since been made public, but the LAPD has placed Ford's autopsy report under "investigative hold."
A little more than a week before Ford's killing, another man, Omar Abrego, was allegedly beaten to death by LAPD officers. The deaths of both Ford and Abrego have inspired multiple protests, and the community remains distraught by unanswered questions at the center of each case.
The YJC report offers a number of detailed recommendations to help reduce police and community violence. It calls on U.S. Attorney General Eric Holder to launch a civil rights investigation into officer-involved shootings and the use of force countywide. It also calls for demilitarizing the police through the elimination of surplus military equipment, as well as the end of stop-and-frisk searches, gang databases and gang injunctions.
"We know personally that police violence isn't only the bullets that pierce our dome, but the police baton that breaks our bones, and the battering ram that breaks our homes," the YJC report concludes, quoting from a statement authored by the group that was originally read at Ford's burial in August.
"It's the war on drugs and the war on gangs that gentrifies our communities and fills our prisons," the report continues. "It's the separation of families through gang injunctions, incarceration and deportation that leaves us orphaned. It's California's addiction to police and prison spending that bankrupts our schools and shuts down positive resources in our communities –- jobs, youth centers, libraries, health and mental health clinics, parks and playgrounds. It's these programs that Ezell needed and all of us need -– not the police lock-down of our neighborhoods."
"Demand a city, a state and a nation where Ezell Ford and Deandre Brunston, Trayvon Martin and Michael Brown, Oscar Grant, Suzie Peña, and Devin Brown would be in college and not in the ground."
Support HuffPost
The Stakes Have Never Been Higher
Before You Go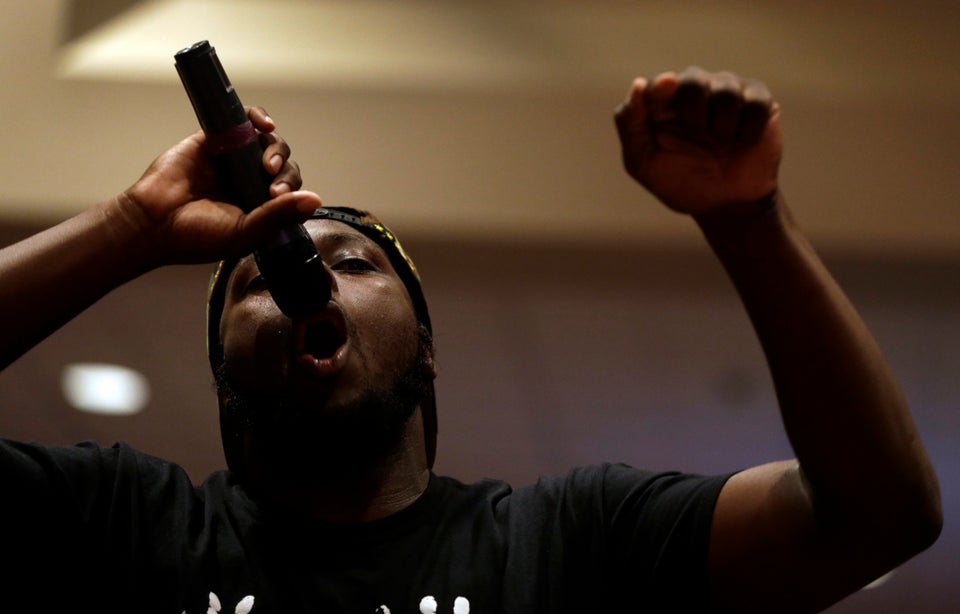 Ferguson City Council meeting
Popular in the Community