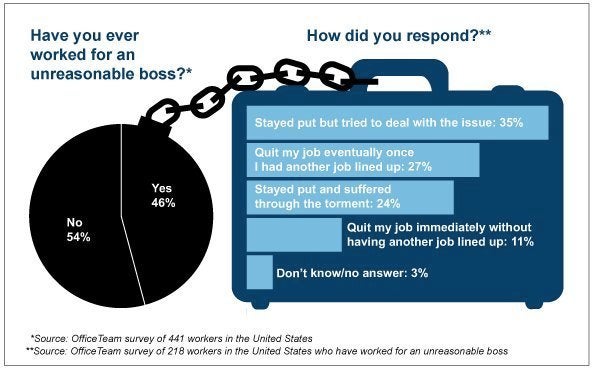 Having a dysfunctional boss can ruin any job. And unfortunately for employees across the country, having a bad boss turns out to be a pretty common experience.
A recent poll by OfficeTeam, a leading staffing agency with 315 locations across the country, finds that 46 percent of employees reported having worked for an unreasonable boss. Employees often feel trapped by bad managers, too: 59 percent reported having kept the job despite having an unreasonable superior.
Still, there's a lot of American workers who know a bad working situation when they see one. Of those polled, 27 percent said they left their job due to a bad boss immediately after lining up a new job, while 11 percent were bold enough to quit outright without the safety net of another position. .
As the executive director of OfficeTeam says: "Friction between supervisors and employees can stem from differing work styles. It's not possible to control your boss's actions, but you can change how you respond to them."
If that simply doesn't work, Steve Tobak of BNET, who has written extensively on problem bosses, offers some other strategies. He writes that employees can put in for transfers, try to regroup with a vacation or fight back by either sabotage or appealing to a higher authority. However, he says taking your boss head-on can be risky and more often than not, it's best to just get over it.
"When you behave like a victim, wallow in self pity, or act like you're entitled to something better, not only does it do you no good, but you may end up getting yourself fired or doing real harm to your career," he writes.
Below are the poll results provided by OfficeTeam.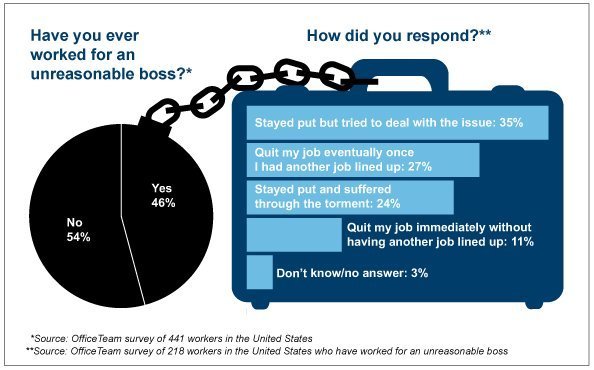 Popular in the Community