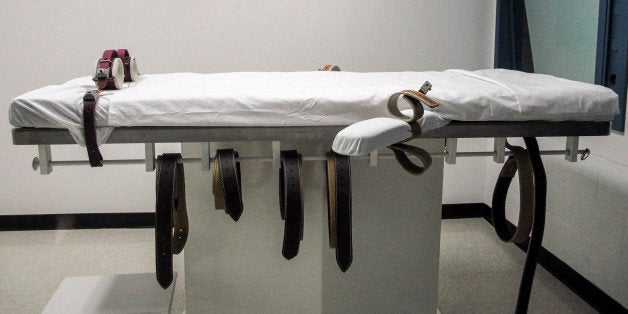 WASHINGTON -- Seven Republican state senators in Nebraska came out against the death penalty Wednesday, urging their colleagues to support a bill to repeal the practice.
State Sen. Colby Coash (R), one of the lawmakers who attended a press conference on the issue Wednesday, argued that supporting the death penalty fundamentally goes against conservative values of reducing government spending and intrusion into individuals' lives.
"A lot of us said things like this: 'Send me to Lincoln, I'll find, I'll root out, I'll get rid of government waste wherever I can find it,'" said Coash, according to The Associated Press. "And that's what repealing the death penalty is about."
"I believe in the sanctity of life," added state Sen. Tommy Garrett (R). "I believe life begins at conception and should be protected until God calls the individual home."
The state Legislature began debate Thursday on a bill to repeal the death penalty. Of the 13 senators who are co-sponsors, nine are Republicans. Gov. Pete Ricketts (R) has already vowed to veto the measure if it reaches his desk.
"I think what is happening in Nebraska is representative of what I'm seeing across the United States," said Marc Hyden, the national advocacy coordinator for Conservatives Concerned About the Death Penalty. Hyden was in Nebraska on Wednesday for the press conference.
"You're seeing more and more conservative legislators sponsoring or co-sponsoring repeal legislation in a lot of red states," he added. "And you're seeing conservative groups actually forming in these red states to oppose the death penalty."
There are currently 11 men on Nebraska's death row, according to the Omaha World-Herald. Two of them have been there for 35 years. The last time the state carried out an execution was 18 years ago, using the electric chair. The state currently has no way to carry out lethal injection executions because the supply of drugs they have has expired and it's been difficult to obtain new ones.
Want more updates from Amanda? Sign up for her newsletter, Piping Hot Truth.
Calling all HuffPost superfans!
Sign up for membership to become a founding member and help shape HuffPost's next chapter
BEFORE YOU GO
PHOTO GALLERY
No Seconds: The Last Meals Of Death Row Prisoners