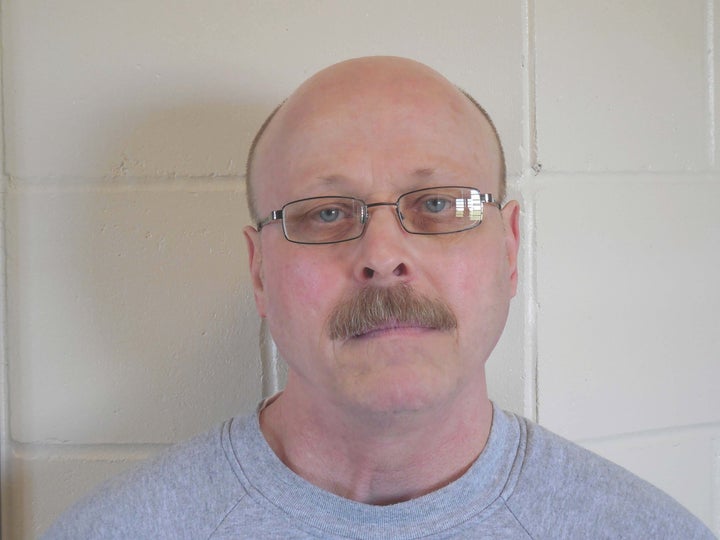 By GRANT SCHULTE, Associated Press
LINCOLN, Neb. (AP) — Nebraska carried out its first execution in more than two decades on Tuesday with a drug combination never tried before, including the first use of the powerful opioid fentanyl in a lethal injection.
Carey Dean Moore, 60, was pronounced dead at 10:47 a.m. Moore had been sentenced to death for killing two cab drivers in Omaha in 1979. He was the first inmate to be lethally injected in Nebraska, which last carried out an execution in 1997, using the electric chair.
Witnesses said that there appeared to be no complications in the execution process, which also was the first time a state used four drugs in combination. Moore remained mostly still throughout the execution but breathed heavily and gradually red and then purple as the drugs were administered.
Media witnesses including The Associated Press saw Moore take short, gasping breaths that became deeper and more labored. His chest heaved several times before it went still. His eyelids briefly cracked open.
At one point while on the gurney, Moore turned his head and mouthed several words to his family, including "I love you." No members of the victims' families witnessed the execution.
The Department of Correctional Services said the first lethal injection drug was administered at 10:24 a.m. Moore was declared dead at 10:47 a.m.
In his final written statement , Moore admitted: "I am guilty." But he said there are others on Nebraska's death row who he believes are innocent and he said they should be released.
"How might you feel if your loved one was innocent and on death row?" Moore asked.
The execution drew only about a dozen death penalty supporters and protesters who stood in the rain outside the Nebraska State Penitentiary in Lincoln. Death penalty opponents planned to gather outside the Nebraska Capitol at 5 p.m. for their own rally.
The light turnout stood in contrast to the 1994 execution of Harold Lamont Otey, when more than 1,000 people created a raucous, party-like atmosphere. Otey was executed shortly after midnight in the electric chair, and some in the crowd sang the song "Na Na Hey Hey Kiss Him Goodbye" after it was announced. Later executions were scheduled at 10 a.m.
Moore's execution comes a little more than three years after Nebraska lawmakers abolished the death penalty, only to have it reinstated the following year through a citizen ballot drive partially financed by Republican Gov. Pete Ricketts. The governor, a wealthy former businessman, has said he was fulfilling the wishes of voters in the conservative state.
The Nebraska drug protocol called for an initial IV dose of diazepam, commonly known as Valium, to render the inmate unconscious, followed by the powerful synthetic opioid fentanyl, then cisatracurium besylate to induce paralysis and stop the inmate from breathing and potassium chloride to stop the heart.
Diazepam and cisatracurium also had never been used in executions before.
According to prosecutors, Moore was 21 when he fatally shot Reuel Van Ness during a robbery with his younger brother, and used the money to buy drugs and pornography. Moore fatally shot Maynard Helgeland by himself five days later, saying he wanted to prove he could take a man's life by himself. Moore was arrested a week later. He was charged and convicted of first-degree murder, while his 14-year-old brother was convicted of second-degree murder.
In his statement, Moore also apologized to his brother for dragging him into the robbery and murder.
"I should (have) led him in the right way to go instead of bringing him down, way down," Moore said.
Moore had faced execution dates set by the Nebraska Supreme Court seven times since he was convicted, but each was delayed because of legal challenges and questions over whether previous lethal injection drugs were purchased legally. For some relatives of Moore's victims, that was far too long — and they hope his name and crimes will finally vanish from headlines.
"We're sick of hearing about Carey Dean Moore," Steve Helgeland, one of Maynard Helgeland's three children, said ahead of the execution.
Helgeland said the numerous delays in executing Moore had left him ambivalent about whether his father's killer died by lethal injection or spends the rest of his life in prison.
"There was a point in my life when I probably would have pulled the switch myself, but 39 years has a way of dissipating your anger," he said.
A Germany-based drugmaker tried to halt the execution last week, filing a lawsuit that alleged the state had illegally procured at least one of the company's drugs. The company, Fresenius Kabi, argued that allowing the execution to go forward would harm its reputation and business relationships.
But a federal judge sided with state attorneys , who argued that the public's interest in carrying out a lawful execution outweighed the company's concerns. The judge also noted that Moore had stopped fighting the state's efforts to execute him.
A federal appeals court upheld that ruling Monday, and Fresenius Kabi decided not to appeal.
Support HuffPost
The Stakes Have Never Been Higher
Related
Popular in the Community