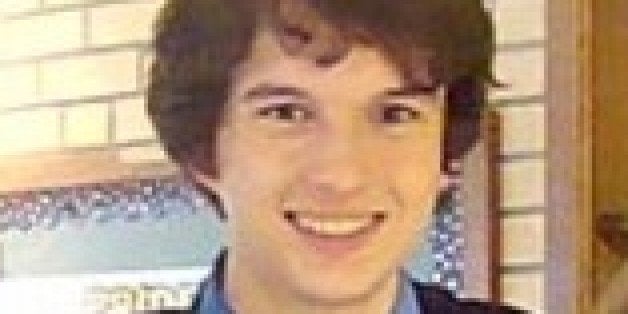 UPDATE : 6:01 p.m. -- The NSAA reversed its decision Wednesday afternoon, after significant outcry and attention to the issue. In a statement, the organization said Barth will now be allowed to perform his poetry program without having to make any changes.
"The intent of my decision was not to stifle freedom of speech, but rather to avoid any negative connotations for individuals within this statewide production," said Blanford-Green. "The NSAA will continue to advocate for all students and promote equitable opportunities through activity participation."
WASHINGTON -- Nebraska high school senior Michael Barth recently won a statewide speech competition for his poetry program about gender stereotypes. The presentation challenged conventional ideas of masculinity and urged people to accept one another regardless of how they look or identify.
"I tell my guy friends that I love 'em. / And sometimes, sometimes I even hug 'em. / Not because I'm gay, but because I love 'em," the poetry program reads in part. Barth's program references various works, including "Same Love" by Macklemore and Ryan Lewis and the poem "Swingset" by Andrea Gibson.
Barth was one of just nine statewide champions chosen to participate in a "Best of the Best" showcase on Nebraska Educational Television, the state affiliate of PBS, with his speech. The taping is to take place Thursday. But the Nebraska School Activities Association has informed Barth that he has to change his entire program if he wants to do so, due to the "controversial" nature of what he wrote.
"I was contacted on Sunday that I was selected for the Best of the Best showcase ... and we had to send them a physical copy of my speech. And they read through it and they declined it because the executive director of the NSAA believes that it was advocating transgender rights and that demographic of people," Barth told The Huffington Post Wednesday.
"The real controversy is how they're seeing that in the poetry," he added. "My poetry program is not advocating gay rights or straight rights or transgender rights or anything like that. It's about love and accepting each other."
The NSAA is a nonprofit organization of public and private state high schools run by executive director Rhonda Blanford-Green. Barth said Blanford-Green was the one who informed him of the changes that would have to be made for him to participate in the showcase.
"I'm not really planning on changing anything," he said. "She didn't want it [to be] about gender acceptance, she didn't want it about stereotypes, she didn't want any connotation about who's gay in there. She basically asked me to completely change it into an entirely new poetry program in less than two days. That's uncalled for and kind of impossible."
Blanford-Green did not return a request for comment from The Huffington Post, but she told the Lincoln Journal Star she did not want the showcase to become "a platform for individualized agendas."
The Journal Star points out that Blanford-Green has actually tried to introduce a non-discrimination policy for transgender students. After controversy erupted, however, the NSAA decided to let districts handle the issue locally.
Barth said no one at the statewide competition had any objections to the content of his program.
"Judges at state told me that my topic was really current and very appropriate for myself, and they appreciated it," said Barth. "I never had anybody have any issue with it beforehand."
Bridgeport speech coach Glen Lussetto also told the Lincoln Journal Star that he had judged the speech twice and believed it promoted acceptance, not an agenda.
The ACLU of Nebraska sent a letter to the NSAA Wednesday, telling it to respect the free speech rights of students.
"There is no question here," said Amy Miller, the group's legal director, in a statement. "Michael Barth and other Nebraska students have free speech rights and the Nebraska School Activities Association cannot disregard one of our most sacred values. We have informed the NSAA that they are obligated by our Constitution to allow students to present speeches without censorship. The NSAA does not get to determine what will 'offend…moral standards' and certainly does not have the ability to use that as grounds for altering a speech."
"Claiming that this particular speech advances a political agenda is particularly troubling," she added. "The lives of gay and transgender people should be able to be discussed without being labeled as a political agenda. If we receive complaints from students, including Michael Barth, that have been impacted by the NSAA's unconstitutional policy, we will consider legal action to ensure the NSAA respects free speech of students."
"Exactly what has taken place between the NSAA and Michael is between them. On the other side of it, I would say that we of course are proud of Michael ... He's a great kid," said Merrell Nelson, superintendent of Gordon-Rushville High School, where Barth is a student.
Read Barth's poetry program, which was shared with his permission, here.
This article has been updated to add additional comments and to clarify that Barth's presentation was a collection of poems.
Popular in the Community