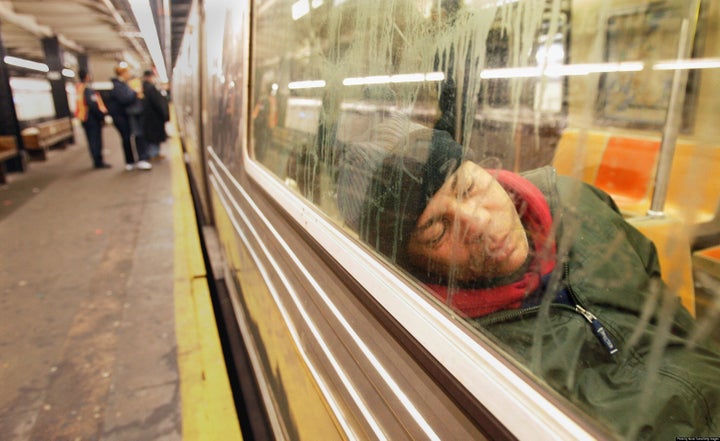 I stood at the corner of 111th Street and Atlantic Avenue in Queens, holding my last few dollars tightly inside my coat pocket, with nowhere to go. My tumultuous relationship with my father had rapidly deteriorated after my mom passed away from cancer, culminating in his "request" that I leave home shortly after graduating from college.

That night back in 1983 was frigid, as the wind howled against my face and pushed my dirty hair into my eyes. It was a part of town that I was familiar with after having been struck by a hit and run driver eight years earlier. According to eyewitnesses, I was hurled into the air and landed on the hood of the speeding vehicle.
The man drove me for a block before hitting the brakes and propelling me to the ground.
When I woke up at Jamaica Hospital, the doctors told me they were amazed that I only had a fractured cheekbone, damaged leg and hemorrhaging in my eyes. I was given an opportunity to live again from my guardian angel, as my parents liked to say.

As I hauled my green garbage bag of belongings over my shoulder and thought about that earlier accident, I kept thinking about my second chance. I looked around for a guardian angel that night. I searched for a sign that Jesus Christ existed. I questioned all aspects of my faith.

Who was Jesus Christ to me?

I found warmth that night at the end of a subway car, warming my feet. It was holiday time in New York City and the train was filled with happy faces, couples holding hands, bags overflowing with presents. I hung my head, embarrassed over my dirty appearance. As the hours elapsed and the train emptied, I looked at the ceiling of the subway car, realizing this was my home. I had nowhere to go.

I wondered why I was being punished for being quiet in my home, refusing to participate in the verbal wars orchestrated by family members. I wanted to be a good Christian. I wanted the idealistic view I had of my faith to be true, fulfilled by my actions every day.
I questioned everything beautiful in my life.
In hopes of finding some sort of answer, I pulled a notebook and pen out of my torn plastic bag and started to write. I reflected on my relationships with my family, watching my mom, so strong in her faith as she battled cancer over a two-year period, never wavering in her love of God as her life was taken at the age of 48.
Was there something much more to my relationship with Jesus? Was there more to it than just my memorizing and reciting the Lord's Prayer? What did these words actually mean? Or was it OK just to repeat them on a daily basis?

I was desperate that New Year's Eve in 1983 to find shelter. I attended a service in a neighborhood church and hid in the back under a pew. I was ecstatic when the doors were locked.

It was an eerie feeling sitting there, listening to God whistling his songs that night. The wind shook the stained glass windows, the sounds ricocheting from the back of the church to the altar. I was alone in a physical sense. But was I really alone?

I noticed the beauty and humbleness of the manger scene at the front of the church. The baby Jesus lay in a wooden cradle, his parents, Mary and Joseph, guarding their prized possession. I knelt down, facing the baby, saying a prayer for my mom. Then I reflected on many of my childhood memories -- the time where my sister took the blame for my spilling water all over the basement. I wondered why I didn't tell the truth then. I recalled telling my mom I loved her, two weeks before the Lord called her home. We both cried. It was the first time I'd ever said that. I wondered why it took me so long to say those words.
I wrote quite a bit that night. Then I spoke to the baby Jesus, even picking Him up and kissing His cheek. I wanted his forgiveness. I needed to know there was more to life than getting on a subway train at night and staying warm.
As I continued to scribble my thoughts down in my notebook, I felt the anger and pain start to recede. I looked at the beautiful baby lying there, so peaceful and calm, full of hope and promise. And I realized this is who Jesus was. He was there for whenever I needed to talk to Him.

So many of those words I wrote that night in the church and during the several nights on the E train going back and forth between Union Turnpike and Chambers Street are now part of my novel, Necessary Heartbreak: A Novel of Faith and Forgiveness, the first book of my trilogy. I sent my characters back in time to the last week of Christ's life. Like so many, the characters struggled with their faith and received a second chance, a second opportunity to truly comprehend what Jesus means to us all.

Eventually, my desperate need for a roof over my head was answered in a Christian way by an aunt and uncle on Long Island. I put aside my story idea as I married and helped raise two daughters. As they got older, I revisited the material, the memories of my homelessness, what my relationship with Jesus really means, and that amazing night inside the old church.

Last year, I received an e-mail from Simon & Schuster requesting the publishing rights to Necessary Heartbreak. Through the book's publication this year, I've met some wonderful people who have relayed to me their struggles and triumphs, similar to mine. They include members of the clergy, priests, nuns, widows and those who have battled cancer or homelessness. And to think, it all began during one of my life's darkest moments.

Related
Popular in the Community